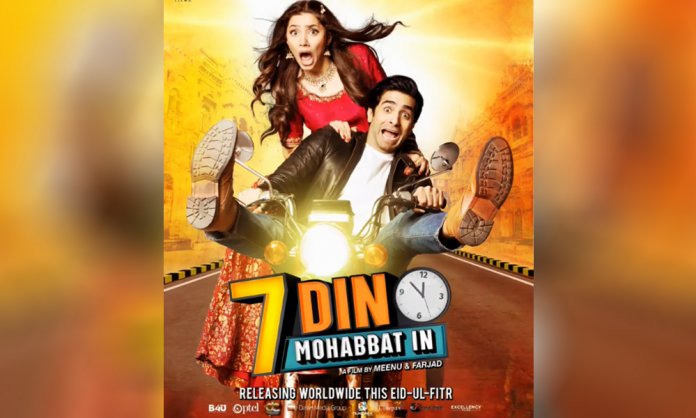 Every year, the happy occasion of Eid is followed by the release of several movies that become a major attraction for people and pull huge crowds towards cinemas.
This year as well, a number of movies are expected to hit our cinemas on Eid and we simply can't wait to watch them all!
Here's the list of 4 Pakistani movies releasing on Eid 2018!
Saat Din Mohabbat In
We will see our two favorite stars, Mahira Khan and Sheheryar Munawar Siddiqui, back together again as the much-awaited film is all set to release this Eid.
Other than Mahira and Sheheryar, the rest of the cast includes Javed Sheikh, Amna Ilyas, Meera Sethi and Hina Dilpazeer and it will be produced under the banner of Dawn Films and IMGC Global.
The trailer shows that it is going to be a delightful treat for this meethi eid!
https://www.youtube.com/watch?v=3Qa_DNWlYlA
2) Azaadi
Get ready to re-ignite your patriotism as Azaadi aims to take you on a ride filled with action and thrill, featuring Moammar Rana and Sonya Hussyn in the lead.
Directed by Imran Malik, the trailer reveals the story of a man who sacrifices his life for the freedom of Kashmir and how his life will be an example for the young generation!
https://www.youtube.com/watch?v=U71A8kn_h64
3) Wajood
Directed by Javed Sheikh, this one is going to be revenge thriller and will star Danish Taimoor and Saeeda Imtiaz in the lead roles.
The director himself will also make an appearance alongside Nadeem Baig, Shahid, Ali Saleem and Indian actress Aditi Singh. Produced under the banner of Javed Sheikh Films, Wujood sure looks like a classic treat for this eid!
https://www.youtube.com/watch?v=gL9gShbxYR0
4) Na Baad Na Barati
Na Band Na Baraati is a family comedy movie directed by Mahmood Akhtar and produced by Zain Farooqi under the banner of ZASHKO Entertainment.
https://www.youtube.com/watch?v=KdJFbA0Jtx8
The story of the movie is penned by Harish Kumar Patel and comprises a promising cast including some of the bigwigs of Pakistan's entertainment industry Mikaal Zulfiqar, Qavi Khan, Atiqa Odho, Azra Mohyeddin, Shayan Khan, Nayab Khan, Mahmood Akhtar, Komal Farooqi, Ali Kazmi and others.
Originally published on VeryFilmi.com
Stay tuned to Very Filmi for more updates and news!