One can never go wrong with chutneys and when we talk about seasonal fruits, there are so many different fruits you can experiment with.
Ready to take your taste buds on a spin? Try these three delicious chutney recipes and take full advantage of the seasonal fruits available right now!
1. Plum chutney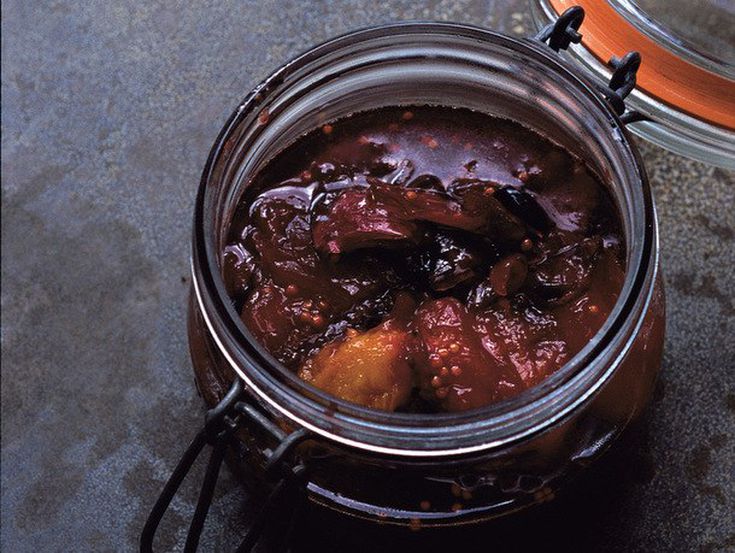 Plum chutney is a refreshing alternative to ketchup and BBQ sauce. The combination of acidic and sweet-sour-spicy flavors is an outstanding winner. And the best part is that altering the sweet/sour/spicy ratio is so simple and entirely a personal choice – there isn't a specific formula for this.  Add sugar to make it sweeter. To increase the heat, add additional red chili powder or pepper; to increase the sourness, add vinegar. This recipe may be as varied as you like. Make it your own and enjoy it with every snack.
INGREDIENTS:
200 grams dried plums
5 cups sugar
1 finger-sized chunk cinnamon
5 tsp pepper
salt, to taste
75 tsp red chilli powder
5 tsp cumin powder
5 tsp coriander powder
vinegar, as required, optional
INSTRUCTIONS:
In a pan, add all the ingredients except the vinegar and enough water to cover by 2-3 inche
Bring to a boil and then simmer on medium heat uncovered until the dried plums swell up, release their seeds and begin to melt into the water to form a thick and jammy sauce.
How thick or fluid you want to keep the chutney is up to you. Once the plums have integrated into the water and formed a chutney, you can either add more water or continue to dry up the chutney till your desired consistency. I ended up adding about 1/2 cup of additional water to get to the consistency shown.
Once you have reached the desired consistency, turn the heat off and taste. Adjust the spice and salt if you feel the need to and if you want more of a tang, then add the vinegar half a tbsp at a time. I only added 1/2 tbsp.
Store in an airtight container or jar in the fridge for up to 3 weeks.
2. Mango chutney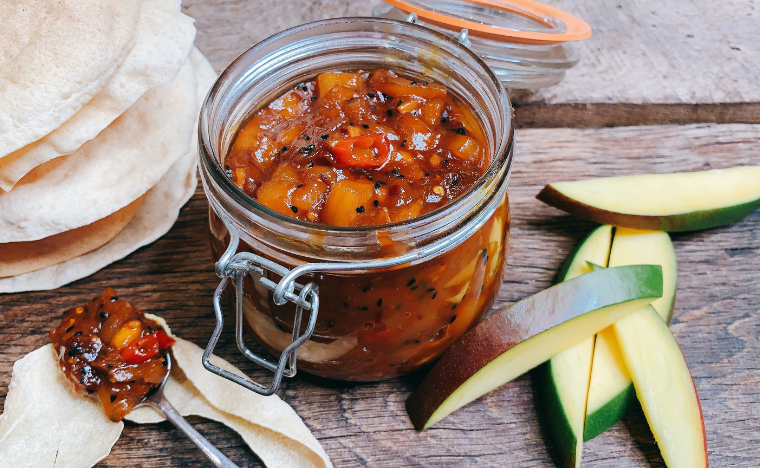 Fresh, vibrant, and absolutely BURSTING with flavor, you're going to love this versatile and wonderfully delicious condiment! Mangoes are a favorite especially for us Pakistanis. This recipe is the easiest guide to make a delicious mango chutney that'll become your go to for the rest of summer.
INGREDIENTS:
1tablespoon cooking oil (neutral tasting)
2teaspoons fresh ginger, finely minced
2cloves garlic, finely minced
1red chili, sliced (optional: remove seeds and membrane for less heat)
2teaspoons whole nigella seeds (kalonji). This is optional but HIGHLY recommended for incredible flavor
1teaspoon ground coriander
1/2teaspoon ground cumin
1/4teaspoon turmeric
1/4teaspoons ground cardamom
1/4teaspoon ground cloves
1/4teaspoon ground cinnamon
1/4teaspoon salt
4-5large mangoes (about 250-300 grams each), peeled and diced
2cups white granulated sugar
1cup white vinegar
INSTRUCTIONS
Heat the oil over medium-high in a medium stock pot. Saute the ginger, garlic and red chilies for a minute. Add the spices and saute for another minute. Add the diced mangoes, sugar, salt, and vinegar and stir to combine. Bring it to a rapid boil and reduce to medium-low. Steady simmer for 1 hour. Remove from heat and allow it to cool. If you prefer smaller chunks, use a potato masher to mash the mixture to the desired consistency.
For storage, chutney will keep for a while because of the high acidity content. A conservative time frame would be up to 2 months in the fridge (in a sealed jar) or for several months in the freezer.
Canning Instructions (for even longer shelf-life): Pour the hot mixture directly into sterilized jars and process in a water bath for 10 minutes. Let sit undisturbed for 24 hours, then store in a dark, cool place. Will keep for at least a year.
This makes roughly 2 1/2 pints of mango chutney.
3. Papaya chutney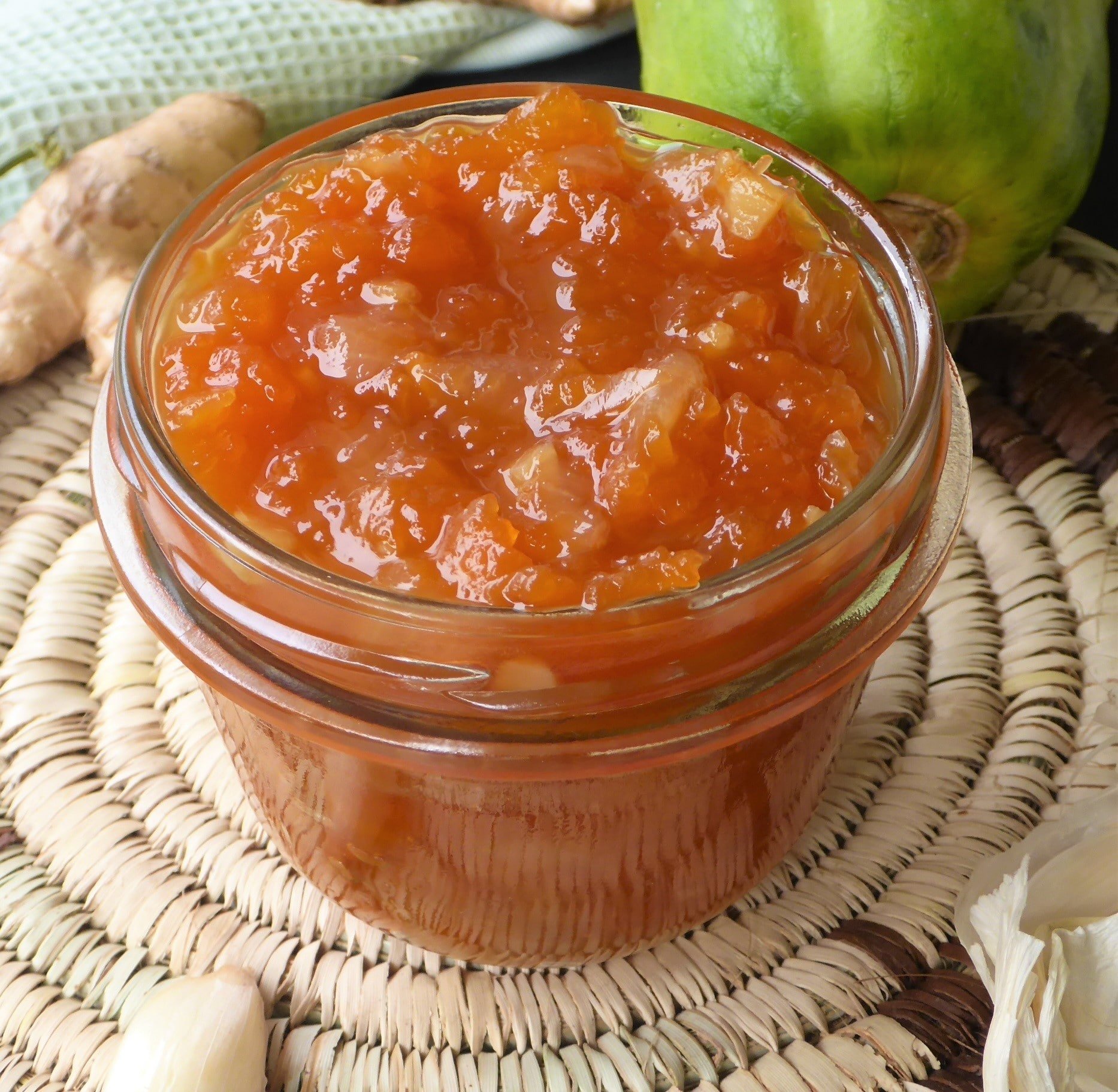 A sweet and savory sensation, this papaya chutney recipe makes a great accompaniment to many snacks, sides, and mains.
INGREDIENTS:
1 onion, chopped
1 fresh ginger root, peeled and chopped
4 garlic cloves, minced
¾ cup brown sugar or jaggery
½ cup white vinegar
½ cup water
1 tbsp red chilli powder
900g peeled, deseeded, and chopped papaya
1 tbsp garam masala
Salt, to taste
INSTRUCTIONS:
Place the onion, ginger, garlic, sugar, vinegar, water, and chilli powder in a saucepan and bring to a boil.
Continue to cook for 5 minutes.
Tip in the papaya and garam masala, then season to taste.
Cook for 10 minutes or until the chutney thickens to the desired consistency.
Spoon into hot, sterilised jars. Seal and then let it cool down.