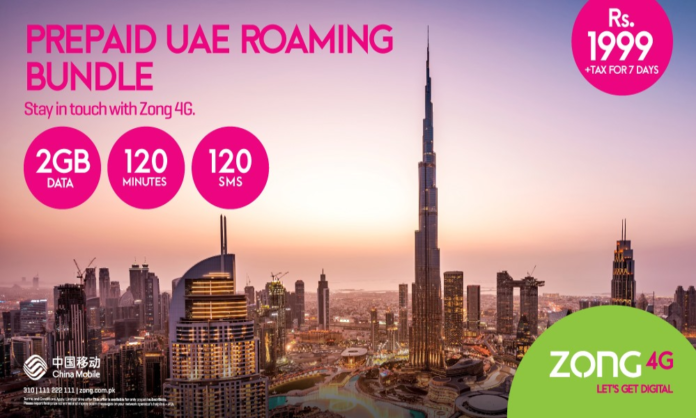 Islamabad 16 November, 2023: As the UAE's National Day approaches, Zong 4G's UAE Roaming Bundles, truly embody the spirit of celebration and unity. These bundles not only provide seamless connectivity for travelers but also serve as a testament to Zong 4G's commitment to fostering connections during this special occasion.
In the spirit of celebration, Zong 4G has simplified the activation process for UAE Roaming Bundles. Users can easily subscribe to these bundles through the My Zong App (MZA) or by dialing *4225#, ensuring hassle-free connectivity.
Zong 4G remains committed to providing a seamless experience for users, allowing them to focus on the celebrations rather than the logistics of staying connected. The UAE Bundle gives users 2GB of Data coupled with 120 Minutes and SMS for just Rs. 1999 + tax with a validity of 7 days.
The UAE Roaming Bundles empower users to connect with their families, friends, and colleagues. By offering cost-effective international communication, Zong 4G ensures that users can share the joy of the occasion and celebrate the spirit of unity, regardless of distance.
These Bundles provide users with generous data allowances. This enables travelers to share their experiences, festivities, and moments of joy with loved ones back home. Whether through calls, social media updates, or heartfelt messages, Zong 4G ensures that users can stay connected and share the essence of the UAE National Day.
The official spokesperson for Zong 4G, expressed the company's excitement, stating, "Zong 4G takes pride in contributing to the joy of the occasion. Our UAE Roaming Bundle not only facilitates seamless connectivity for travelers but also embodies our commitment to fostering connections and celebrating moments of unity across borders."
Zong 4G remains dedicated to providing innovative and reliable communication solutions, ensuring that users can stay connected during special occasions and celebrations around the world.