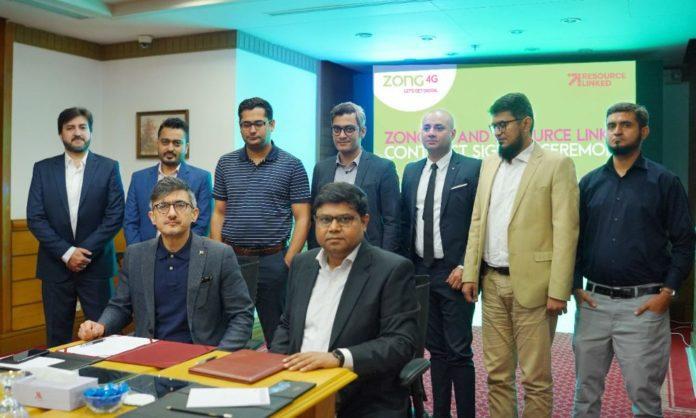 On May 22, Zong 4G, the top mobile carrier in Pakistan, announced a partnership with Resource Linked, a well-known name in resource management. As part of the deal, Zong 4G will give Resource Linked and its new startup, Snapp I/O, Corporate Voice, Data, and tailored Enterprise solutions goods so they can carry out daily tasks with increased digital exposure.
The business solutions from Zong 4G offer cutting-edge services to assist businesses in going digital and improving performance and monitoring. The collaboration with Resource Linked is proof of Zong 4G's dedication to promoting automation and digitization in Pakistan's corporate sector.
Mr. Farooq Raza Khan, Director GCSS, ZONG 4G, said, "We have a vision of 'Lead The Digital Innovation' and have always been focused on supporting digitalization and automation. Going digital  is crucial in the current industry situation, and Zong 4G is making significant investments to expand its infrastructure to provide a wide range of coverage and give digital exposure to corporate entities in Pakistan." 
The CEO of Resource Linked, Mr. Adeel Rasheed, acknowledged the value of digitization and discussed his plans for the future growth of his company. He also emphasized the potential effects of fundamental technology advancements on the procedure and the benefits of Zong 4G's support for Resource Linked and its partner platform, Snapp I/O Pvt Ltd.
In order to promote digitalization and automation and boost efficiency and production, Zong 4G and Resource Linked have partnered to offer seamless communication and connectivity to Pakistan's corporate sector.
The Official Spokesperson of Zong 4G said, "We are delighted to partner with Resource Linked and support their communication and connectivity needs. Zong 4G is committed to providing the best-in-class services to its customers, and this partnership is a testament to our commitment. We look forward to working with Resource Linked and delivering exceptional customer experiences." 
In Pakistan, Zong 4G is still dedicated to leading the way in technological innovation. This collaboration with Resource Linked is evidence of Zong 4G's commitment to facilitating and promoting digital transformation in the business world. As a top telecommunications provider, Zong 4G strives to provide its clients with the newest and most cutting-edge technologies, guaranteeing constant connectivity and effective operations. Another significant step in Zong 4G's quest to drive Pakistan's digital innovation revolution has been taken with the partnership with Resource Linked.
Stay tuned to Brandsynario for more news and updates.