Zara Noor Abbas, the famed Pakistani actress, recently shared on her social media that she has been diagnosed with clinical depression. Doctors have prescribed her medicines too now.
The actress has several accolades to her name, her most recent hit being Ehd-E-Wafa. One naturally assumes that people who are flourishing in their careers, earning well, and enjoying the spotlight must be the happiest of the lot. Yet, we have again been reminded harshly with Sushant Singh Rajput's death that it is important to empathize with people behind closed doors.
Zara Noor Abbas Finally Opens Up
Abbas started this conversation on depression on Instagram with a story titled "Break the Taboo, Talk about Mental Health," which in itself is an example of using her influence for the better. She writes, "Lockdown gave me a lot of anxiety" and added that she had been suffering from anxiety for a while now, and she had been brushing it under the rug as just as her regular work-induced stress.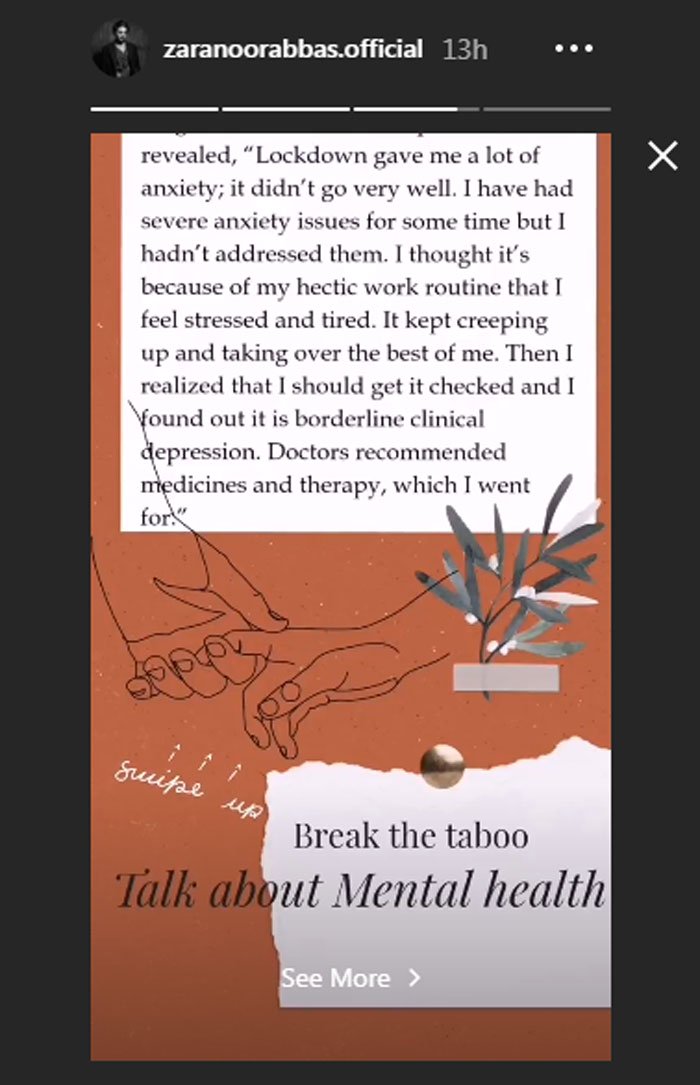 However, she writes that she "found out it is borderline clinical depression," for which she has started to take medicines and to go to therapy. Her stories, furthermore, also offered consolation and encouragement to those who might be denying it or ignoring it, she wrote: "Remember accepting mental health problems is the first step towards healing."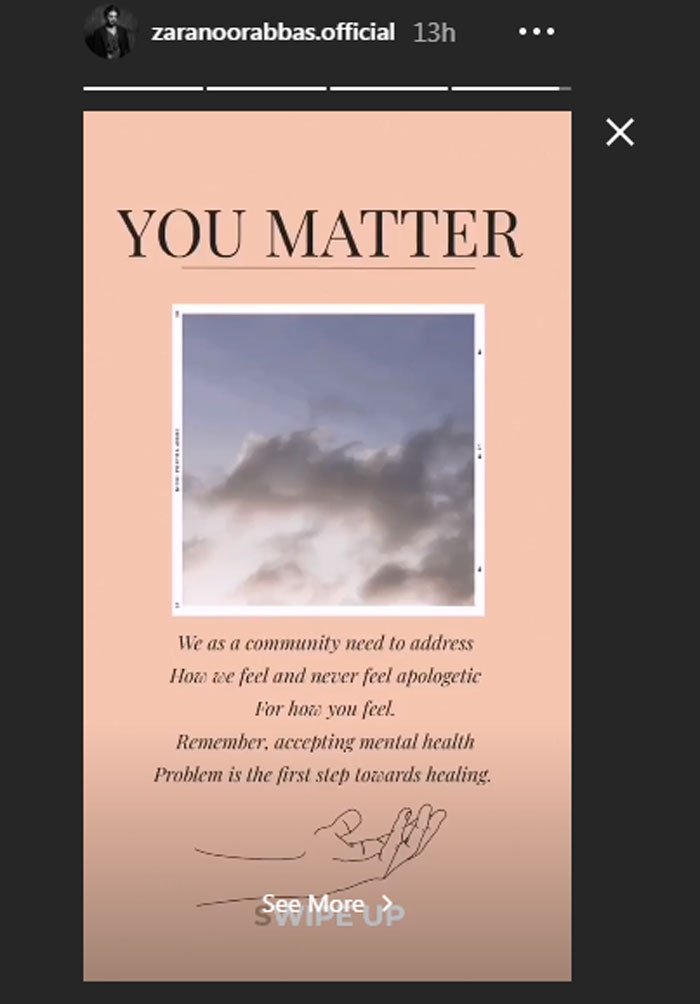 Ever since coronavirus strengthened its grip over the world, many external factors have formed into triggers of depression or other mental health disorders/illnesses. To begin with, lockdown or self-imposed quarantine itself can take a toll on mental health for multiple reasons: being stuck in the same place for months on end, even if it is your own house, can make one feel suffocated and make them irritable.
Many are observing quarantine alone in their homes without family members or even friends, which means they're always by themselves, and negative thoughts can be harder to ward off. Others have lost jobs during this time, have had to sit far away while their loved ones are sick and have entirely lost their routines. All these reasons come together to form circumstances that are conducive to stress, anxiety, and other mental health problems.
Psychology professors at Harvard are speculating that this period might be causing more suicides. Yet, they have not released any official statement to "observe each death more carefully."
Our Pakistani celebrities are starting a discourse on mental disorders and illnesses, which is much needed in a country stricken with taboos and shame. Besides Zara Noor Abbas, previously Mawra Hocane shared with her social media followers that she was suffering from anxiety and is on the journey to healing.

Following SSR's suicide, celebrities are shaken to their core and coming together despite ancient grudges between the two nations. Amna Ilyas, Mahira Khan, Hamza Ali Abbasi, and the likes of them are utilizing their voice and influence to start a conversation on mental health.
Stay tuned to Brandsynario for the latest news and updates.