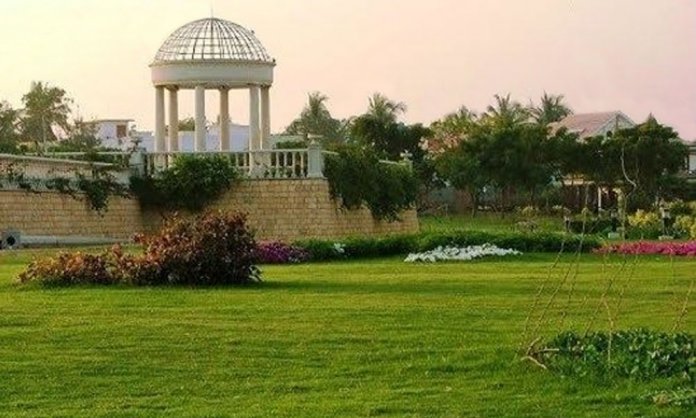 Greenery is always a sight for sore eyes ! Mother nature has always been a scarce sight in Karachi which is a bustling metropolis. Unfortunately, hardly any attention is given to building green public places like parks where seasonal flowers bloom and trees are planted to give some respite from busy urban life.
Instead, we see piles  of trash being burnt, releasing deadly gasses like carbon-dioxide, causing health hazards and preventing the growth of plants surrounding the area.
There are few NGOs working on protecting the remaining natural parks. One of them severely condemned the decision of the city's municipal authorities to host Karachi Eat Festival at a local park in Clifton after hosting the annual event at Frere Hall.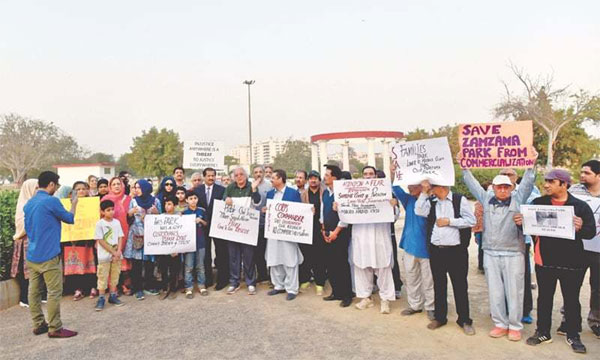 Lately, a decision was made to commercialize the Zamzama Park, to which residents have protested. The park is used by locals residents walking,  jogging and other forms of exercise. Recently, the condition of the park also appears to have deteriorated with hardly any upkeep.There is news that the authorities wanted to convert it into an amusement park with commercial benefits.
Protesters were seen holding signs and chanting that they do not want their park to be destroyed and replaced by something that will prove to be chaotic to its surroundings and spread noise pollution and litter.
Former civil servant Aslam Sanjrani had to say;
"Zamzama Park was a gift to the residents of Defence by the Pakistan Army after they converted the place into a park from barracks, it is a public place now. So technically, we all own it. The army thinks they are the custodians of this park but we have not returned it to them. They will be doing a grave injustice to us by handing it over to someone who will turn it into a commercial venture,"
The signs read slogans like Custodians, please don't commit breach of trust', 'Please corps commander save environment, our request no commercialization' and 'save families park'.
Another resident added the trees were removed, emptying the park from its natural beauty. She said, "They were very old trees from the time when this place used to be barracks, it is the right of citizens to have a patch of green in the shape of a park near where they live. It will be hurting the environment if they give way to commercial construction here,"
PPP leader Syed Najmi Alam also joined residents in the protest. He said, "From what we have seen of the theme park in Gulshan, they may also want to build a shopping centre on this land,"
"It is such a misfortune that amenity plots and parks in our country become victims to China-cutting and the construction of marriage halls," said well-known businessman Mirza Ikhtiar Baig, who was also there.
"I come to jog in this park. When I do I see children from katchi abadis coming here to play and enjoy the greenery and clean, fresh air. Parents come with their kids to relax after a busy day in the office. It is also a good thing that the current management has waived off the Rs20 ticket fee for children. Entry is also free in the morning," he said.
"It is a decent place for decent people. It should not be turned into a business venture," he added.