Some shows have recently started, and they are making quite some noise. 'Ghabarana Mana Hai' is the show we are going to be talking about this evening. With huge personalities like Mahira Khan and Humayun Saeed having already graced the set of the show, this time around, Vasay Chaudhry invited Yasir Hussain.
Ghabrana Mana Hai
Yasir is known not to shy away from making controversial remarks. So it was understood that this show would discuss all the past controversies. Instead, it became the talk of the town for sparking a new controversy.
Vasay asked Yasir about his wedding and if the turnout to the wedding was higher than the invited. The answer was affirmative. Upon inquiring, Yasir said Nausheen Shah was among the uninvited guests. He tried to soften the blow by saying Nousheen is an amazing girl, and he loves her style.
But the cat was out of the bag!
And Vasay, wanting more controversy, decided to keep bringing the topic back into the conversation. And so Yasir stated that she was uninvited and yet kept hogging the photoshoot. He also said that she would now become famous courtesy of what happened in the show.
Have a look yourself at Yasir Hussain:
Nousheen's POV
An entertainment publication approached Nousheen Shah for her comment. She told them that she does not pay heed to such remarks. As far as his wedding is concerned, she said she never goes anywhere uninvited, let alone someone's wedding. He must have memory issues, and she is sorry for Iqra.
Ball in Yasir's court
The man who was also involved in the Hania Amir controversy sometime back could not stop responding to this. He also responded to the Pakistani audience giving their 2 cents.
He said if people thought he was in the wrong, then so were the TV channels and the people asking the question. He said that the programs should stop segments such as rapid-fire and truth or dare.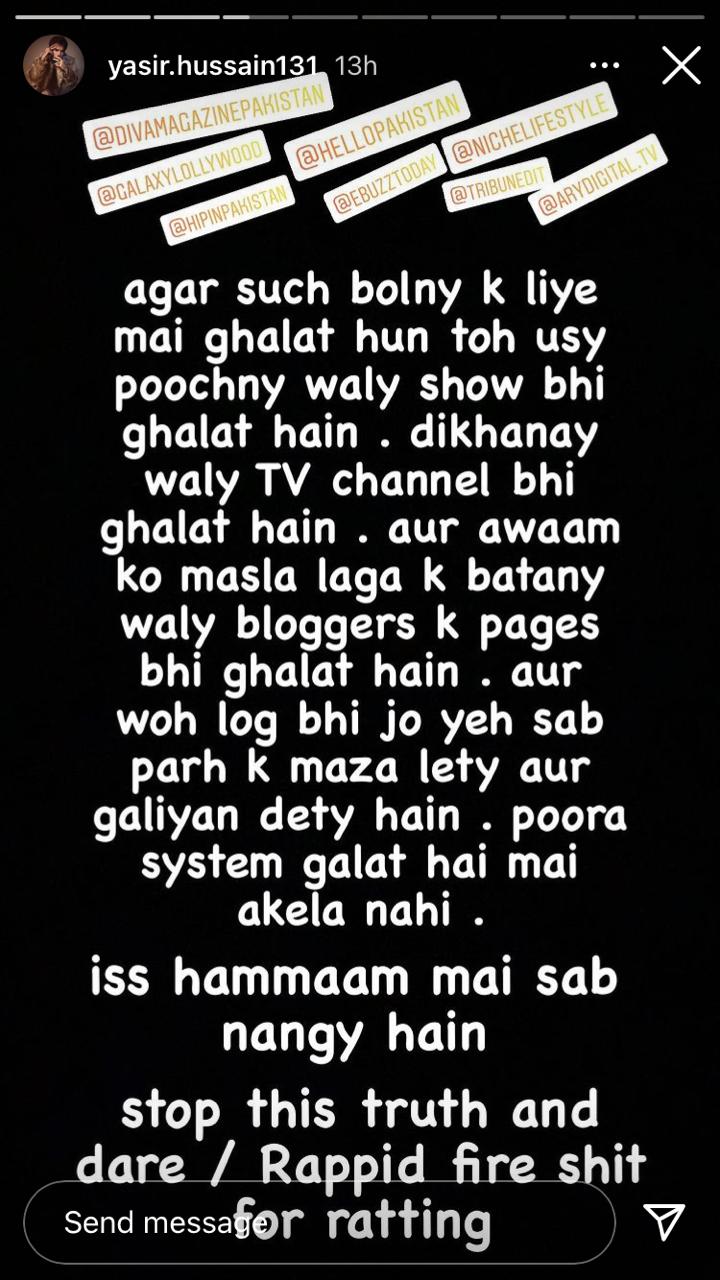 He said that they wouldn't stop, though, because it is the negativity that sells.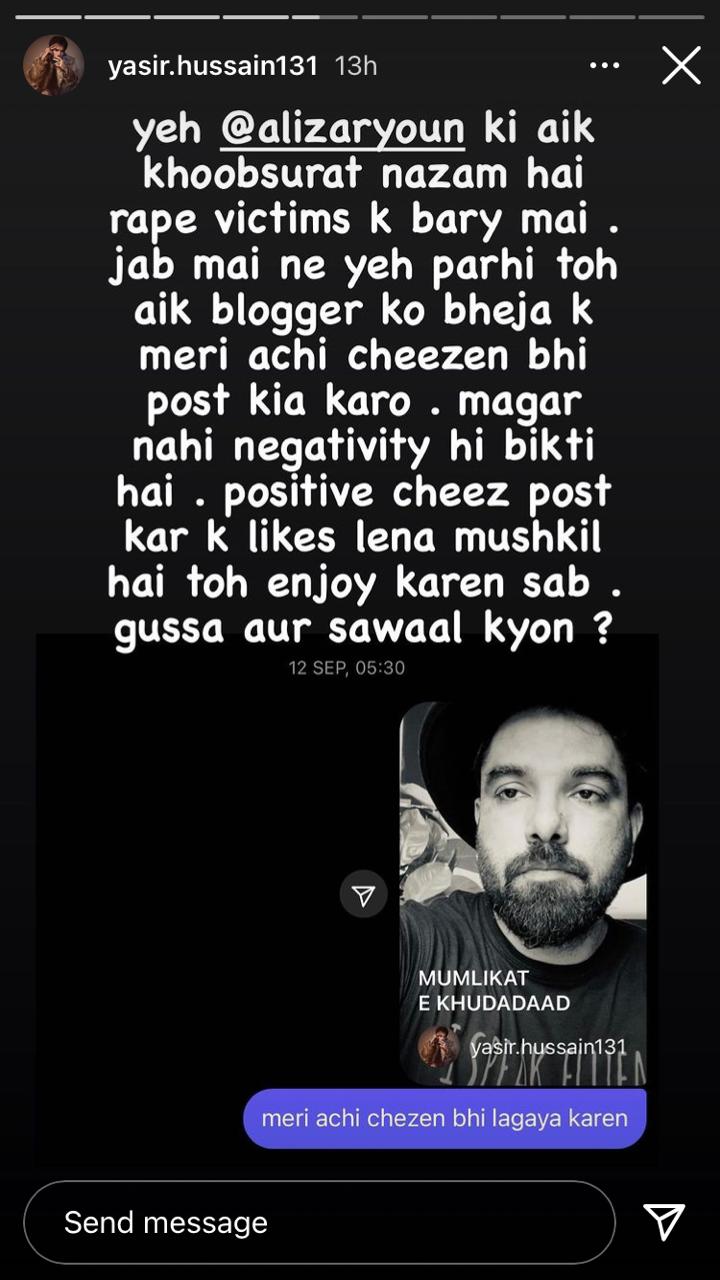 He then said that he could totally share Nousheen's voice notes that pressurized him into sending the location of the wedding. He also noted that it was his wife who felt sorry for Nousheen after seeing her statement.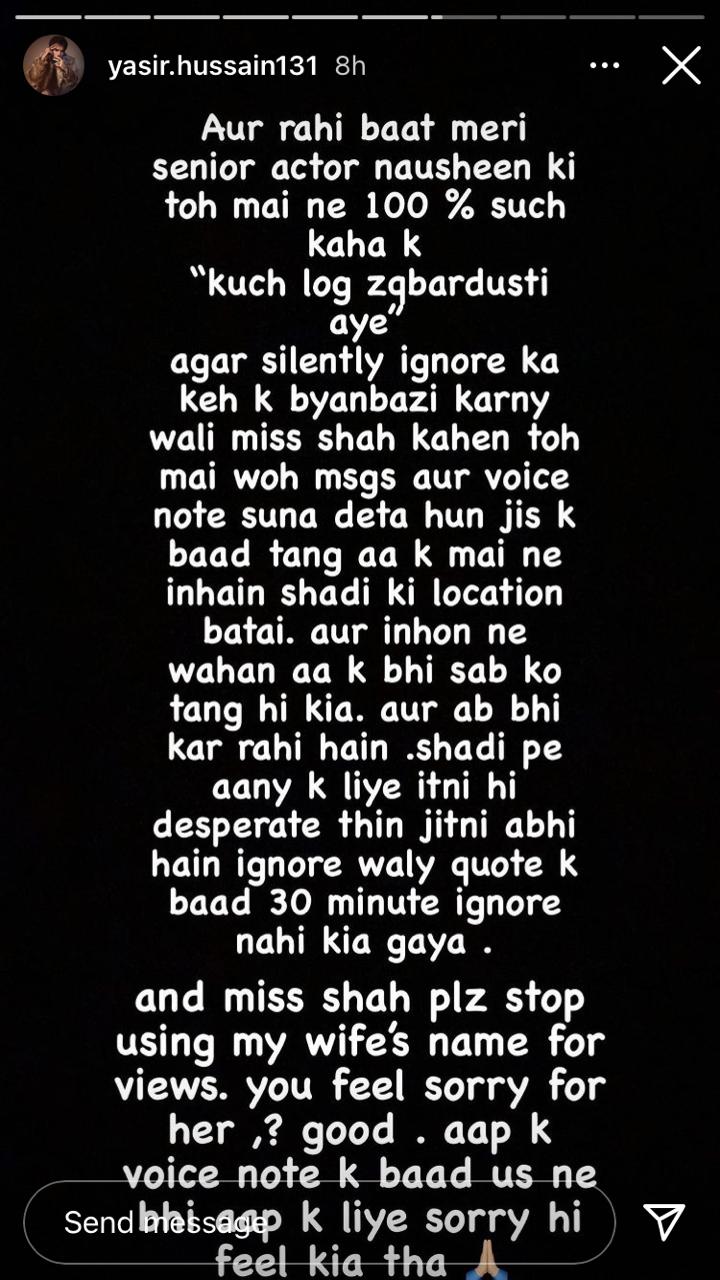 After dealing with Nousheen, he called out the entire audience of these controversies and dragged the show he was invited to. He called 'Ghabrana Mana Hai' a copy of 'Koffee With Karan.'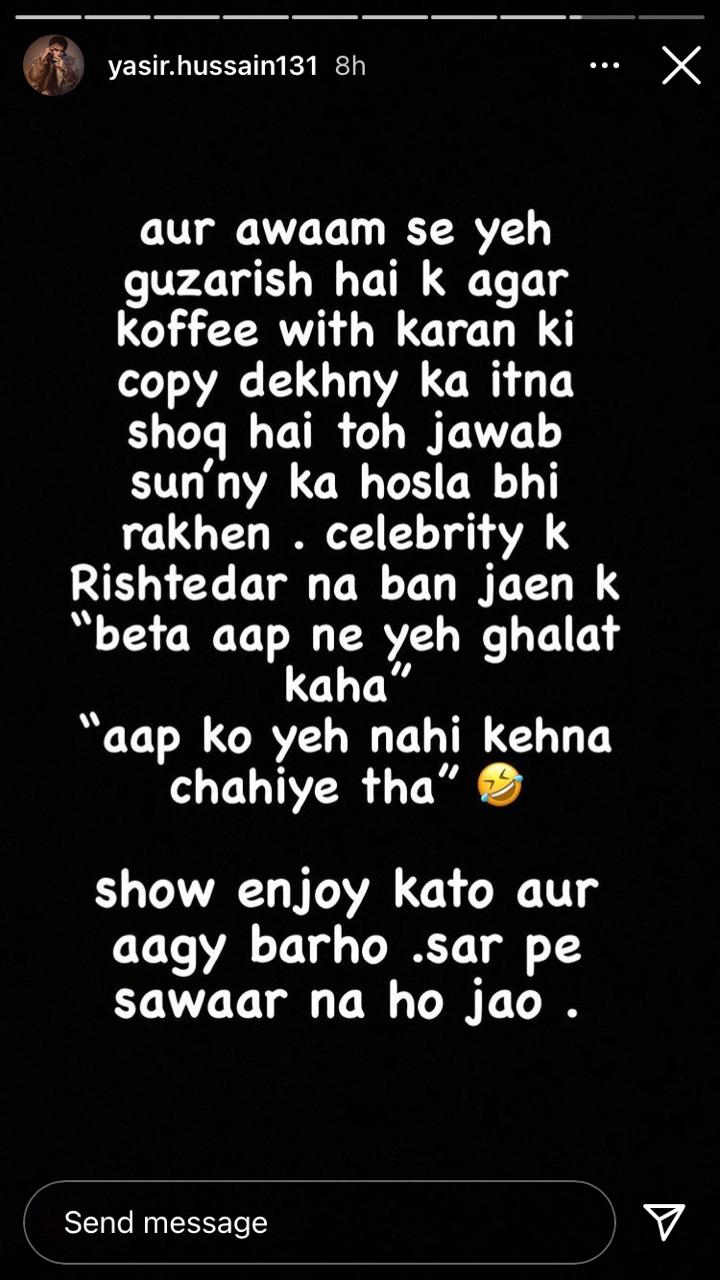 Seeing how a huge drama was created out of Hania Amir and Yasir Hussain's conflict, it is quite possible that Yasir was feeling a bit left out and decided to spark another controversy.
Stay tuned to Brandsynario for the latest news and updates!