The Kaaba is the most sacred religious and holiest site for Muslims all around the world. The Grand Mosque of Makkah gets millions of visitors every month and many people save up to make their visit to the holy land.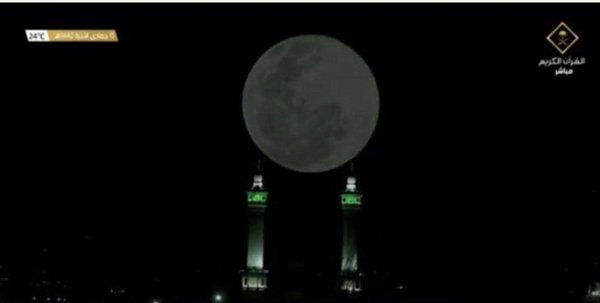 The Moon Aligning Directly Over Kaaba:
On Friday, the full moon aligned directly over the Kaaba which has been a rare occurrence. Muslims all around the world pray while facing towards the Kaaba and this event allowed them to determine the accuracy of the direction of the Holy Mosque so that they pray the right way.
The event was witnessed by those in the vicinity of the grand mosque who was the moon directly above the Kaaba on the first hour of Friday.
"This will be followed by the moon's alignment with the Kaaba at 12:43:35 a.m. KSA time, or 09:43:34 GMT, at an altitude of 89.57.46 degrees," Majed Abu Zahira, president of the Jeddah Astronomy Association, announced the event for public awareness.
"The moon's disc will be fully illuminated at 99.9 percent at a distance of 381.125 kilometers from Earth. It will then remain visible for the rest of the night until it sets with the rise of the sun on Friday," he further added to his statement posted on Instagram.
The Kaaba, also referred to as the Khaana-e-Kaaba is believed to have been built by Prophet Abraham (A.S), referred to as Ibrahim in the Arabic and Urdu texts and his son Ismaeel (A.S). The place holds a dear place in the heart of Muslims and is the direction which is where everyone prays five times a day, every day.
As per the Middle East Monitor, the full moon appears directly over the Kaaba once a year and is an opportunity for Muslims to check the accuracy of their devices or apps they use to find the accurate direction of the Kaaba.
Saudi Quran TV streamed the event live where the full moon could be seen by everyone all around the world.
Social Distancing And How The Pandemic Impacted Pilgrimage:
The coronavirus caused the government and scholars to reach a mutual consensus and set protocols for the safety of pilgrims which caused only a limited number of people to be allowed to do the pilgrimage.
The Holy Mosque only has a limited number of visitors these days who observe strict protocols that prevent the spread of the coronavirus. Many aspiring pilgrims and the Muslim community has been praying for things to go back to normal so that the Hajj and Umrah could resume.
Follow Brandsynario for more news and updates.