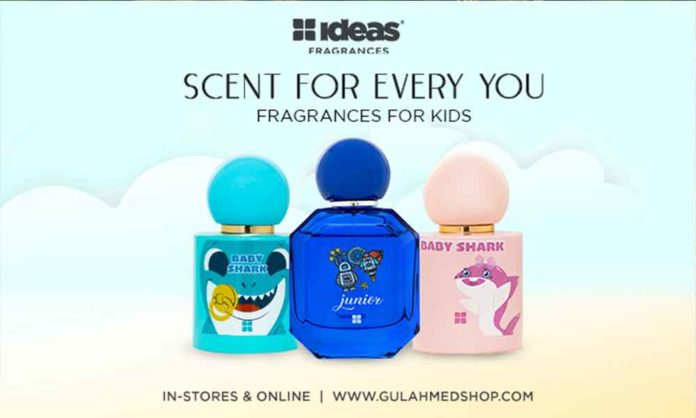 IDEAS recently unveiled its wide range of perfumes and what caught our eye was the variety of kids' perfumes in this range.
When it comes to grooming and style, we believe that children have as much a right to look and feel pleasant as adults – especially when it comes to keeping unpleasant body odors at bay and ensuring they smell fresh throughout the day.
The IDEAS perfume collection for kids consists of four unique fragrances.  There is Baby Shark Pink, Baby Shark Blue, Junior and Cute Kitty — all catering to different moods from fruity to floral and musky.
Here's our take on these fun fragrances for Kids.
Baby Shark Pink:
Baby Shark Pink comes in a cuttle little pink bottle and opens with top notes of Pear and Rose making it a perfect fragrance for young girls. The fruity and floral combination of this perfume makes it fresh and light with a soft intensity to ensure your little ones feel fresh throughout the day without having an overbearing scent.
Baby Shark Blue:
Baby Shark Blue is a lovely Floral Powdery Musky Scent perfect for hot summers. The Musky Amber base of this perfume blends perfectly with spicy anise and fruity aromas. The scent is fresh and clean-smelling without being overpowering and the added cherry on top is the cute little blue bottle which looks great in your kids' room.
Cute Kitty:
If sweet musky fragrances are what your little girl likes then this is the perfect choice for her. This gently sweet fragrance contains notes of sugar, marshmallow, and vanilla in a musky base giving it excellent longevity. Cute kitty is certainly your go-to perfume to feel refreshed after a hot day in the sun because it smells fresh and invigorating yet soothing and happy.
Junior:
Junior is a lovely citrus woody musk that opens with notes of Chamomile Bergamot Rose with upbeat floral green at its heart. There's a unique mildly intense musky quality to it which makes this scent's notes feel inter-connected and well-rounded. Ideal for young boys who like to smell fragrant throughout the day without drawing too much attention.
Shop the best kids' perfumes online at www.gulahmedshop.com or your little one explore the range at your nearest Ideas store.