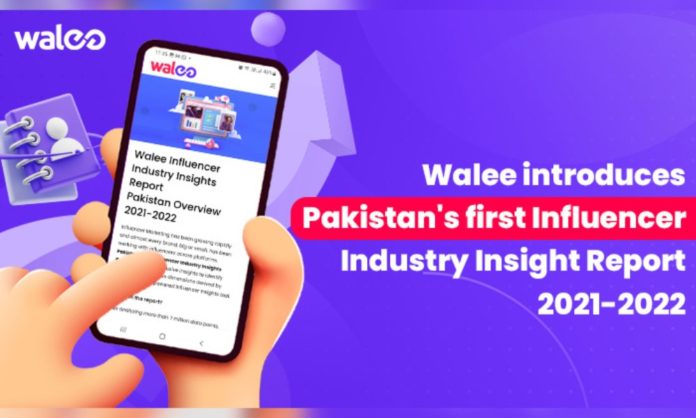 2022 was the year in which influencer marketing transformed from a nascent industry to a booming one. The rise of the influencers and the trust several brands invested in them harnessed social media power unlike ever before in Pakistan and Walee is ensuring that this revolution is here to stay.
What is Walee?
It is a platform that has become the leading influencer marketing and social commerce ecosystem in Pakistan. Launched in 2019, the platform has now become a go-to name for the major global and national brands who seek to enhance their social identity. Walee takes pride in assisting, managing and curating over 10,000+ collaborations to date with a 150,000+ influencer community.
Pakistan's First Industry Influencer Insights Report Which Analyzes Over 7 Million Data Points!
This report is the product of Walee's AI-powered social listening and insights tools which analyzed millions of data points over the 2021-2022 for 1000+ campaigns & influencers on Instagram. 
It identifies the top 10 performers of various categories, brands, industries and campaigns to provide access to insights from the growing creator economy unlike ever before. This is a much-needed step towards formalizing the influencer industry and even empowering the listed influencers to use statistics for marketing or pitching to various advertisers themselves. This new development courtesy of Walee will add structure to the influencer business.
The Industry With The Most Influencer Campaigns
One of the most interesting segments in the report is identifying the industry with the most influencer campaigns as that can give influencers and marketing experts guidance on where their expertise is most needed.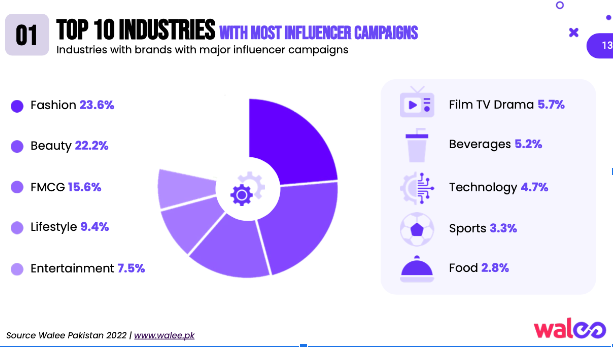 This isn't surprising considering the majority of influencers, females especially have risen to prominence through lifestyle and fashion. 
Fariha Asghar, who goes by the username of @farihaasghar. Fariha's share of the campaigns was the highest at 12.1%. Mehwish Alam, Chief Business Officer at bSecure noted:
"The power of female influencers is not just about the number of followers they have, it is about the authenticity, engagement and connection they establish with their audience. They seek and trust other women's opinions more. Since they share more stories on social media, they tend to instill more emotional value to a product or message. They connect with their audience, something far more useful than plain old ads. Brands leverage this storytelling experience, which is a two-way communication process compared to traditional ads."
Here are the other female influencers who made it to the top ten.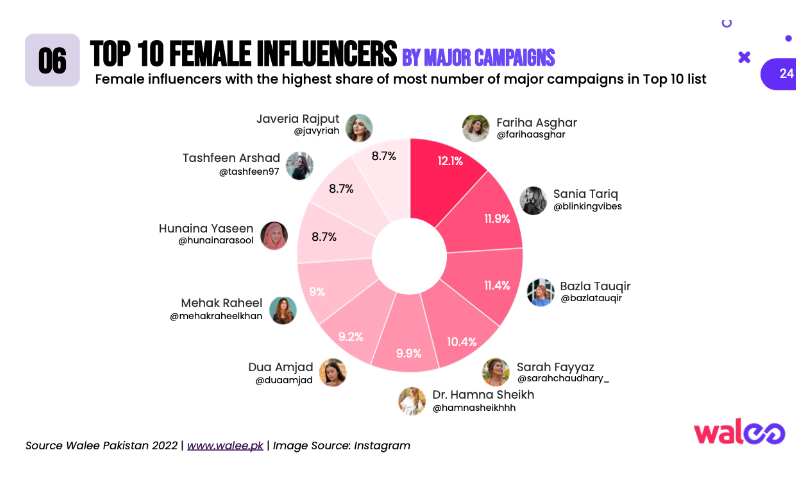 These data points and their results are also more fascinating because they can pave the way for influencers to get business based on merit. In the influencer industry, there are several niche names that become prominent only in particular social circles. However, with the help of reports like these, those who stand at the top by genuine standards get to become more prominent. 
The Brand With the Highest Campaign Engagement Rate
Another incredible insight that comes through from Walee's report is The Brand With the Highest Campaign Engagement Rate, drum-roll: SAPPHIRE! In this particular category, Walee analyzes the brand's average engagement range across the content of all their major campaigns. This category was dominated by a fashion brand and a beauty brand. Sapphire is a leading apparel brand that won this category with an engagement rate of 52.6% while the second close contender was ST London with 47.4% engagement. This was followed by Head & Shoulders at 37.5%, and super closely standing at fourth is L'Oreal Paris at 37.1%.
Sapphire's place at the top is justified: over the years it has evolved as a family brand unlike any other which can explain the high rates of engagement. Men, women of all ages and the youth all find a point to engage with what the brand has to offer.
Below are the others who made space for themselves with a high engagement in the year. Interestingly, six out of the ten brands stand in the Lifestyle, Fashion & Beauty category – what's up Pakistan?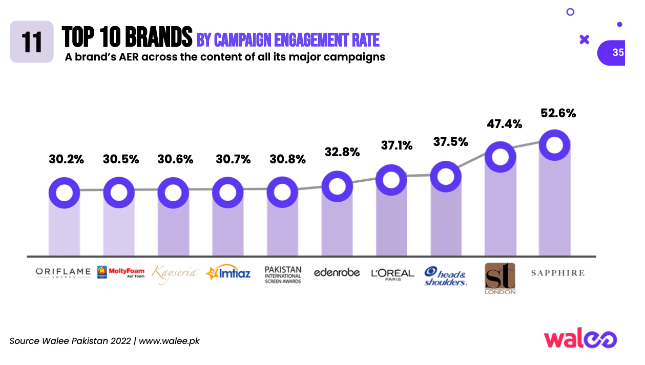 All in all, while Walee's report is comprehensive covering every tiny aspect across the industry, be it engagement rate or the most popular campaigns, these were the most interesting categories whose findings can resonate with a large crowd.
Walee Influencer Industry Insights Report 2021-2022 is publicly available and you can download it from here. How do you think this report can change the influencer industry?
Let us know in the comments below.