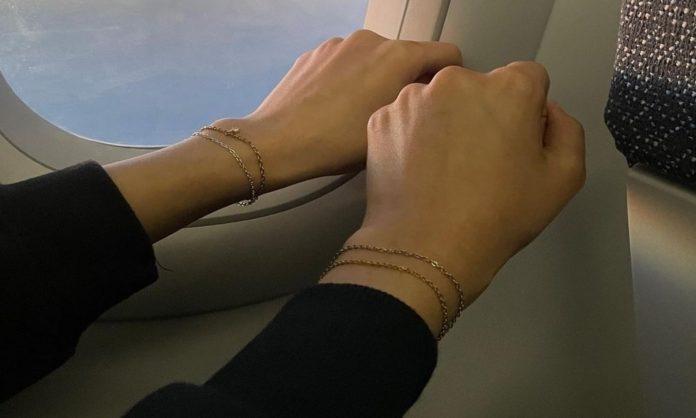 The trend of permanent jewelry has taken social media by storm and it is the closest you can get to a tattoo. Permanent jewelry including rings and bracelets is also known as infinity jewelry which once worn can not be taken off easily.
What Is Permanent Jewellery?
Permanent jewelry offers a chance to customize bracelets and necklaces of your choice. With a variety of styles to choose from you can customize everything from chain size and color to the charms you would like to add. The entire process of getting permanent jewelry is as personal as it can get. While it can also refer to as a form of self-expression getting permanent jewelry along with your best friend or a significant other can make the entire process even more meaningful.
Read More: A Luxurious And Fashion-Forward Range Of Lawn Suits from Gul Ahmed This Summer
How Is It Different From Regular Jewellery?
Unlike regular jewelry, permanent jewelry doesn't come with any hooks. The entire thread of the chain is bonded with the help of clasps which is only done by a professional. With the right size, these jewelry items fit like a glove since they are perfectly sized according to your wrist diameter. All you need to do is pick the right accessory to go with it and you are done.
These permanent charms and bracelets are also waterproof making them the perfect fit to wear every day. The longevity and quality allow them to be worn in water without having to worry about rust and tarnish.
Where To Find It In Pakistan? 
Permanent jewelry is very much welcomed in Pakistan as well. An online store that goes by the name of Mkypk has been offering permanent jewelry in Pakistan. Their exclusive variety of chains and charms in the most mind-blowing and intricate designs has become a major hit among women and girls. The online store has been holding pop-ups in major cities of the country where people line up to get their version of the infinity bracelets.
All in all, if you love jewelry and don't want to go through the hassle of wearing and taking them off every day then checking out these pop-ups is the best bet. Not only that if you want to do something meaningful with your bestie or beau then commemorating your love for each other with these jewelry pieces is as lovely as it sounds.
Read More: The Dark Side Of Wearable Fitness Trackers You Didn't Know About
Stay tuned to Brandsynario for the latest news and updates.