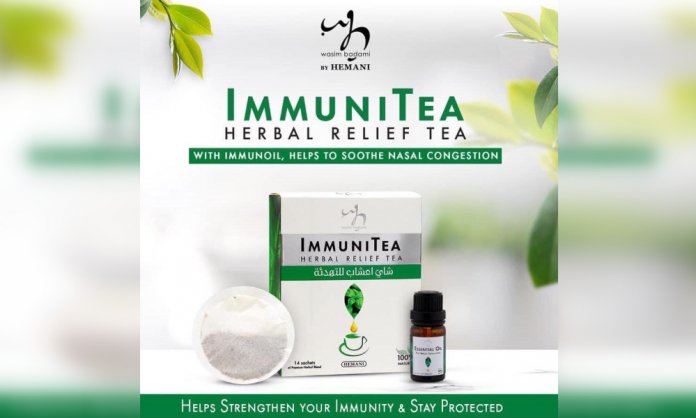 225 views
Famous natural products brand for healthy living, WB by Hemani, has launched 'ImmuniTea'. Hemani is an established brand with a wide range of natural products in over 60 countries. ImmuniTea is a herbal relief tea that not only helps relax viral flu symptoms but is a great immunity booster too. You can get it here and this is all you need to know about it.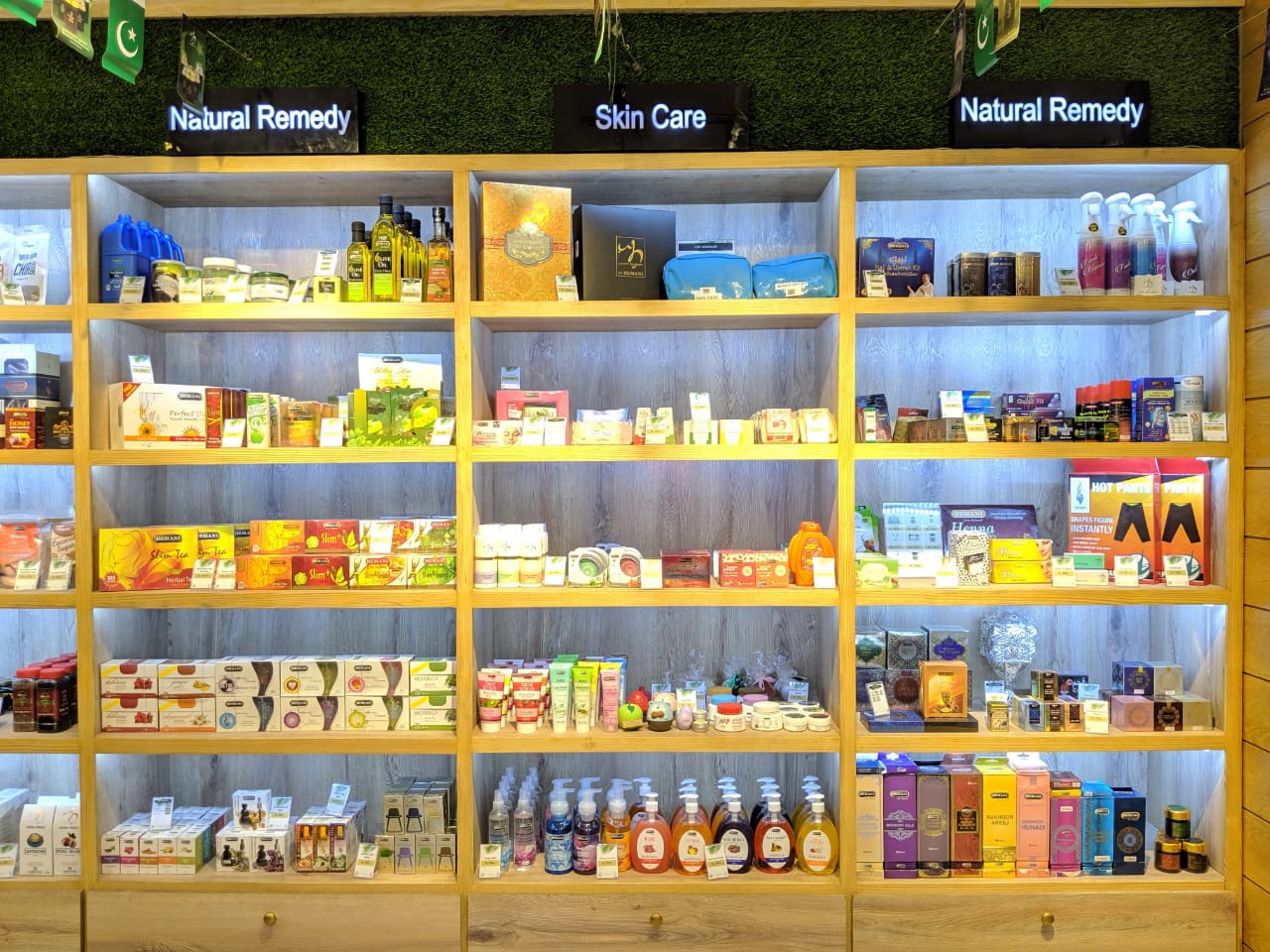 What is ImmuniTea?
ImmuniTea, when launched by WB by Hemani, was not advertised as a cure. It was always labelled as a relief measure that has profound benefits. In an interview with SomethingHauteOfficial, Alam talks about the tea in detail. He begins by saying that he recently started believing in the interests of herbalism in science.
Here's the interview with Fakhr e Alam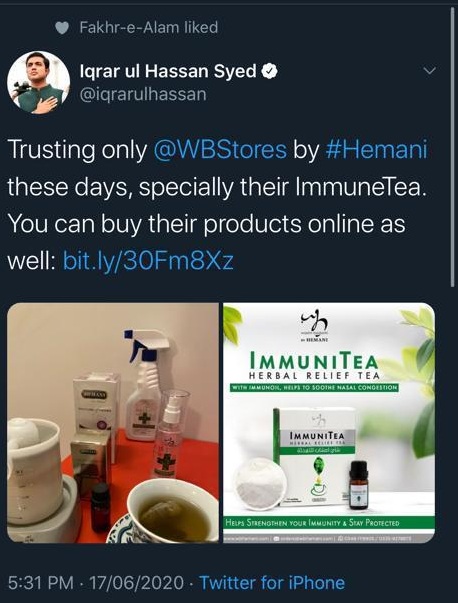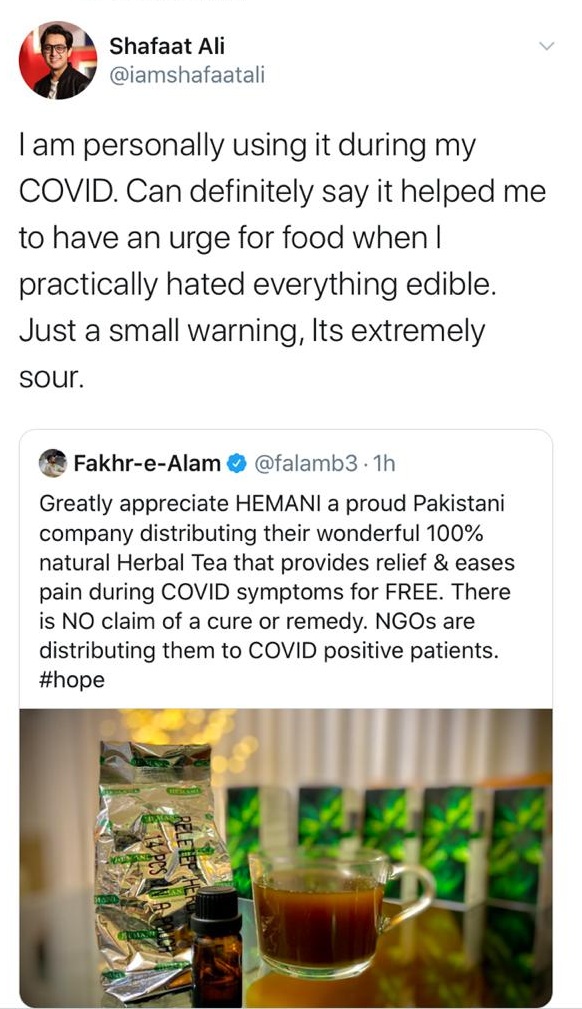 Hemani's founder had been working with accomplished herbalists regarding COVID-19 when they started developing a blend. This tea has seven special herbs collected from around the world. It is a great immunity booster that can be used even if a person is corona negative.
https://www.youtube.com/watch?v=tjf8PauTo5w
How was ImmuniTea initially tested
ImmuniTea was initially tested by Hemani's owner and his own family. Unfortunately, they had all fallen prey to Coronavirus, and that is when they tried it for the first time. Alam notes that Mr. Mustafa (owner of Hemani) was happy to report that significant symptoms of the virus were being relieved. Fever, loss of hunger, loss of taste, and body aches had been reduced to a great extent when they started incorporating ImmuniTea in their routines.
Results of ImmuniTea
Seeds of doubt may remain when the testament for a product comes from the owner. However, WB by Hemani's Immunnitea has been tried and tested by several others. We found out about the product through friends who had tested it. They, too, were COVID-19 positive and suffering much because of the symptoms.
However, ImmuniTea, along with prescribed medicines, relieved several symptoms, making their recovery speedy. Some prominent names are Nida Yasir and Nabeel Zafar, who spoke about it with high regard. Moreover, they also encouraged their fans to purchase it.
This is what the iconic Nabeel has to say about the HEMANI herbal tea. The reason I share this with you is because I believe this tea helps.Why I believe so…that complete story I will share with you in a couple of days. Again there are NO claims. Hope it helps. Spread the word. pic.twitter.com/U4QaqX3Jbd

— Fakhr-e-Alam (@falamb3) June 17, 2020
Fairly-priced for what it's worth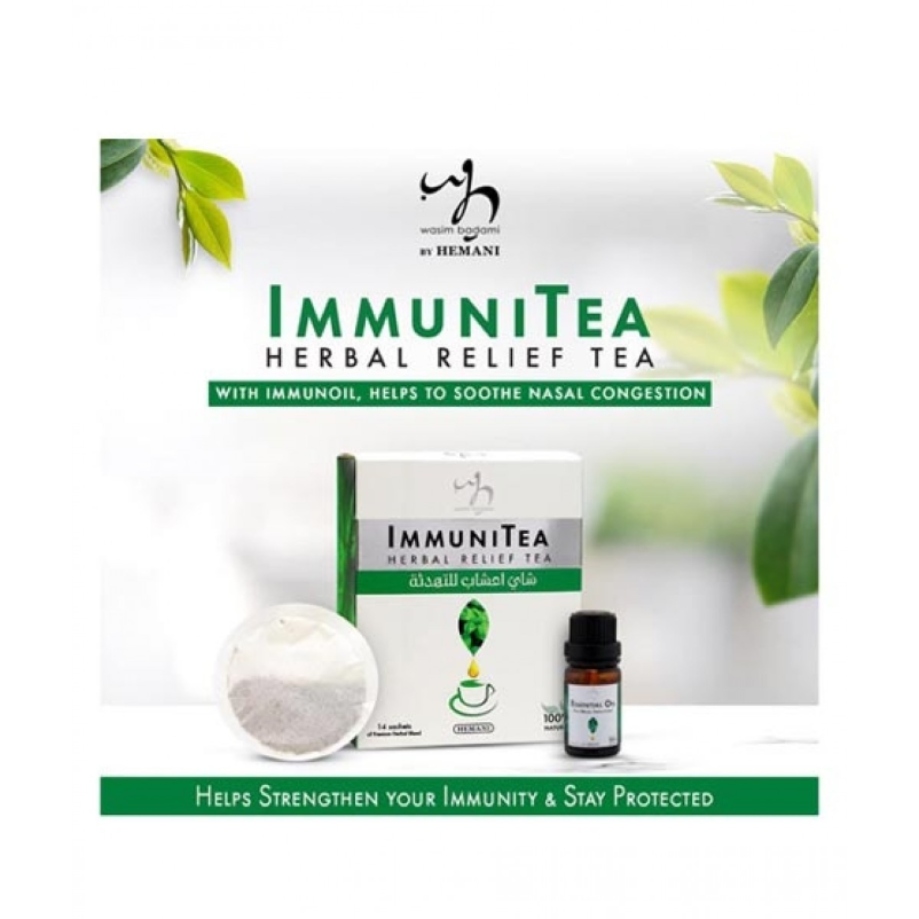 Fakhr-e-Alam also shares the factors behind the price. Many publications are bashing the promoters for cashing on a pandemic. However, that is not true at all. It has been said nowhere that is a cure rather it is something that helps relax the symptoms. Their motive is to get this across to as many people as possible.
The product is fairly priced because of how expensive it is to source the rare herbs for the tea. Moreover, those who can not afford it can get it from organisations ImmuniTea is being donated to. Daily a thousand boxes are donated to the JDC foundation for those who can not afford it. Hemani is working on alleviating the effects of a pandemic, not to cash in on it.
Moreover, Indian brand Patanjali has also launched its Ayurvedic medicine for COVID-19. This medicine has shown favourable results during a clinical trial on an affected patient. The question is if they can do it, why can't we?
A savior in times like these
ImmuniTea, indeed, is a great source to help relieve the viral-flu like symptoms. Moreover, in times like these where everyone is focusing more on boosting their immunity, ImmuniTea would play a vital role in this. As this tea is free of medicinal compounds, it is extremely safe for children and adults to consume it. If you're experiencing any flu-like symptoms, it's time for you to grab a few boxes of this magical tea.
What do you think of ImmuniTea? Will you give it a try? Let us know in the comments below.
Stay tuned to Brandsynario for the latest news and updates!