Our traffic laws and rules already have a questionable reputation. It is not uncommon to see someone violating the traffic rules and not facing any consequences for it. We have all come across at least one person who has bragged about violating the traffic rules and laws.
At times the problem gets so severe that the traffic police has to specifically announce special instructions and consequences for cars and bike riders for performing stunts in the middle of the streets especially on occasions like New Year's Eve and 14th August.
A Kid Driving Land Cruiser In Multan: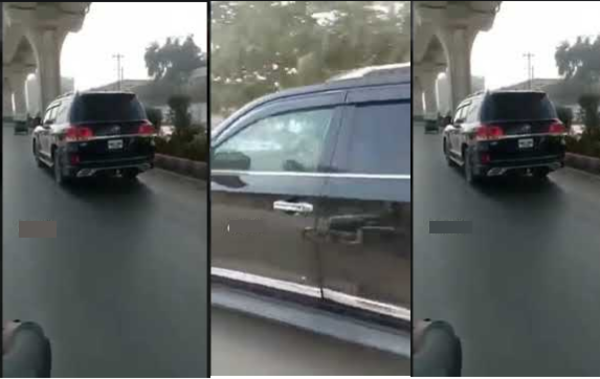 A few hours ago, a video went viral on Facebook, Youtube and other social platforms in which a boy of approximately five years old can be seen driving a Land Cruiser in the middle of the street of a metropolitan city.
The commenters and posters claim that the video is of Multan, Punjab and the kid driving the Land Cruiser is five years old.
Even though many people took this video on a lighter note and took it as a joke, certain people pointed out the threat it posed not only for the kid but those around him.
Who Was The Kid And Whose Car Was He Driving?
The netizens are normally investigative of such incidents and uncover the parties involved in cases like this, however, we are yet to find out who the kid in the video is and whether he was driving the car with his parents knowing of this.
The video is extremely shaky and it seems that the person recording it was riding a motorbike himself. It seems the kid is standing so that his feet could reach the pedals which enabled him to accelerate and brake the SUV.
Certain news outlets report that the street where the SUV was recorded being driven by the kid was Bosan Road, Multan which is one of the crowded roads of Multan. This comes as a shock as normally such important roads have traffic police on-duty.
It is not uncommon to see dangerous stunts being performed in the streets of Pakistan however it is bizarre how a kid under the age of ten was given the liberty to drive an SUV on busy roads of Multan.
The story is still developing and we'll share with you as soon as we find out more details on this story.
Follow Brandsynario for more news & updates.