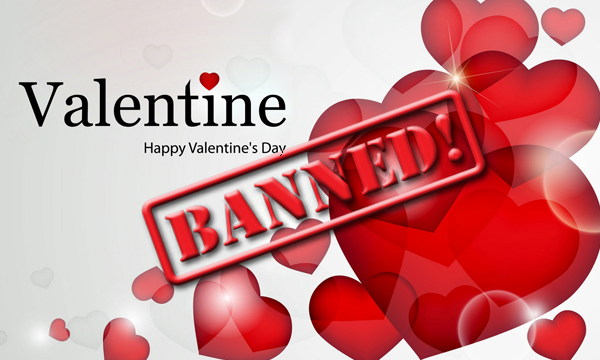 All those in Pakistan planning to celebrate a lovey-dovey Valentine's Day 2017 should halt their preparations right away. Islamabad High Court (IHC) has reinstated its usual ban on 14th February celebrations countrywide.
Last year the authority passed the order during a petition's hearing, asserting that Valentine's day should be banned as it is not an Islamic ritual.
This year, a noticed by Pakistan Electronic and Media Regulation (PEMRA) has been released to implement the directives of IHC.
"respondents are directed to ensure that nothing about the celebrations of Valentine's Day and its promotion is spread on electronic or print media. No event shall be held at the official level or at any public place"
Reminder in pursuance of order passed by Hon'ble Islamabad High Court regarding stoppage of promotion of Valentine's Day on media. pic.twitter.com/AejorEpWp5

— Report PEMRA (@reportpemra) February 7, 2018
Hence, all public Valentine's Day festivities and those on the official scale have been barred. Electronic and print media have also been ordered not to promote anything in regards to V-Day.
Two years back, the President of Pakistan, Mamnoon Hussain had said in a statement that Valentine's Day should be avoided at all cost.
"Valentine's Day has no connection with our culture and it should be avoided"
Here's how Twitterverse is reacting to the news!
What's the biggest threat Pakistan is facing?
Valentine's day. #thattimeofyearagain

— Khooni Liberal (@stariq88) February 7, 2018
Spreading hatred is okay, celebrating love is banned. Pakistan regulatory body @reportpemra bars electronic & print media from promoting Valentine's day celebrations. pic.twitter.com/6OLiVhd0kT

— Fazil Jamili (@faziljamili) February 7, 2018
If you want to see 200 million people collectively freak out without any real reason why, watch Pakistan on Valentine's Day. https://t.co/USmequHML1

— Saim Saeed (@saimsaeed847) February 7, 2018
PEMRA has ordered TV channels not to broadcast anything about Valentine's Day, without giving an inkling about what code of conduct it violates. TV stations should wipe their collective asses with the notification,

— Shaheryar Mirza (@mirza9) February 7, 2018
Don't they have anything better to do ? There are so many critical issues in Pakistan. Education, healthcare on brink. Elits are stashing all pakistani resources in foreign banks. Politically its going towards 1971 once again.
And they are focusing on valentine day ??
Amazing!!

— Shekhar (@iwalovemadho) February 7, 2018
UN Islamic LOVE NOT ALLOWED: Ahead of #Valentine Day (#Feb14), #Pakistan #Electronic Media Regulatory body announced ban on advertising related to Valentine.
پیمرا نے ویلٹائن ڈے کی تشہیر / حوصلہ افزائی پر پابندی لگا دی۔
نوٹیفیکیشن جاری#ValentinesDay #PEMRA #Feb07 pic.twitter.com/OVPAy1InL7

— Shabbir Hussain Imam (@peshavar) February 7, 2018
Pakistan: Say no to Valentine's Day
Also Pakistan: Blasphemy Law is only law https://t.co/t7fvFn9AZN

— Khaver Siddiqi (@thekarachikid) February 7, 2018
I mean, it's an annoying 'holiday' but here goes Pakistan banning Valentine's Day…again. https://t.co/odavTUTg54

— Sophia Saifi (@SophiaSaifi) February 7, 2018
Stay tuned to Brandsynario for more updates!