Urwa Hocane's latest shoot with Fahad Hussyn isn't going all too well. Whether it be her poetic captions that elude the reader or her outfits that are problematic, something is going on!
An Inspired Moment
It seems that Urwa Hocane decided she must venture into the art of poetry. If not that, even the art of prose is a deep enough well to explore. However, it turns out her effort was perceived as all too try-hard and strange!
In a recent post of hers in which she poses in a Fahad Hussyn piece, she went on talking about the "grand bazar of knowledge" and "folklore" and the "tune of songs". This had people confused in one sentence, the next until they realized they had read it all but did not understand a single thing.
Read The Prose That Would Make Shakespeare Shy
View this post on Instagram
The Netizens' Reaction
As you might know already, there is no culture of glossing over words in our society. If people want to say something, they say it either by hook or by crook. The same can be seen here as this thread collectively tries to decode Urwa's prose. See for yourself what they have to say:
LMAO either she's having a ~creative~ moment or there's a copywriter out there congratulating themselves on their "storytelling" 😭

— irritablepatricia (@wajeeham) December 21, 2020
damn would sis like to do my mfa instead of me now THATS some poetry if ever i saw it

— PreLovedFeminist (@sadsexysmol) December 21, 2020
There's so much wrong here I can't figure out how to unpack this

— The Fool™ On The Hill (@VirtuallyExists) December 21, 2020
What does any of this mean?!

— Hija Kamran (@hijakamran) December 21, 2020
Brain fuck.

— 🥴 (@BiryaniKiDaig) December 21, 2020
So much going on in one post

— Eurus (@Hexatiouz) December 21, 2020
It's Cultural Appropriation
Most Pakistanis are alien to the concept of cultural appropriation because our main agents of socialization such as media, social media or schools are also alien to it. Cultural appropriation means when elements of one culture are adopted into another deliberately. In order for this to be cultural appropriation, the culture from which something is taken must be a disadvantaged minority.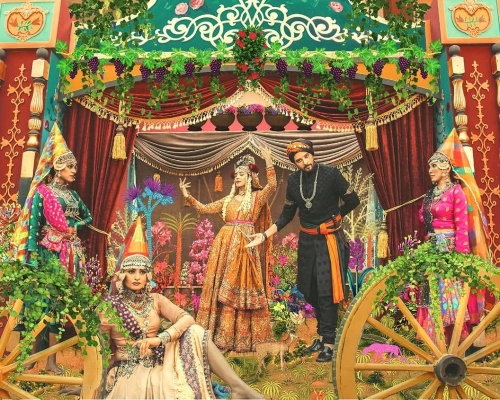 While Fahad Hussyn may have wanted to explore the "folklore" of jugunabad, he could have done so in a better way! Why not create these dresses and have the native people model them?
Here he brings in elements of another culture – which is close to extinction – simply for his financial gains.
Make It New!
Ezra Pound once said "make it new!" about literature in the 18th century and we think the same spirit must be imbued in the fashion industry. Enough of romanticised folklores and desperate attempts to look "native". Especially enough of using darker-skinned models as accessories in the shoots!
It's the 21st century and Pakistani designers and celebs like Urwa Hocane must realise that fashion and political correctness are not mutually exclusive of each other!
Stay tuned to Brandsynario for the latest news and updates.