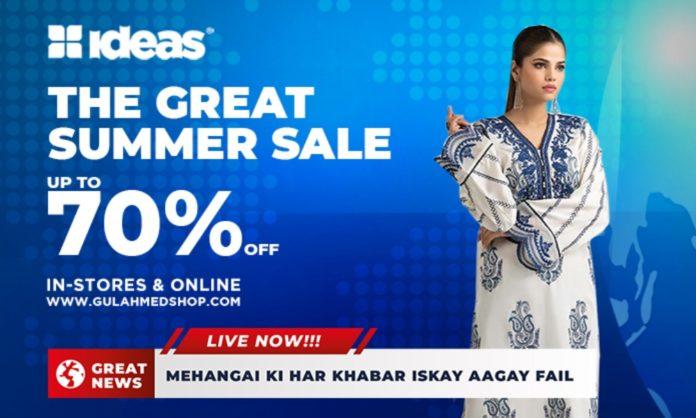 Fashionistas, pay attention! The eagerly anticipated Great Summer Sale 2023 has finally here and is providing an unmissable chance to enjoy a great shopping experience in preparation for the approaching holiday season!
The luxury ready-to-wear line from The Great Summer Sale embraces the definition of luxury through the use of premium materials. With over 4000 products available at huge reductions of up to 70%, there is undoubtedly something for everyone.
Every fabric choice radiates opulence, from airy silks that delicately drape over the body to soft, breathable cotton that caresses the skin. Each piece of clothing is a delight to wear because of the opulent fabrics' ability to make you feel loved and appreciated.
What we adore at the Ideas Sale this year is as follows:
With this essential raw silk embroidered kurti, your daytime celebrations will be elevated. It stands out as a result of the fine craftsmanship and attention to detail that went into it. The organza dupatta's intricately embroidered designs elevate the style and provide an extra layer of sophistication and elegance.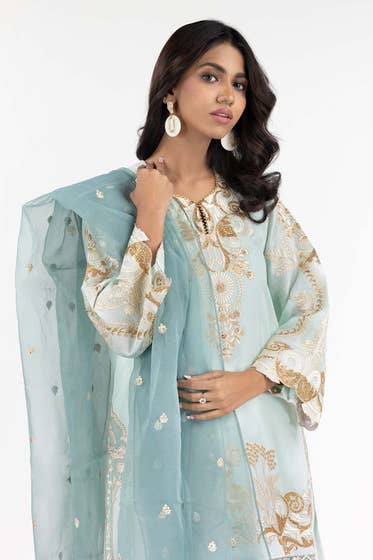 This mint green zari gown with lavish organza borders and heavy dori embroidery on the front oozes timelessness and elegance. We adore how adaptable this kurta is! For an extravagant touch, wear it with your mother's ornate pink dupatta, or go for a stylish, minimalist style by removing the dupatta and letting the ensemble stand out on its own.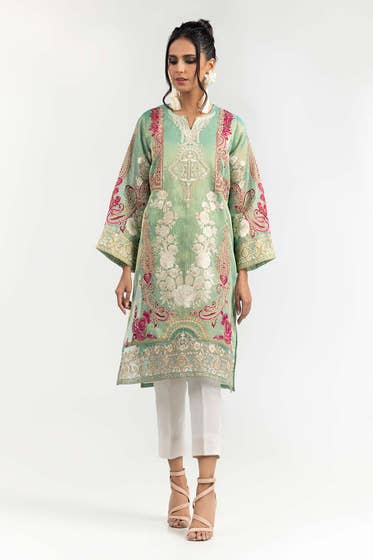 For those sweltering summer days when you want to stay cool while exuding casual flair, this khadi net embroidered kurta is ideal. Blue straight trousers with beautiful lace and organza trimmings are worn with this airy, lightweight outfit. Together, they form a beautiful pair that exudes grace and sophistication, guaranteeing that you look and feel stylish all day long.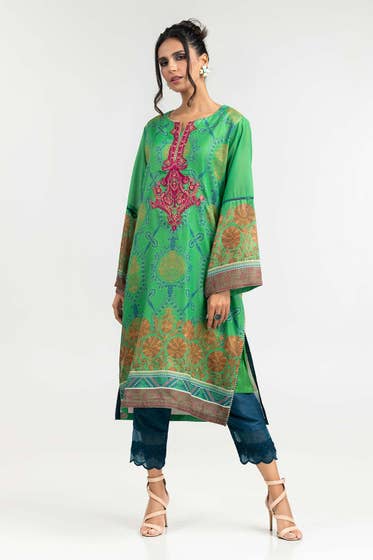 When it comes to slightly formal clothes for the summer, kaftans are a wardrobe staple, and this printed charmeuse silk kaftan is no exception. It exudes elegance as its plush fabric falls elegantly. You'll be prepared to make an unforgettable entry if you wear it with high heels and a stylish clutch for a gorgeous night out.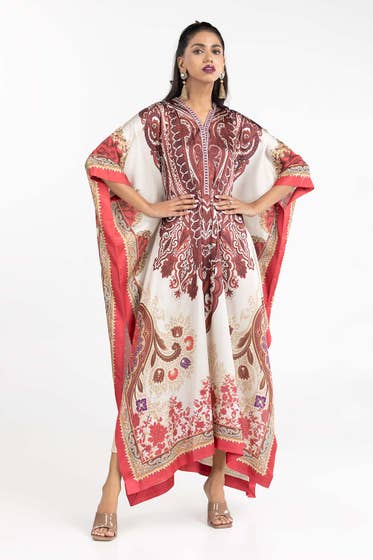 This striking shirt fuses superb embroidery with the appeal of screen printing. The daman and sleeves are embellished with exquisitely embroidered borders, which give this stylish outfit an extra sense of elegance. This shirt may be worn with any white pair of trousers to achieve a style that is both classic and easily stylish by letting the intricate pattern and brilliant colors take center stage.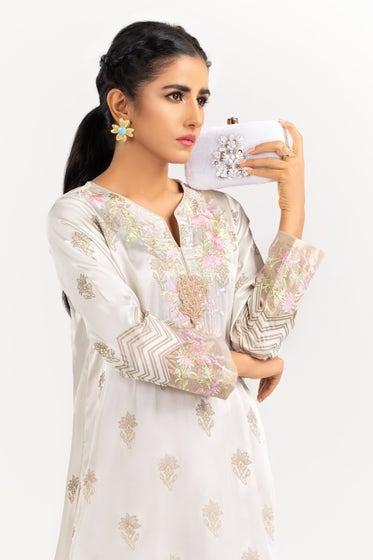 This sale is not to be missed, with savings of up to 70%. The Great Summer Sale has something unique for everyone, regardless of whether you want to browse the racks in person or appreciate the convenience of online purchasing.
What are you waiting for, ladies? To take advantage of fantastic offers and discounts, just stop by the Ideas stores close to you or purchase online at www.gulahmedshop.com. There is a simple 30-day exchange policy and a low delivery price of just PKR 99 to help you with all of your purchasing needs.
Stay tuned to Brandsynario for more news and updates.