This latest tech collaboration is going to make us rethink purchasing international tech products. 'Made in Pakistan' is going to be revolutionised for greater quality at a lower price!
More about OnePlus
The greatest confirmation of OnePlus' greatness is how they made it to the top ranks in the tech world within just 7 years of being operational. They aim to provide high-performance and the most premium of products without it being a burden.
The brand ethos is also most explicit in their slogan – 'Never Settle' – which captures their dynamic spirit and commitment to providing the best to their customers.
United Mobile Partners with OnePlus
United Mobile is another household name in Pakistan. They remain one of the most prominent Telecom Distribution Company in Pakistan for over 20 years. United Mobile is also one of the first companies to launch local assembly with their own brand. Voice Mobile their own brand which has been making waves in the tech industry!
View this post on Instagram
When these two industry Megas come together, can one expect anything less than a revolution? United Mobile has partnered with OnePlus to become its authorized distributor. 
What To Expect?
OnePlus plans to make the integration of technology in the lives of Pakistanis easier. Access to and affordability of international brands is growing into a burden. Why go for them when you can have better value, quality and innovation in something bred at home?
OnePlus plans to continue its optimum performance, production of high-quality products and more to satisfy its customers. Additionally, United Mobile aims to equip every Pakistani with the best of technology. 
View this post on Instagram
They are going to revolutionise the attitude towards 'Made in Pakistan'. Now, it's going to evoke pride in us each time we see it.
The Red Cable Club
The Red Cable Club is essentially the brainchild of the OnePlus and United Mobile collaboration. It is a special, membership-based club that provides exclusive benefits to its members. 
It can offer up to 50% off on out-of-warranty parts and services. There will be the same discount on OnePlus original accessories too! Moreover, club members will get new products before the launch date at an exclusively low price. They can also enjoy priority service at customer care centres. WARP SUPPORT SYSTEM offers resolution of issues within 4 hours for members.
Where Can I Get OnePlus?
OnePlus will be officially launching on 19th April. The products will be available at all retail stores across Pakistan. Online you can find them on daraz, ecart.pk, surmawala.pk with country-wide shipping!
The Prices
If you're wondering about the rates of the different models being launched, have a look. Customers can also report higher prices. Direct them to complaints@unitedmobile.com.pk.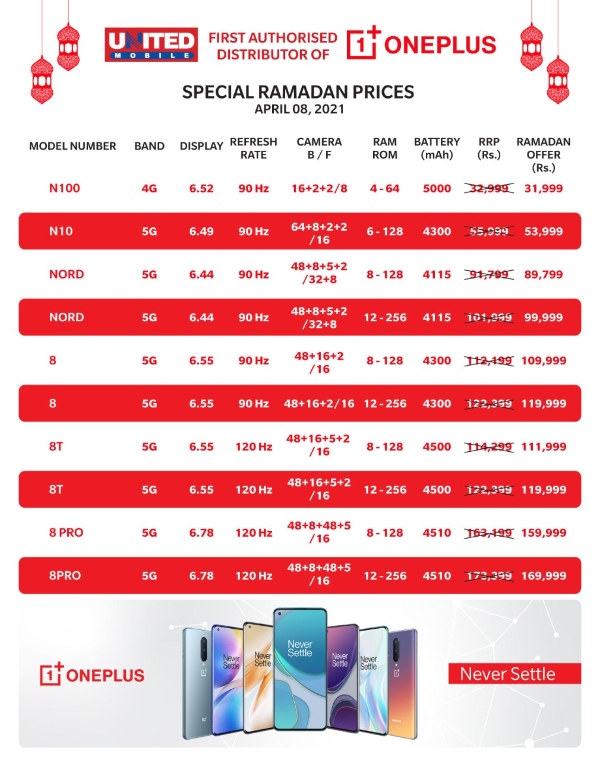 Stay tuned to Brandsynario for the latest news and updates.