The UEFA Euro 2020 ended on July 12th with a glorious victory. The final was between Italy and England. It was a sight to see! After a tough match, Italy clutched the victory against England in penalties. However, the competition did not stop there. England fans erupted all over the city and began to riot. They felt enraged at the loss and a lot of toxic behavior ensued.
Despite everything, we must remember that a sport must not be taken off the sporting ground. Fans of England thought it would be better if they released their anger on innocent people. Hence, disaster followed after the match ended.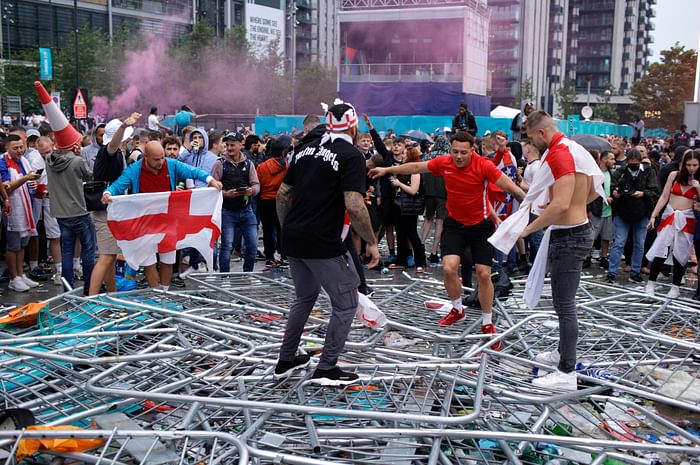 Euro 2020 Final Repercussions
After the match, many fans were seen running across the streets. They were fighting amongst each other and pulling down banners. Additionally, they were kicking over trash bins and beating up pedestrians! Some reports have also claimed that the fans attacked people of different ethnicities. Can this be considered ethical behavior?
They were also vandalizing the streets and creating all forms of disturbances. Later on that day, police came in riot gear and tried to disperse the crowd. According to London police, they have arrested more than 45 people. The charges on them are of disruption of peace as well as assault. Is it okay for fans to do this? Can they use any reason to create havoc in the city?
england fans are sore racist violent losers that need to be punished by fifa. we can't just sit & watch them physically attack italy fans at wembley then hurl racial insults at rashford, sancho & saka. fifa needs to act. we need to create an environment safe for players & fans.💔 pic.twitter.com/gJOv5xT2dt

— #diaryofnasawali (@nasawali_phame) July 12, 2021
This is disgusting wtf is that security doing? #itsnotcominghome #englandfans #ENG pic.twitter.com/WSS9B3S74J

— sunny (@sunny39054087) July 12, 2021
Earlier That Day
It seems that the violence had not begun after the game. Before the match started, numerous fans decided to rush to the Wembley stadium as they did not have tickets. The stadium can fill 90,000 people but the capacity was reduced to 67,000 due to covid restrictions. However, that did not stop many people from rushing in and watching the game without any tickets.
Fans even gathered in a group and burned the Italian flag. Is there no limit to their activities? Throwing racial insults at people is no way to about this. We hope that Fifa decides to do something about it. So, let us see how this story unfolds further.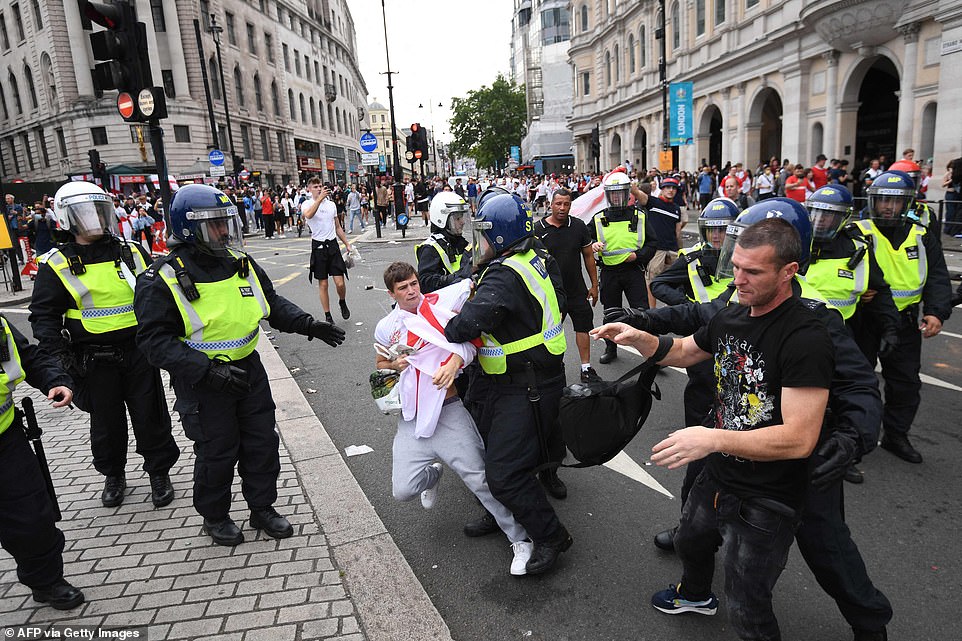 Stay tuned for more from Brandsynario!