Every single second, someone makes speculation regarding the celebrities. Either someone thinks an actress is pregnant or that someone is in a fight with another celebrity. But not every speculation gets picked up by the hype. A very small number of speculations go viral. And the recent most viral speculation by Twitter is that Fahad Mustafa looks like Deepika Padukone.
It seems such impossible speculation, but the image used to speculate is enough to send the viewer into an endless train of thought because it looks so accurate.
Have a look for yourself:
https://twitter.com/its_Exorcist/status/1365947015205687297?s=20
At first, you may go like, 'Nah.' But then your brain will come back to it 3 seconds later, and you will try to take off the beard and consider the phase again. And then you will go like, 'Woahh.'
Instagram Poll
How do we know this? Because we might have gone through exactly this. But where did the whole issue start? It is hard to track it down, honestly. It could have been Twitter starting this conversation, or it could be an Instagram story creating a poll.
That Insta story that asked the question had people agreeing with it 100 percent.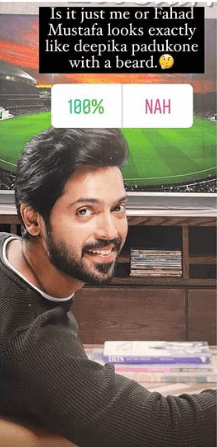 Twitter has been going berserk since then. Not just Twitter, it has been making rounds on Facebook as well, and both India and Pakistan are just amazed at the uncanny resemblance.
Nahi Kya Matlb #Fahadmustafa Mujha #Dipeeka Q lag Raha ha Beard k Bgairr😳 pic.twitter.com/k8JktFJdP0

— Malik Muhammad Hassan (@Has000Says) February 27, 2021
Facebook, Instagram, and Twitter are those three platforms that if something goes viral, almost everyone gets to see it. So now the question is, have Fahad Mustafa and Deepika Padukone come across it. And if they haven't, will they comment about it if they come across these pictures?
We definitely are looking forward to how they would take it, as offense or as a compliment. Until then, we will keep an eye out for both of the celebrities' official accounts.
Stay tuned to Brandsynario for the latest news and updates!