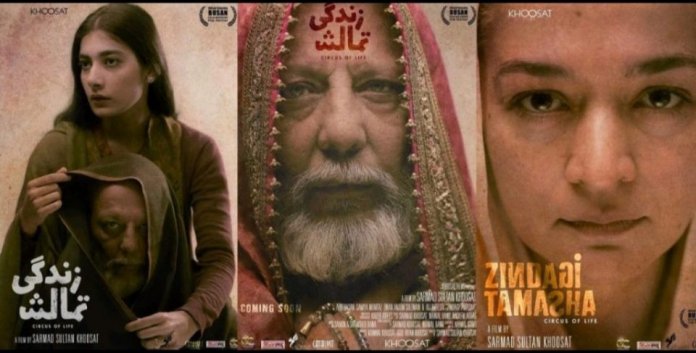 Before making it to the silver screen, Sarmat Khoosat's upcoming venture Zindagi Tamasha has already stirred quite a storm.
The trailer of the film showcases sensitive topics that are being frowned upon by the Islamic view council.
TLP had called upon a strike to not release the film as it contains blasphemous content.
However, many celebrities took it to twitter to express their concerns.
The govt needs to do so much more to promote the arts in Pakistan which are currently going thru a huge credit crunch due to lack of advertising revenue.
One can forget abt original Pakistani content if now they also start caving into outside pressures. #ZindagiTamasha

— manshapasha (@manshapasha) January 21, 2020
Such movies should be defended and encouraged to watch by government and human rights ministry to fix indoctrinated Paleolithic minds.#ZindagiTamasha pic.twitter.com/s1duf69Kc9

— Federation For Secular Pakistan (@ForSecular) January 22, 2020
the audacity of a party that openly threatens with violence and harm and abusive to the hilt to sit and decide what's appropriate and what's not. #zindagitamasha https://t.co/7Xu24TIXfn

— Mahwash Ajaz (@mahwashajaz_) January 21, 2020
They even had to censor the trailer. Why can't #ZindagiTamasha just be released on Netflix?

— Maryam (@maryamful) January 21, 2020
Hi @ImranKhanPTI this is happening under your watch pls ensure that Sarmad is able to release his film and he and his team are safe from harm's way. You owe it to the artists and those who stood with you to bring tabdeeli. Stand with them & support them please. #ZindagiTamasha

— Mahwash Ajaz (@mahwashajaz_) January 19, 2020
The government has sent an official letter to the makers of the film to set up a screening before the release of the film.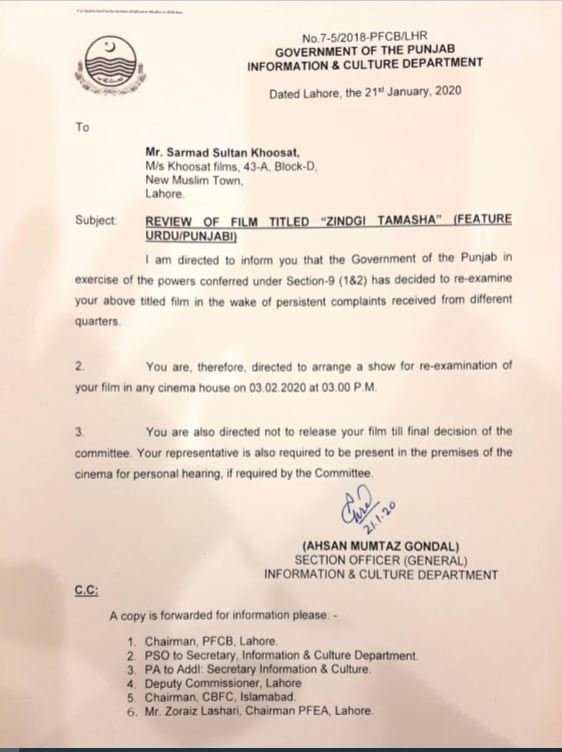 Special Advisor to PM for Information and broadcasting, Firdous Ashiq Awan tweeted:
مرکزی فلم سنسر بورڈ نے فلم "زندگی تماشہ" کا تنقیدی جائزہ لینے کے لئے فوری طور پر اسلامی نظریاتی کونسل سے رجوع کرنے کا فیصلہ کیا ہے۔ پروڈیوسر کو فلم کی ریلیز مؤخر کرنے کی ہدایت بھی جاری کر دی گئی۔

— Dr. Firdous Ashiq Awan (@Dr_FirdousPTI) January 21, 2020
Earlier TLP had called out a strike:
#TLP has taken back it's call for strike due to govt actions and stoppage of #ZindagiTamasha from screening. An indep commission should decide the issue. Our enemies want us to fight on everything. We should solve our problems amicably and peacefully. Must not play in to en hands pic.twitter.com/HVywIZvKsB

— Lt Col Aamir (@aamir_lt) January 22, 2020
Sarmad Khoosat, "Zindagi Tamasha" 's filmmaker had disclosed earlier that he is getting endangering phone calls and messages.
Just a few days ago, he penned down a letter to all the greater authorities of Pakistan to assist him to release his film.
This time he has dealt with Pakistani nation, seeking guidance from them that whether he should drop the idea of releasing his movie or not.
The actor and director tweeted another open letter on Sunday expressing this time to "Pakistan and Pakistanis."
For more news and updates, stay tuned to Brandsynario.