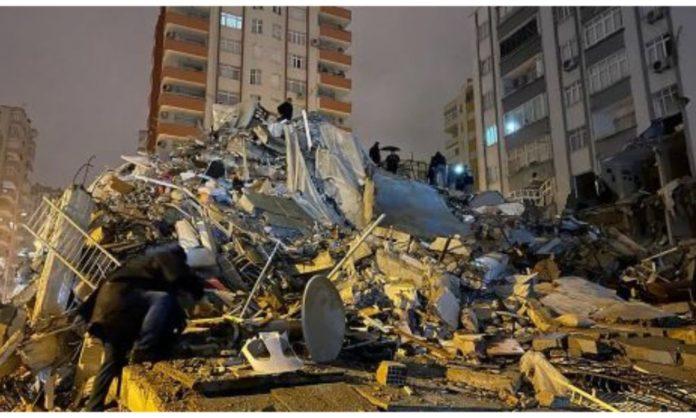 On Monday, today, the region was shaken by one of the largest earthquakes to hit Turkey in more than a century, which caused buildings to collapse and citizens to flee onto the streets, killing at least 200 people in two nations. The 7.8-magnitude earthquake occurred 24.1 kilometers (14.9 miles) beneath the surface, 23 kilometers (14.2 miles) east of Nurdagi in the Gaziantep province. In addition to Syria and Lebanon, other nations affected by the earthquake included Turkey, Syria, and Nurdagi.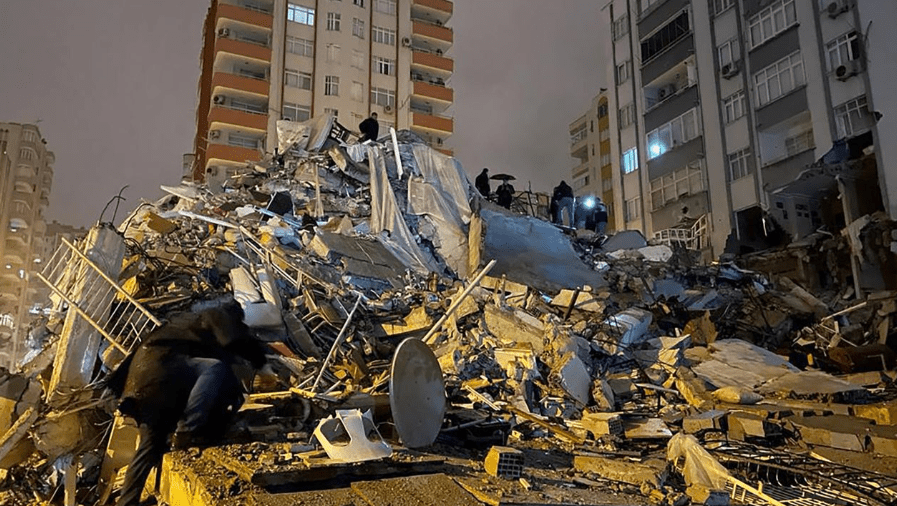 Turkey's disaster management organization, AFAD, reports that at least 76 people have died and more than 440 have been hurt. According to a Health Ministry official quoted by the Syrian state-run news agency SANA, at least 42 people have been killed and almost 200 more have been injured in neighboring Syria. According to SANA, deaths were recorded in Syria's Aleppo, Hama, and Latakia. The "White Helmets" organization, formally known as Syria Civil Defense, claims that dozens of people are trapped beneath the debris.
Residents were probably asleep when the earthquake hit and were unprepared for the impact. Numerous toppled buildings could be seen in social media videos, along with terrified locals hiding on the pitch-black streets. By flashlight, rescue personnel can be seen undertaking search and rescue operations. Twitter has been flooded with people posting videos of the destruction, well-wishers for Turkey, and even cries for help.
Turkey💔 #Turkey #amed #earthquake #Earthquake pic.twitter.com/qVwPXft9Hu

— Ismail Rojbayani (@ismailrojbayani) February 6, 2023
People are stuck under rubble while sending out live streams or videos requesting help. #earthquake #Turkey pic.twitter.com/SxTzPzFAmn

— Nerdy 🅰🅳🅳🅸🅲🆃 (@Nerdy_Addict) February 6, 2023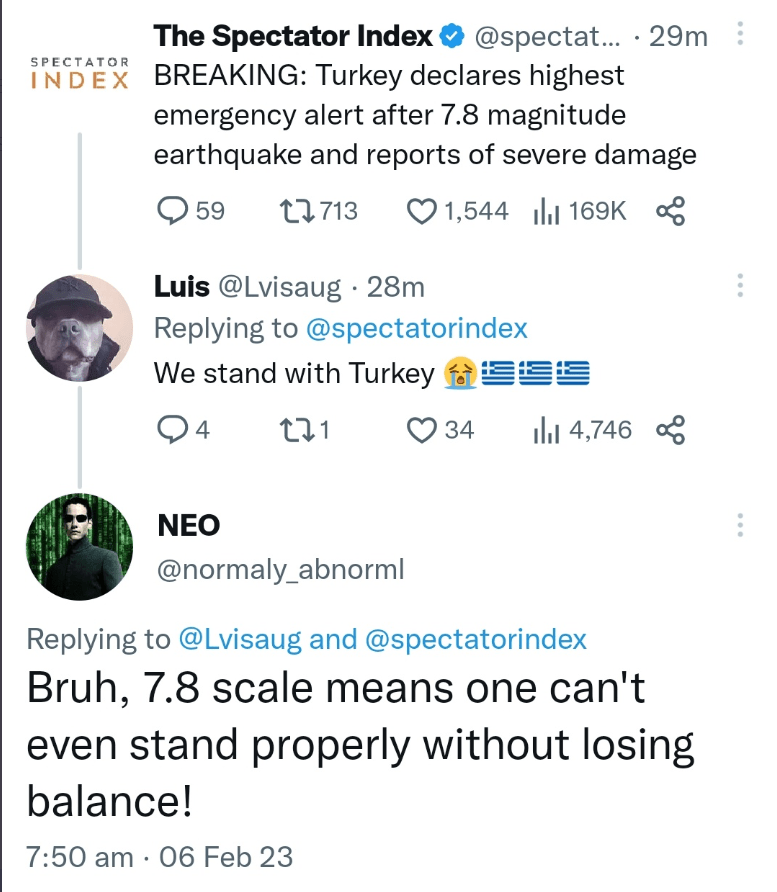 🔴 BREAKING NEWS
An image of the 7.4 magnitude earthquake moment in Turkey 👇. Electricity goes out behind the shake #Turkey #earthquake #Kahramanmaraş #hatay #malatyapic.twitter.com/oWLjXNSOXT

— Eren ☭🇹🇷 (@Eren50855570) February 6, 2023
February 6, 2023

….There are reports of several hundred dead.

The Entire buildings collapsed in South #Turkey the epicenter of 7.8 magnitude earthquake in last hour,#Turkey #earthquake pic.twitter.com/pJtFoJlWfK

— Naveed Awan PTI (@Naveedawan78) February 6, 2023
The people who still have access to the internet are also sharing videos and images of the aftermath of the earthquake. Many areas of Turkey have lost access to electricity and other necessities. People are still stuck under the rumble of debris and others cannot get out of their houses due to the chaos and destruction outside. The earthquake has caused natural gas pipelines to burst and cause huge fires in Amik plain in Hatay.
🇹🇷#Earthquake in #Turkey.#Hatay: "Natural gas pipelines in Amik plain in Hatay burst with the force of the earthquake. Fire spread to the fields." pic.twitter.com/POyQWaRavS

— Lenar (@Lerpc75) February 6, 2023
Further, Twitter has also been receiving footage from Syria and Lebanon where the tremors felt as well. People are still stuck under debris and help is being delayed because of the conditions becoming more worse and chaotic as time passes.
Rescue teams pulling children from the under the rubble of #collapsed buildings in northwestern #Syria

At least 50 people killed, 500+ injured, 140+ buildings destroyed in southern Malatya province as 7.8 #earthquake hits #Türkiye.#deprem #DepremiOldu #Turkey pic.twitter.com/vKnEnG3N2k

— Chaudhary Parvez (@ChaudharyParvez) February 6, 2023
Urgent – #Jenders

Dozens are stuck under the rubble in Jenderes in the Afrin region, in northern Syria, due to the #earthquake that struck Turkey and northern Syria#Turkey#Syria#edlib pic.twitter.com/NlYTUuRocH

— Abood Abood (@sy____19951) February 6, 2023
Suleyman Soylu, Turkey's interior minister, said that teams have been sent to the south of the nation to conduct search and rescue operations. The European Union's humanitarian program, the Emergency Response Coordination Centre (ERCC), claimed that the disaster agency, AFAD, has asked for assistance from abroad. According to its governor, Ali Yerlikaya, Istanbul, Turkey's biggest city, has sent out close to 1,000 search and rescue volunteers.
In less than a minute after the 7.8 magnitude earthquake struck, the journalist Eyad Kourdi of the city of Gaziantep told CNN that there were up to eight "extremely violent" aftershocks, which caused the possessions in his home to fall to the ground. He said that many of his neighbors had evacuated their homes after the earthquake.
Davut Gul, the governor of Gaziantep, tweeted that "the earthquake was felt powerfully in our city" and urged people to wait outside of their homes and maintain composure. "Let's calmly wait outside, please. Don't let's drive our cars. Do not congest the key thoroughfares. Let's not overuse the phones", he said.
New news says that the seismic waves maybe reach Japan.
❗🇹🇷 Shockwaves of the Turkish Earthquake reaching Japan.#Deprem #earthquake #Turkey #BreakingNews pic.twitter.com/7x5vGEGnaP

— NEWS ALL TIME (@NEWS_ALL_TIME) February 6, 2023
Stay tuned to Bransynario for more news and updates.