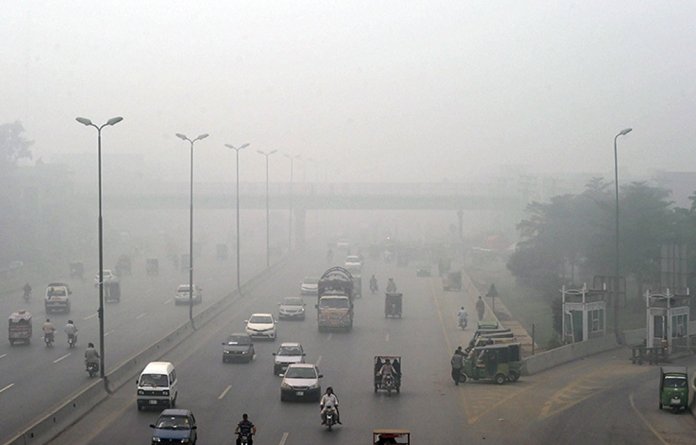 An intense fog has engulfed Lahore, affecting breathing and visibility, forcing the residents of Lahore to stay at home.
However, the smog is man-made, a mixture of smoke & fog, created by nitrogen oxide, carbon monoxide, sulfur dioxide and other aerosols. It is highly toxic and can be extremely harmful to the lungs, eyes and the nose.
According to the MET Office, shallow foggy and misty weather conditions are expected in plain areas of Punjab and upper Sindh during morning hours.
Over the past years, a thick smog descends in Lahore every December. However, the situation has aggravated over the past 5 years owing to poor quality of air and increasing pollution. Deforestation and rapid industrialization are one of the vital causes.
Smog continues to disrupt routine life in Punjab
The adverse climate is causing is proving to be quite detrimental to health, resulting in breathing difficulties and irritation in eyes for residents.
What is more, doctors and health specialists have warned the patients of asthma to take measures to prevent themselves from the side-effects of smog.
Also, it is wrecking havoc in the cities due to reduced visibility and causing disruption in transportation.
The motorway police have issued instructions to drivers to reduce speed and switch on fog lights to avoid any accidents.
Reports reveal that the dry spell will last for as many as ten days.
#SMOG
"There will be a dry spell for at least 10 days, during which no rain or winds are forecasted." #Lahore #Pakistan pic.twitter.com/KX2907PCgA

— Umar FarOoq 🇵🇰 (@UmarFarooqGL) October 31, 2017
Enraged Citizens Protesting on Social Media
The residents on Punjab are suffering from deep misery due to the ongoing weather situation. They are taking to Twitter to blame the government for not taking any precautions against the deadly climate change and heavy pollution.
Smog plaguing citizens of Lahore, causing throat infections, headaches, and breathing problems. Be safe Everyone.#smog #Lahore pic.twitter.com/I0tTyg2cYE

— Muhammad Hamid (@hamid3996) October 31, 2017
Thanks @GovtOfPunjab for cutting so many trees for your so called development projects! We're dying !
#Smog #Lahore pic.twitter.com/LfqxHAJgji

— HaJra.S (@Haju00) October 31, 2017
#Smog Thanks to @CMShehbaz people are now breathing poison in addition to eating it in forms of @PunjabFoodTeam approved products

— Kashif Moten (@kashifmoten) October 31, 2017
Its been 2 years but there is no special effort by the Govt to reduce #Smog . 0 progress.

— 🅰🅰♏ 🅰🇩♏🇮♥🔞 (@Sheheryar4141) October 31, 2017
90% plantation encircling #Lahore has been eradicated due to illegal logging. Punjab Govt completely ignorant over the issue #Smog

— Zain ul Abideen (@Zain_ul_Abideen) October 31, 2017
You cannot end #Smog unless you get rid of corrupt politicians who are filling their pockets while ignoring destructive environmental crisis

— Sarah Ali (@SarahAli_56) October 31, 2017
Not cloudy, rather a dense #smog hugs the twin cities. Mix of negligence from citizens n govt. of #pakistan pic.twitter.com/JTU0qcfqMN

— M.S.B (@Tombajwa) October 31, 2017
While passing through #EmporiumMall one can see the building covered in #smog. Pray for #rain so that its short-term impacts can be avoided. pic.twitter.com/WcXr3SuhrZ

— Syed M Abubakar (@SyedMAbubakar) October 31, 2017
How To Combat Smog In Lahore & Other Parts Of Punjab
Following are the tips and guidelines to follow if you reside in Lahore or any adjoining areas:
Make sure to keep your windows shut at all times be it at work, in the car or at home to ensure no smog gets inside an enclosed area.
It is preferable to stay indoors until the smog dissipates
Minimize your exposure to smog by avoiding congested areas and traffic jams. Bikers and vehicle owners are advised to take routes that have the least traffic obstructions.
For asthma and chronic pulmonary disease patients, it is advised to have your inhaler on you at all times.
During smog, the ground level contains a higher amount of ozone and therefore increased physical activity may result in irregular breathing patterns.
Don't keep your engines running
Stay tuned to Brandsynario for more updates