Tiktok stars! They've stirred controversy, they've made people laugh and they've also made people feel motivated. Pakistan is not short of its talented Titok stars who have amassed millions of followers. Most of them have started at a really young age and built a great profile. 
1. Jannat Mirza
Jannat has a staggering count of 5.6 million followers with approximately 78.3 million likes. She can easily be the topmost Tiktok star in Pakistan. Although she is originally from Faisalabad, she has moved to Japan for her studies! And she's only 20 years old.
2. Mian Sunny
Mian Sunny has some hilarious and really animated Tiktok videos to share with his over 1 million followers. Although his home city is not known, he also hails from Pakistan!
3. Reeja Jeelani
Reeja is another Pakistani who is not only famous on just Tiktok but a host of other apps too. Her interests lie in making dubsmashes too! 
This girl has tabs on every new trend that's floating on social media and she brings out her own version of it. Be it makeup skills, funny videos, musical videos, or just overall good content, she's mastered it all! This is why she has 548.5 k followers and 5.1 million likes on her TikTok channel.
4. Pinky Francis 
With 2.7 m followers, Pinky Francis is a Pakistani TikTok user living in UAE. On her profile, you will find famous songs and hilarious dialogues all being re-made with Pinky's touch. Pinky has also collaborated with her friends and other TikTok users, to build her rapport on the platform and create some entertaining content.
5. Ibrahim
This star is different from his fellow in the sense that most of his followers admire him because of his outfits! He is somewhat of a fashion icon for many and his good lucks just add to his charm. He has uploaded a variety of different content from monologues, to dialogues and fast music. He has 552.1 k followers and 9.9 million likes on his profile.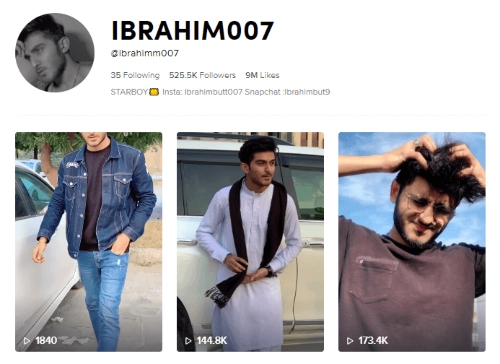 6. Yasir Hussain
When the entire world starts calling you garbage, Tiktok is the only place that adopts you. Yasir Hussain is a Pakistani actor, host, and screenwriter. He has also garnered a huge crowd on his TikTok where he makes entertaining videos! He has 323.7 k followers and 1.3 million likes on TikTok.
If there are more TikTok stars that should be added in this list, let us know in the comments!
Stay tuned to Brandsynario for the latest news and updates.