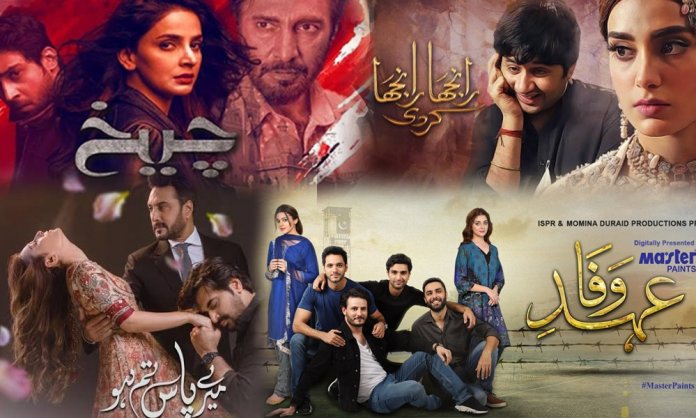 The content being produced in Pakistan is either causing a sob fest amongst the ladies in every household, getting everyone hooked to their television sets or people just flipping the channels – ignoring a certain TV show.
However, the year 2019 has been a fulfilling one for the entertainment sector as global praises of certain shows recently revealed.
We were graced with some exceptional masterpieces from the entertainment industry this year.
From interesting stories to wonderful performances of actors, we've listed down the most popular Pakistani dramas in the audience. In case you missed out on any one of them, here's a list to help you catch up! These dramas have bee listed down due to their popularity amongst the masses, their plot and the performances'
10. Suno Chanda 2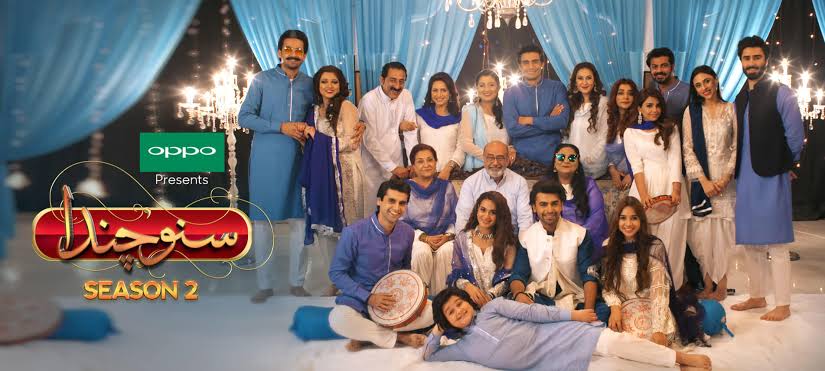 Farhan Saeed and Iqra Aziz's Suno Chanda aired with a sequel in Ramazan. Its ability to relate to every Pakistani household kept the audience hooked and its rib-tickling plot was a success. After a long time, a sitcom hit the screen of national television with an interesting storyline and outstanding performances by Iqra Aziz, Farhan Saeed, and Nadia Afghan.
Written by Saima Akram Chaudhry and Directed by Ahson Talish Suno Chanda 2 is a treat to watch.
9. Meer Abru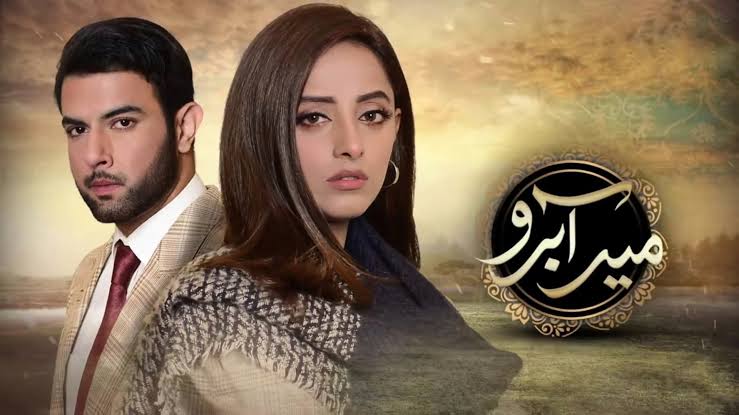 Penned by Farisa Afzal & Wasiq Ali with Direction of Furqan Adam and produced under MD Productions the drama features the beautiful Sanam Chaudhry as Abru, a strong and responsible girl.
She comes off as a compelling, richly textured female character. She belongs to the middle-class family and was brought up by a single dad.
Noor Hassan belongs to a wealthy family and leaves an ill impression on Abru in the beginning. Sanam Chaudhry, Noor Hassan, and Mirza Zain Baig's love triangle was loved by all and Sanam proved herself a talented actress.
8. Khaas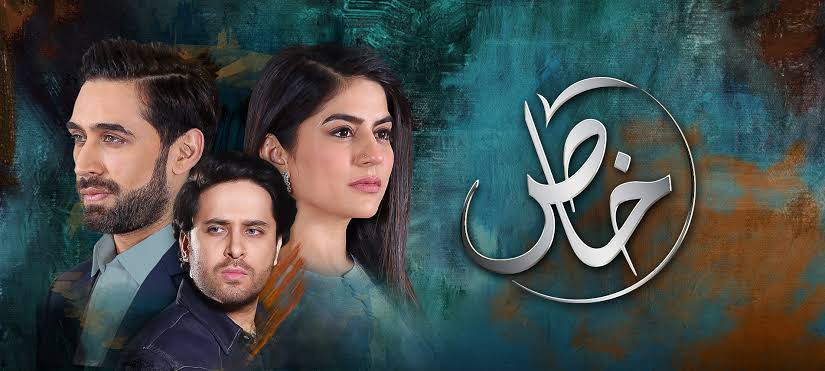 The plot revolves around Saba (Sanam Baloch), a well-educated young woman from a wealthy family background who marries Amar (Ali Rehman), a self-obsessed man, who turns out to be a narcissist, whose wandering eyes are always looking for a new conquest. A lead female character is rarely seen on our television screen and Sanam did justice to the character.
Written by Sarwat Nazeer and directed by Danish Nawaz, HUM TV's latest play "Khaas" is worth watching.
7. Alif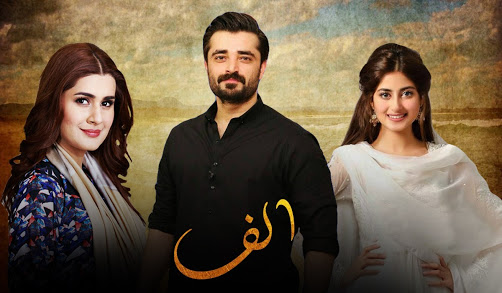 Alif, Geo TV's biggest drama of the season, is produced by Samina Humayun Saeed and directed by Haseeb Hassan of Mann Mayal and Parwaaz Hai Junoon fame. It is written by Umera Ahmed, author of Meri Zaat Zara-e-Beneshaan.
Alif is the story of a girl Momina, a role played by Sajal Ali, revolves around her struggle of becoming someone she is not and what she does not want to become while everyone around her is convinced that she has all that it takes to be one – an actress
The male lead played by Hamza Ali Abbasi, on the other hand, has his share of suffering as a child, attached to his present.
6. Do Bol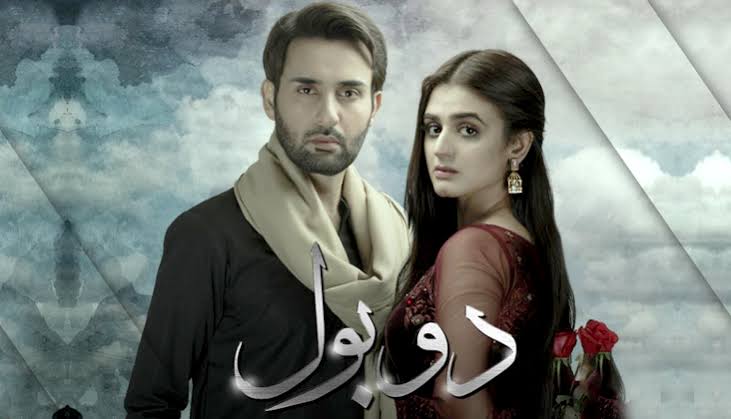 Directed by Syed Wajahat Hussain, produced by Humayun Saeed and written by Sarwat Nazir. Its cast comprises Hira Mani and Affan Waheed.
This drama portrays a sweet love story and also sheds light on the challenges a woman goes through in a patriarchal society. A woman always becomes the victim of sacrifice where she is expected to put other's happiness before her own. The OST of this drama was super hit and we saw a flood of Tik Tok video made on "Ja tujhay maaf kiya".
5. Ishq Zahe Naseeb
Directed by Farooq Rind and Moomal Production, Ishq Zahe Naseeb is indeed a welcome addition as the drama has a mysterious feel to it. Sami Khan and Sonya Hussayn (as Kashif and Gohar respectively) are the lead pair in the play, who share a friendly camaraderie as lovers with tragedy looming over their heads.
The highlight of Ishq Zahe Naseeb is Zahid Ahmed's dual character (Sameer/Sameera) as he's seen portraying a male and female character and (Shakra) Yumna Zaidi as his confidant. This drama actually sparked a conversation around dual personality disorder which is hardly a part of any conversation.
4. Raanjha Raanjha Kardi 
Made under the Momina Duraid Productions this drama serial is a tale of love between Imran Ashraf as Bhola and Iqra Aziz as Noor Bano. The romantic and unusual tale of love has every ounce of thrill and suspense in it.
The character of Bhoola won the hearts of the audience with his famous dialogue "Mazay Mazay" and even after the drama was finished months ago but the Bhoola character is going to be famous for a life time.
3. Cheekh 
Penned down by Badar Mehmood – Cheekh is the story of Mannat (Saba Qamar) getting justice for her friend Nayab's murder (played by Ushna Shah) that her [Mannat's] brother-in-law, Wajih (Bilal Abbas) commits. Mannat is married to Shayaan, Wajih's older brother. The case is finally in court and hearings have begun and the plot consists of twists and turns that are worth checking out.
 2. Ehd e Wafa
Ehd-e-Wafa deals with the journey of four friends who come from completely different backgrounds and are aiming to serve the Pakistan Armed Forces. Each episode offers something new and refreshing with amazing performances.
Starring Zara Noor Abbas, Ahad Raza Mir, Ahmed Ali Akbar, and Wahaj Ali's superb performances are the icing on the cake in this drama serial. Saife Hasan's skillful direction makes this drama a must-watch.
1. Mere Paas Tum Ho
Topping the list, this drama serial is keeping the masses on the edge and with each episode memes and jokes flood the social media that signifies the popularity of it. In fact, Some people went as far as to report that it had a 9.9 rating on IMDb, which is higher than Game Of Thrones (9.4).
The serial is making the rounds for its dramatic storyline and star-studded cast. It features Adnan Siddiqui, Humayun Saeed and Ayeza Khan in prominent roles. Written by Khalil-ur-Rehman and directed by Nadeem Baig – MPTH is worth a watch.
So, above drama serials, have topped the list of the best ones and we recommend you to go watch them!