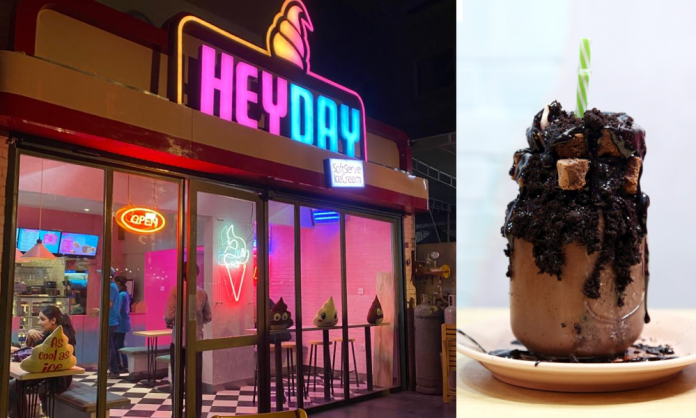 I scream. You scream. We all scream for… you know how the rest of this saying goes!
Most of us love ice cream! There are countless different flavors and toppings to choose –  from fruit to whipped cream to candy bits to Oreos, ice cream is a perfect getaway.
Plus, ice cream has a way of bringing people sheer joy and comfort.
Whether it's during the peak of summer or the dead of winter – ice-cream is simply the cure for just about anything!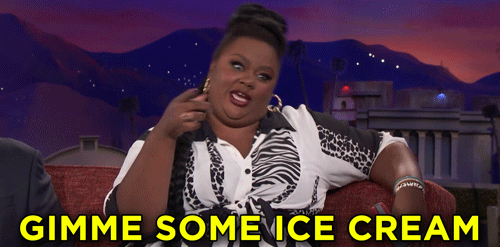 Today we have countless options for ice cream spots and finding the right place is truly a head-scratcher.
Well, fret not! We've listed down the top 5 places in Karachi that will leave you wanting more!
1. HeyDay
This new dessert bar is going to be your savior and top choice for a number of reasons. Firstly it features a wide range of ice creams and other desserts. It's a cozy place that gives a retro vibe which is perfect for your Instagram feed.
The desert parlour screams creative neon and every nook of it is eye-catching.
We totally love how HeyDay is not just a closed space but also open-air which is perfect for you to enjoy your dessert in the icy cold weather!
How retro and cool does the place look?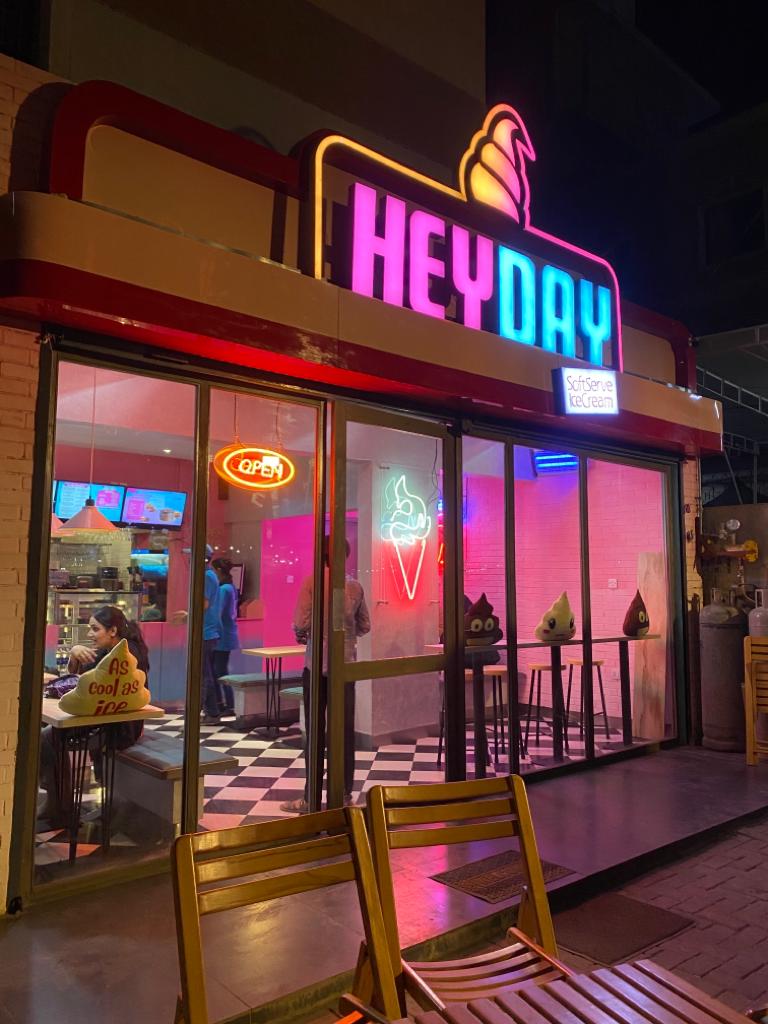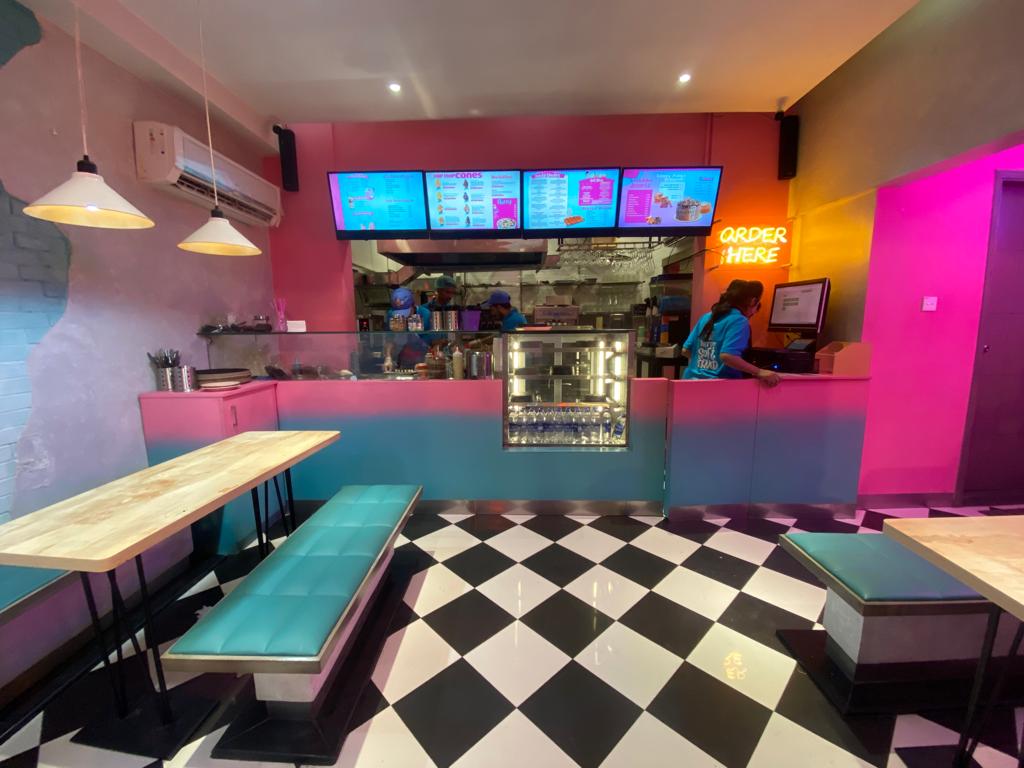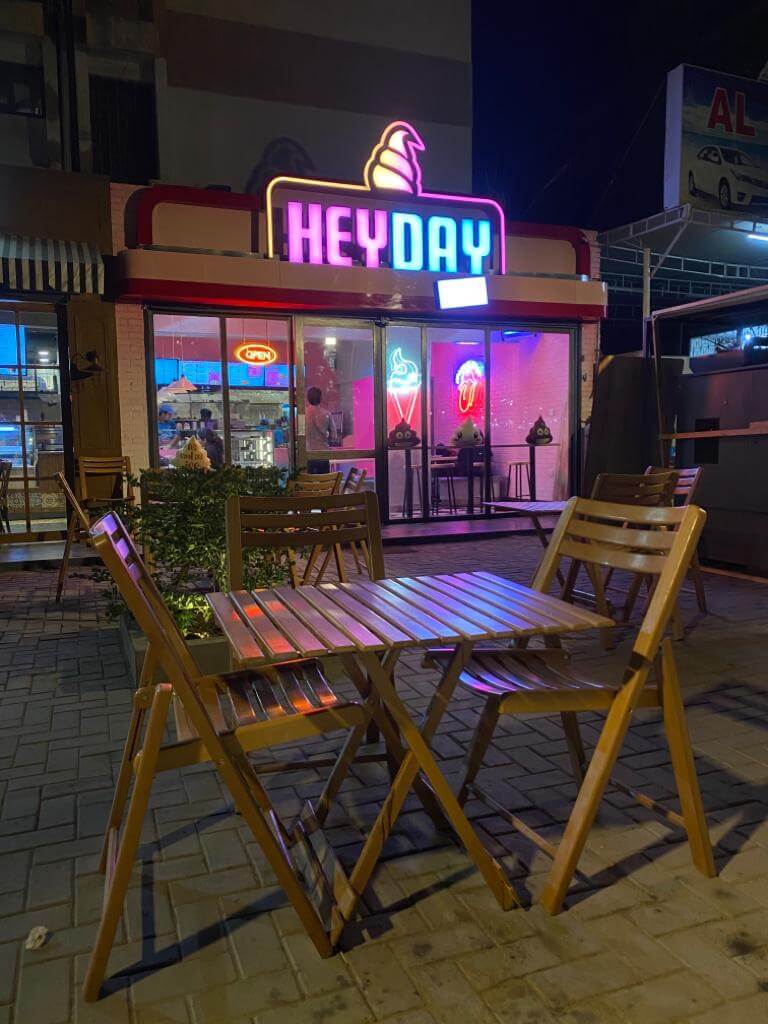 Secondly and more importantly it is budget-friendly. However, it will certainly add some extra inches to your waist because you're about to get hooked to some lip-smacking ice creams!
Last but not least, the ingredients are fresh and the quality that Heyday provides its consumers is also reassuring.
In a nutshell, you get high quality with nominal prices. Their items also are freshly baked which is just a cherry on top. I mean who doesn't love freshly baked brownies or waffles?
Moreover, they sell high-quality soft-serve which is creamier and soft in taste with unique flavors including Belgian chocolate, cotton candy, and pistachio apart from their other delicious flavors.
But this isn't it! HeyDay has a separate menu for the coffee lovers from which you can pick and choose and enjoy a nice frothy cup of creamy coffee in this chilly weather.
Have a look at their full menu: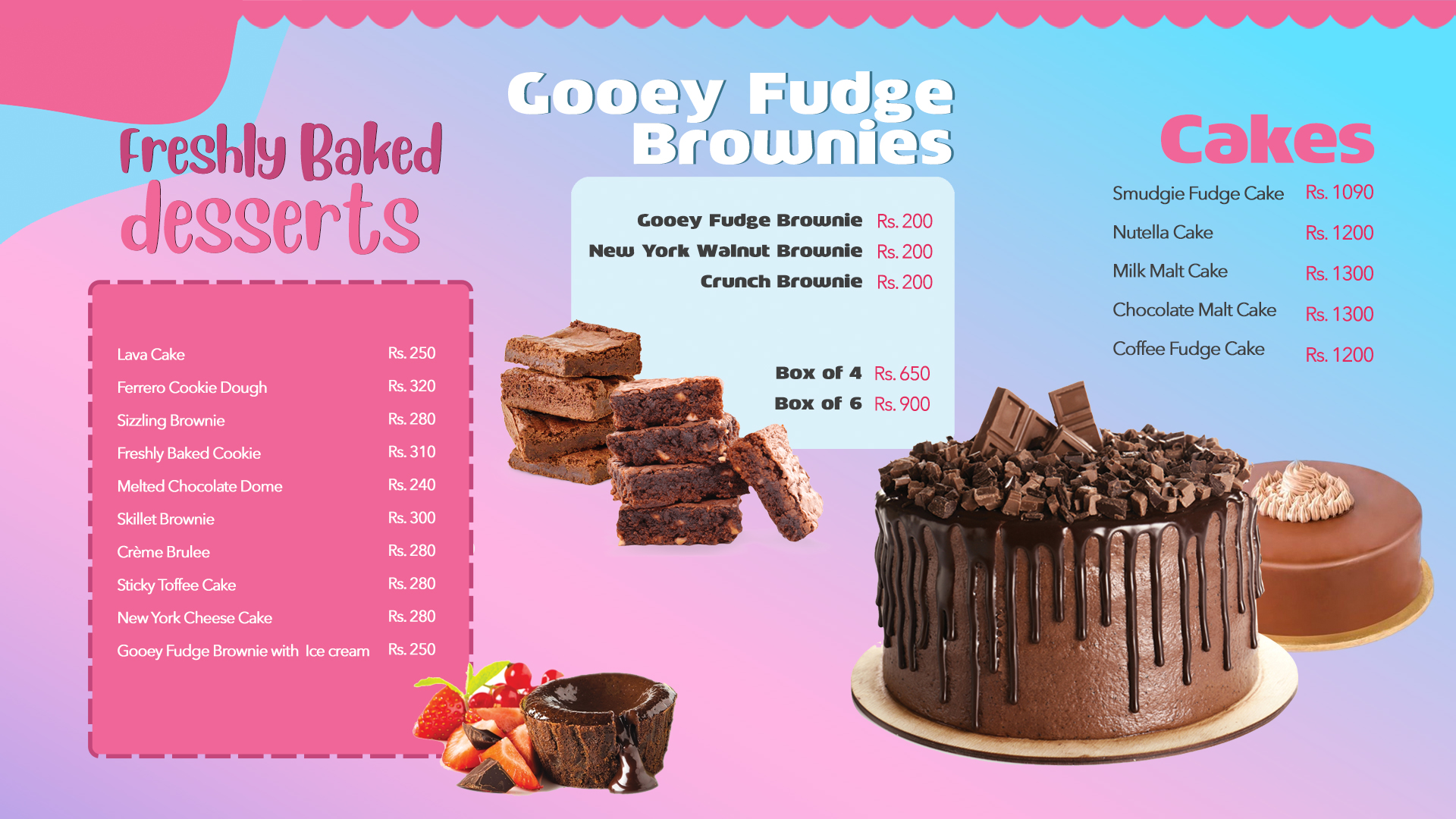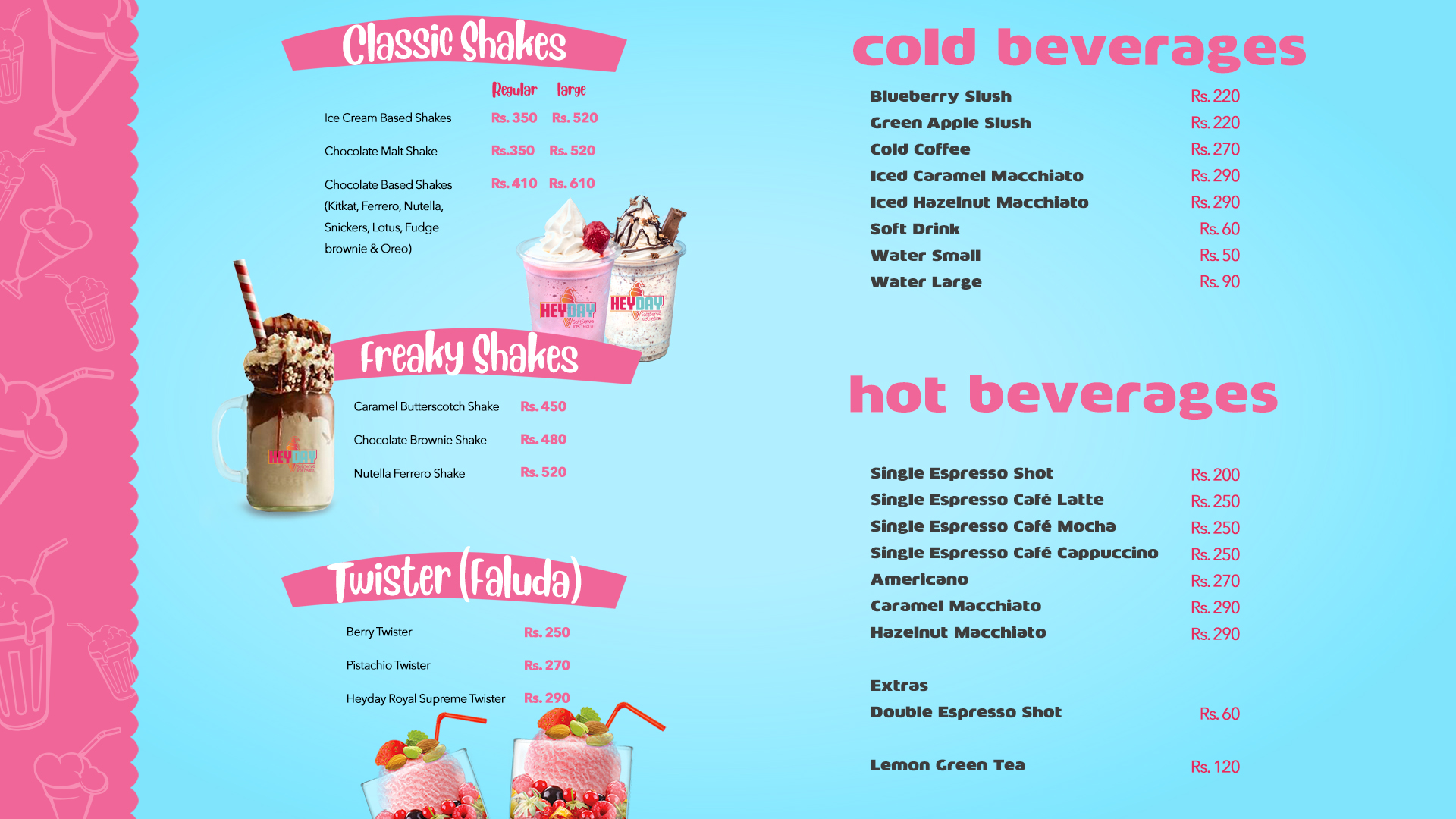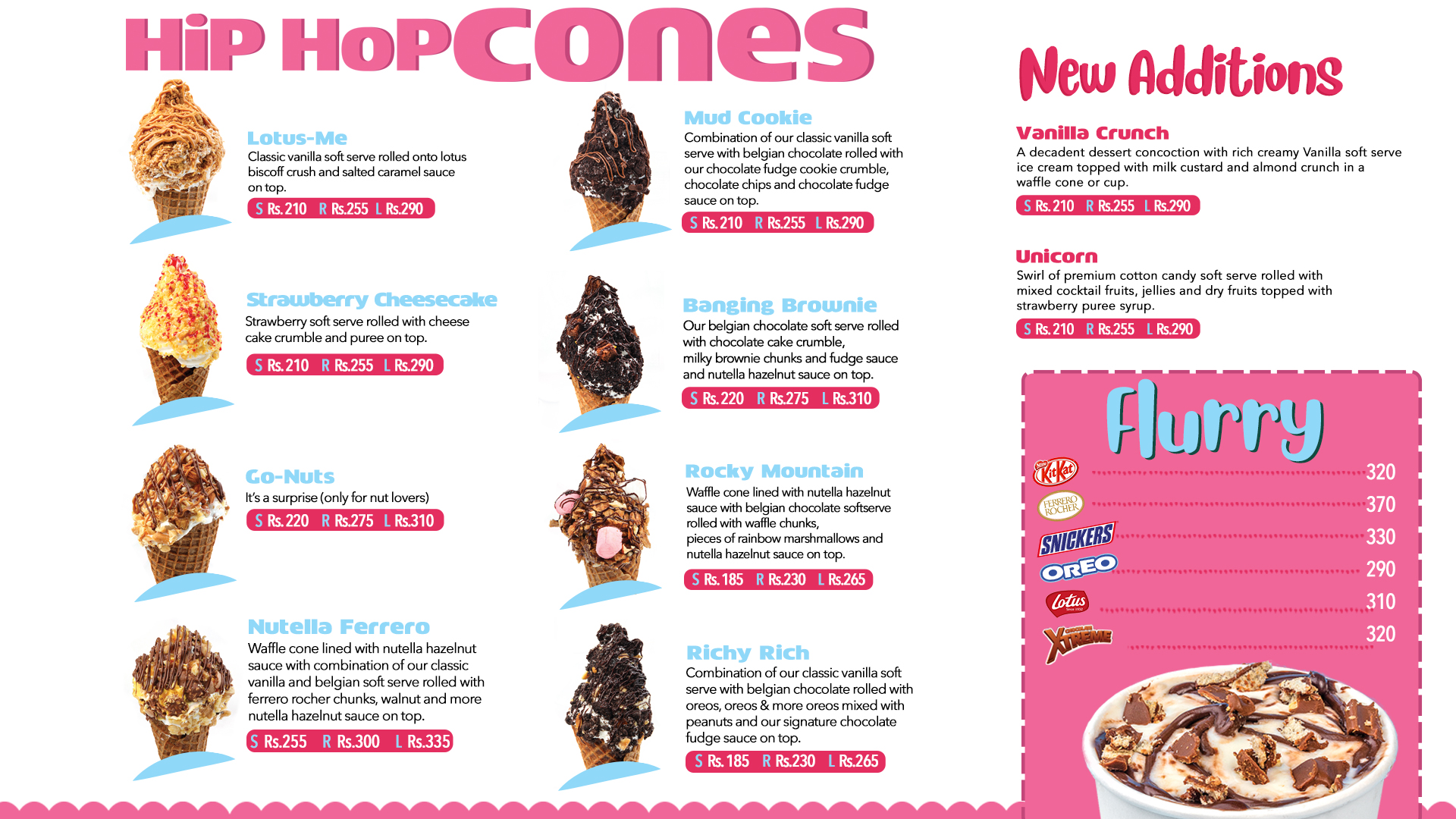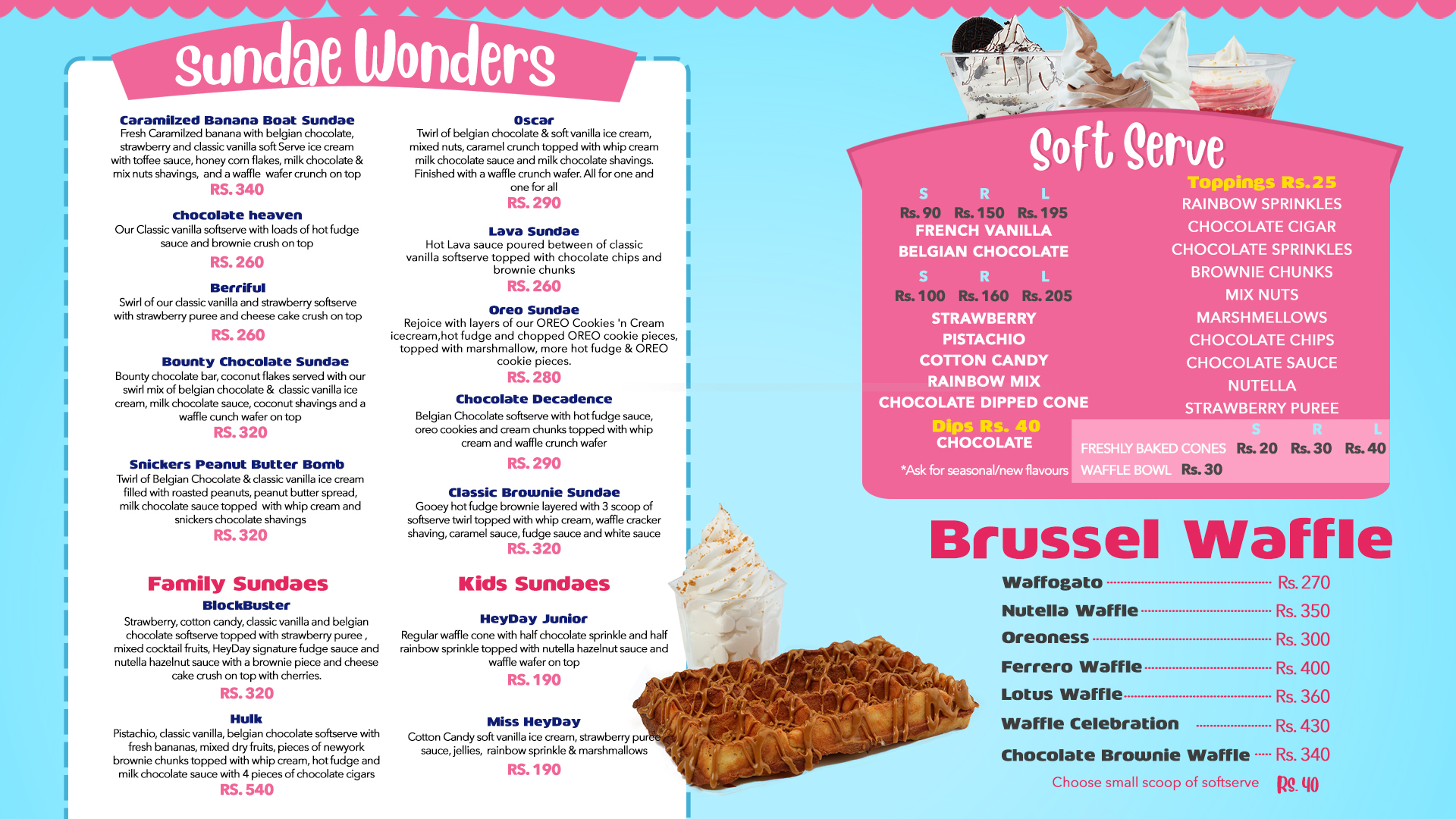 Here are our top picks at HeyDay! 
Try their Brownie Shake and you'll thank us later! The thick chocolate shake is a dream come true for someone who loves to indulge in chocolate and gooey brownie.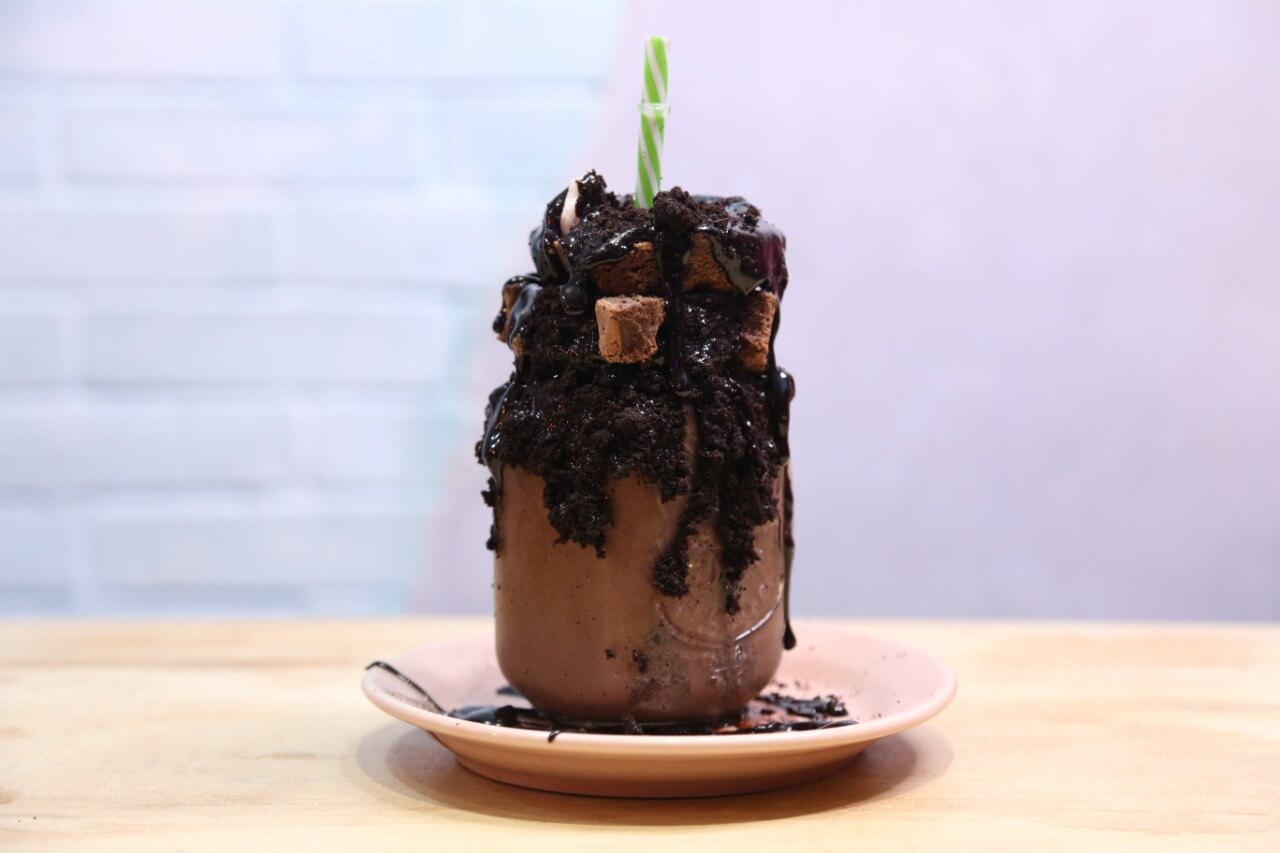 Ferrero Rocher cookie is another thing on the menu that is served fresh out of the oven, and your choice of ice cream. It's gooey and you'd be sorry if you did not give this chocolaty dessert a shot.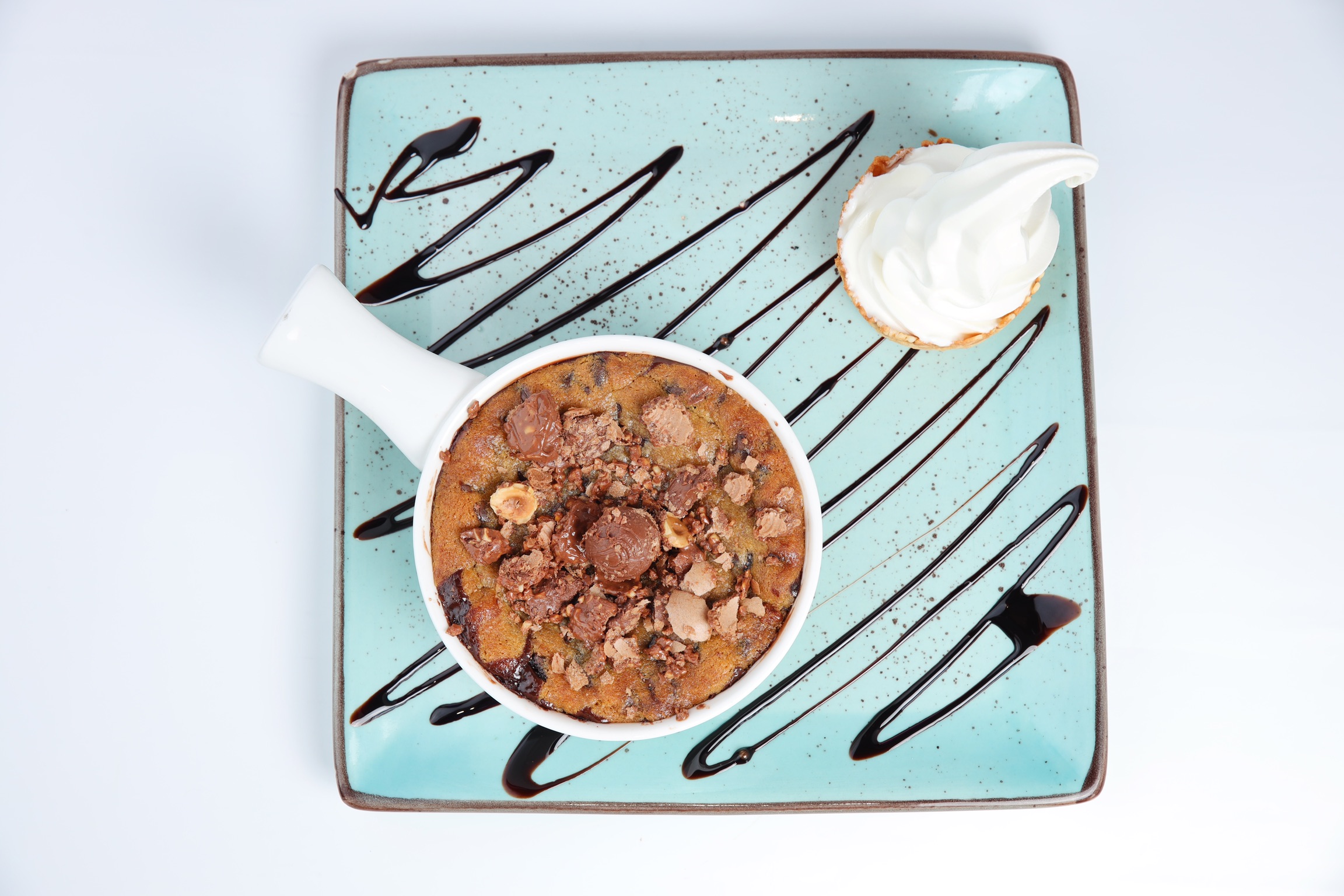 Amongst their other treats, HeyDay serves a delicious chocolatey Skillet Fudge Brownie that will be treated for your tastebuds. You can try it with their coffee.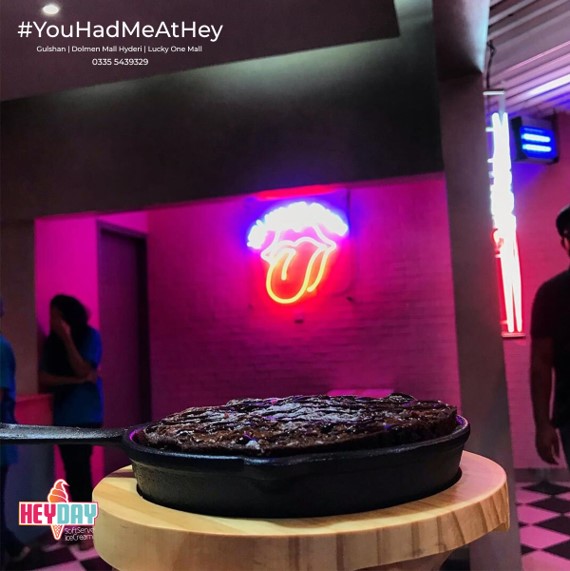 The Sizzling Brownie is one thing you may want a date with every day! This hot brownie served with rich chocolate sauce and vanilla ice cream is going to be your new love of life.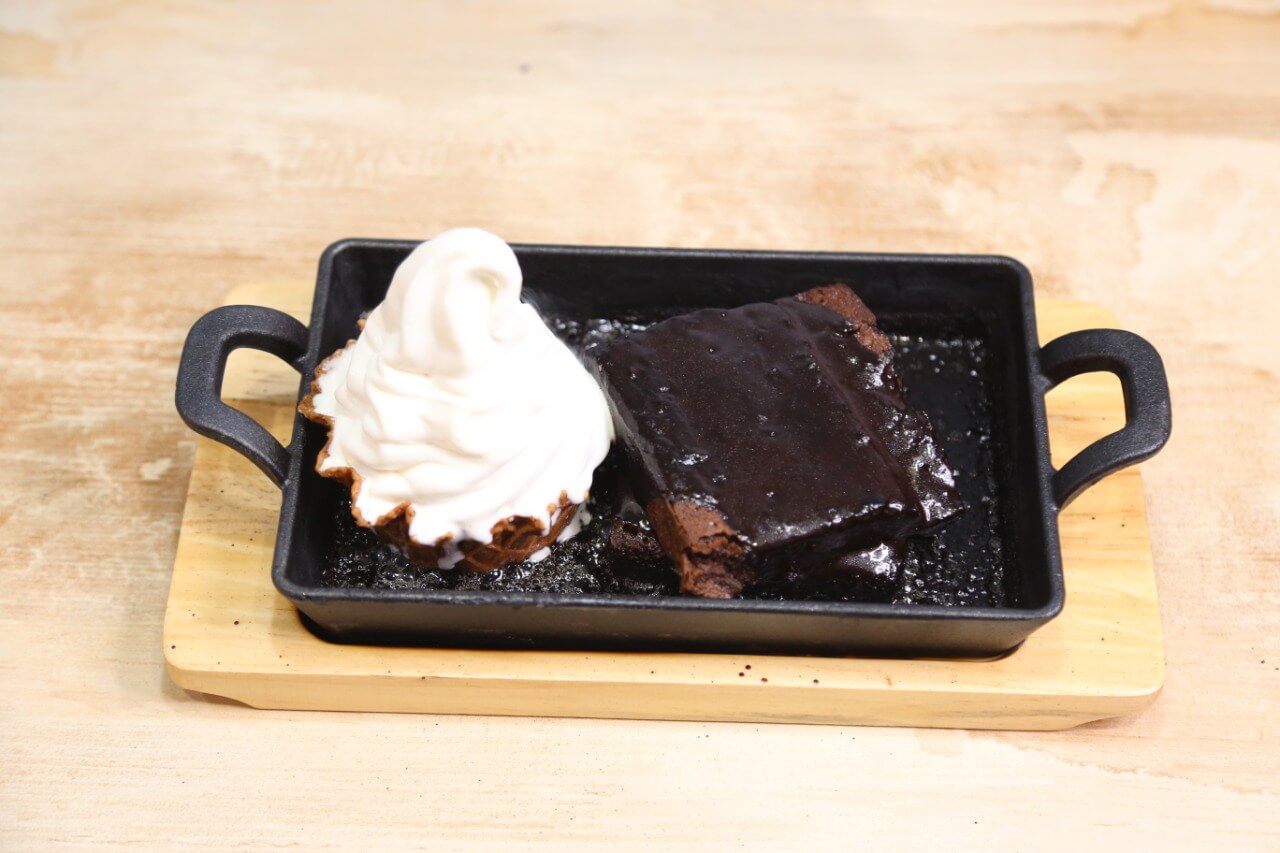 The Bangin Brownie is a smooth and creamy bowl of ice cream is another feast for your tastebuds. This dessert is an enormous hit and a must-try! Just look at that drizzle of chocolate sauce!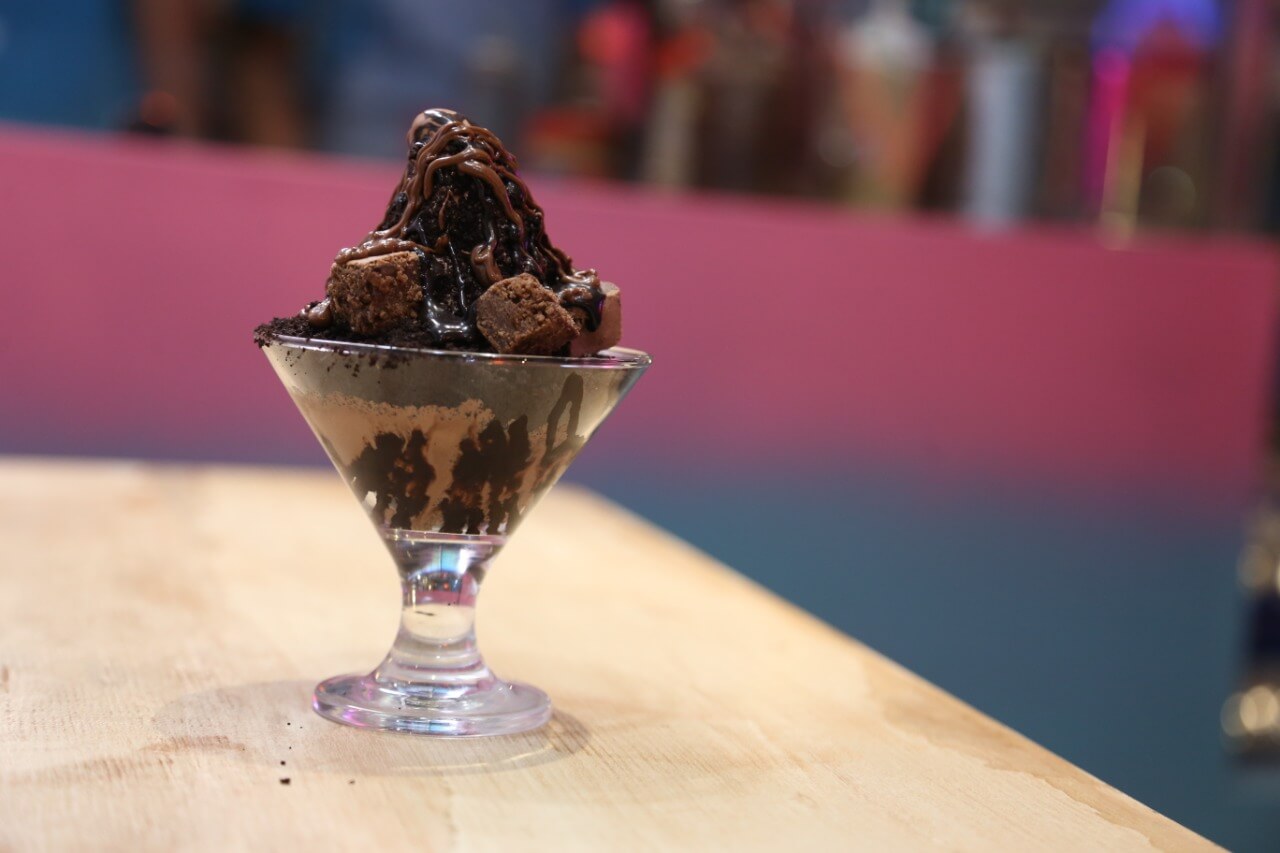 There are four branches of Heyday in Karachi!
Dolmen Mall, Sea View Road, DHA, Karachi
LuckyOne Mall
Dolmen Mall Hyderi, Shahrah-e-Sher Shah Suri, Karachi
Rigo's Chimney Cakes officially launched its first flagship café in Karachi on 25th January 2019. Offering a wide variety of authentic and healthy Hungarian delights ranging from Kürtőskalác, pretzels, sandwiches, coffee art, hot chocolate and more.
The dessert cafe is a paradise for someone with a sweet tooth! From their frappe to their Oreo shake, strawberry bomb to their ice cream tacos, Rigo's is your one-stop solution for ice cream cravings!
Here are our top picks at Rigo's!
Gelato Taco
Strawberry Bomb
Fried Icecream
The recipe of Kürtőskalács (the Hungarian chimney cake) dates back to the 14th century. Cooked on an open coal fire, rotisserie-style, the chimney cakes are grilled rather than baked which makes Rigo's another hit on this list.
The world's largest chain of ice cream specialty shops opened its door in Karachi a few months ago and it was like Pakistanis prayers were answered.
From vanilla or mint chocolate chip, strawberry cheesecake and chocolate mousse royale – Baskin Robbins never fails to surprise us with their over the top quality and terrific taste. Another upside? there's no compromise on quality!
Here are our top picks at Baskin Robbins!
Cookies n' Cream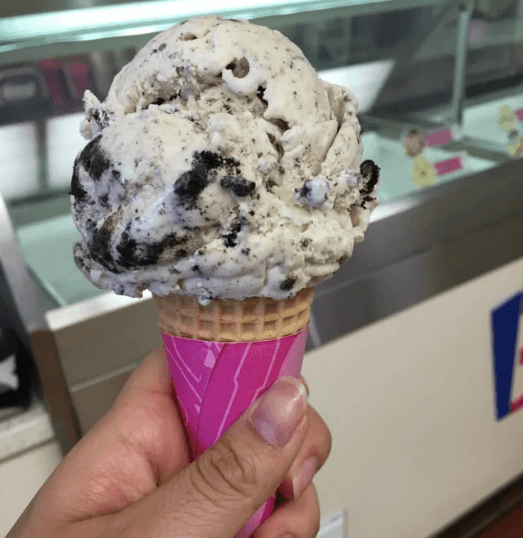 Gold Medal Ribbon
Chocolate Shake
Baskin-Robbins is known for having 31 original flavors — the number is even hidden in their logo! How did we not see that before?
Baskin-Robbins' wide variety of ice cream flavors and frozen desserts can uplift you on the hardest days!
Swensen's started its ice cream business in San Francisco, California in 1948 before it became a global ice cream brand. It is now serving ice cream from 300 franchises spread across the globe.
The ice cream chain is best known for its premium sundae ice creams which are made with the help of 150 flavors depending on the popularity of the country they are operating in. Their sundaes are definitely unique and unlike anything, we have ever seen or tried in Pakistan.
Here are our top picks at Swensen's!
Coffee Mocha Almond
Kit Kat Fantasy
Frozen Creamy Shakes
Try their waffles too while you're there since those are our favorites!
Mövenpick ice cream has been famous around the world for its super-premium exquisite range of ice creams, sorbets, waffles and shakes, and additionally for their all-natural process, including the flavors and colors.
Go here with high expectations and you won't be disappointed, for this is an ice cream made with the best ingredients that nature can provide, and are crafted with Swiss perfection. It's a bit high priced, but that is the cost for a product that has been flown from the Swiss Alps!
Here are our top picks for Movenpick!
Banana Waffle!
Timeless Pleasure
Carmelita!
So what's your go-to place for ice cream?