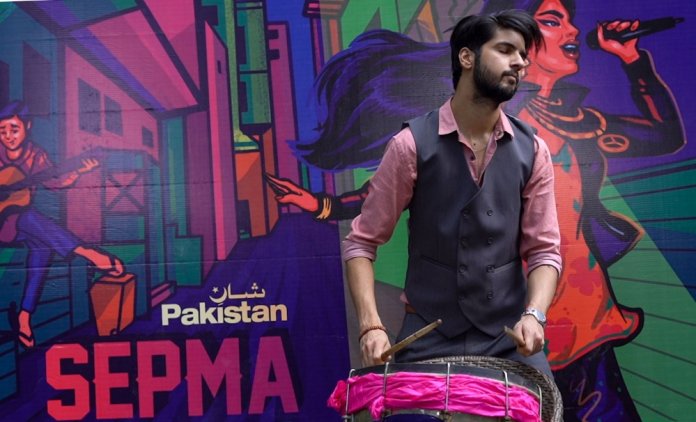 The Drum Circle Music festival that aims to transcend borders and bring Pakistanis together with a virtual show to highlight the best in music achievements.
A story about the power of music with different beats composed in a rap song by the talented vocalist, Shahzad-e-Ali.
The beautiful new song and melody "Ishq na manne" by the very talented sufi singer Hamza Akram Qawwal.
There were Musical Summits held in Karachi, Lahore and Islamabad respectively where different musicians and maestros shared their views and journey in the industry and their connection with music and SEPMA.
Shaan-e-Pakistan presented melodious SEPMA Taraana, a special release from SEPMA Mix Tape Vol. 1. It was sung by Javed Bashir.
Thousands of self-nominations came from all over the world, which were justified by the dignified jury, who are the maestros of music, selected the best of the best amongst them to be the "Shaan" of Pakistan.
The Award Revealing Ceremony took place in Lahore and the award reveal was done by  Shafqat Amanat Ali & the CEO, Huma Nasr.

Due to the prevailing pandemic, the award ceremonies were held digitally in Karachi, Lahore and Dubai. Keeping in mind all the SOPs and social distancing measures, the Team SEPMA organized the events.

An award was especially sent to UAE as the winner for the BEST EDM MUSIC, Mr. Umer Farooq resides there. The award was presented by Mr. Nasr Khan, CEO of Nova color LLC Dubai.

The Honorary Ustad Nusrat Fateh Ali Khan Lifetime Achievement Award was given to Abida Parveen.

A new category by the name of "BEST INDIVIDUAL MUSICIAN" was introduced to honor the legendary musicians behind the beautiful melodies. This award was bagged by Louis J. Pinto a.k.a. GUMBY.

SEPMA special edition merchandise dissemination as the Creative Director keeps SEPMA alive through her vision.

The digital format covered pre-productions through Shaan-e-Pakistan Production Unit to travel all over Pakistan to take visionary for discussion as panelist.

Pakistan's renowned CEOs were especially invited to be honoured as award presenters for each genre of music. There were supporters like Ms. Noor Jahan Bilgrami from Karachi and others from all over the world.

The award presenter was especially invited by Shaan-e-Pakistan from South Africa to present our major award THE NUSRAT FATEH ALI KHAN award to Abida Parveen.
Mr Irfan Pardesi was our last event main patronage and he presented the Lifetime Achievement Award to her through the best social distancing medium.