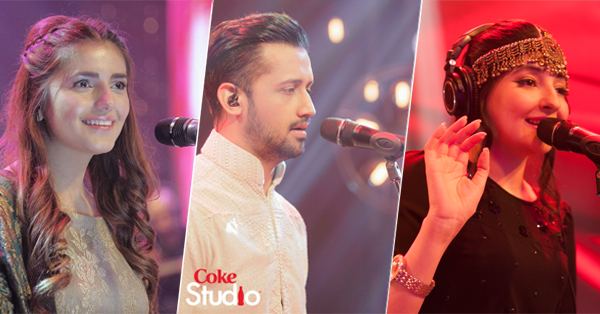 Our weekends are incomplete until a new episode of Coke Studio Pakistan is released.  The branded music television series have now become a part of our lives, so much so, that watching CS is a must for music lovers, once its episode is out every Friday night.
Undoubtedly, the TV show has played a huge role in revitalizing Pakistan's music industry which eventually took a huge turn in the 90s with popular music artists and bands that will be remembered throughout the ages!
Coke Studio has made sure that not only those evergreen tunes remain a part of our history, but they also come alive every weekend on our television screens.
Some of the most iconic songs featured on Coke Studio have reaped millions of views and become a global phenomenon.
Let us take a look at some of the most watched Coke Studio songs over the years. The list includes ten evergreen songs that hit the most views on Youtube.
1) Tajdar-e-Haram by Atif Aslam
Season: Coke Studio 8, Episode 1
Views: 40,451,593
Known for his various chartbuster tunes in Bollywood industry, Atif Aslam's tribute to the Sabri Brothers, to this day, remains the most watched Coke Studio artist with a whopping 37,841,836views.
2) Alif Allah, Jugni by Arif Lohar & Meesha Shafi
Season: Coke Studio 3, Episode 1
Views: 27,587,640
Despite being released nearly 6 years ago, Arif Lohar and Meesha Shafi's duet for the song Alif Allah Chambey Di Booty is the second most watched Coke Studio song with  27,099,948 views.
3) Man Aamadeh Am by Gul Panrra & Atif Aslam
Season: Coke Studio 8, Episode 3
Views: 18,301,460
Atif Aslam had a tremendous year with Coke Studio 2015 when he first made an appearance as the opener for the 8th season. He, once again, made waves for his second song in the same season, this time with Gul Panra for the song, Man Aamadeh.
4) Afreen Afreen by Rahat Fateh Ali Khan & Momina Mustehsan
Season: Coke Studio 9, Episode 2
Views: 16,443,376
Possibly one of the most debatable versions of the song, Afreen Afreen by the late Nusrat Fateh Ali Khan, has got the entire nation divided. This rendition of the classic by Rahat Fateh Ali Khan and newcomer Momina Mustehsan has got everyone hitting repeat on YouTube.
5) Sammi Meri Waar by Umair Jaswal & Quratulain Balouch
Season: Coke Studio 8, Episode 2
Views: 9,911,428
Known for her powerful vocals and making a name for herself with the title track of drama Humsafar, QB and Umair Jaswal's Sammi Meri Waar stands proudly at number 4 with 9,035,554 views.
6) Ishq Aap Bhe Awalla. by Chakwal Group & Meesha Shafi
Season: Coke Studio 5, Episode 2
Views: 7,230,436
Making another appearance in Coke Studio this time in season 5 and with the famed Chakwal Group, Meesha Shafi once again gets a place on the most viewed list with the song, Ishq Aap Bhe Awalla.
7 Reasons Why Coke Studio Pakistan is Better than Coke Studio India
7) Chaap Tilak by Abida Parveen & Rahat Fateh Ali Khan
Season: Coke Studio 7, Episode 6
Views: 6,890,467
What happens when two of the most powerful voices in the world of qawwali join forces? You get an epic hit. This is exactly what happened when Abida Parveen teamed up with Rahat Fateh Ali Khan for Chaap Tilak.
8) Aik Alif by Noori & Saieen Zahoor
Season: Coke Studio 2, Episode 1
Views: 6,644,516
Back in the early days of Coke Studio, Noori was one of the most successful rock bands from Pakistan and made an appearance in CS's second season.  Both, Ali Noor and Ali Hamza along with Saieen Zahoor, performed a duet of the song Aik Alif.
9) Daanah Pah Daanah by Akhtar Chanal Zahri & Komal Rizvi
Season: Coke Studio 4, Episode 1
Views: 6,509,871
This version of the classic Daanah Pah Daanah by none other than Komal Rizvi along with Akhtar Chanal Zahri will forever have the listeners hooked on to their performance.
10) Bibi Sanam by Zeb & Haniya
Season: Coke Studio 3, Episode 1
Views: 5,328,199
The cousin duo who have been mesmerizing the nation with their songs, once again took the nation by storm when they performed the Afghani folk song, Bibi Sanam Janem.
Youtube Views Dated on September 22, 2016
Stay tuned to Brandsynario for more updates!