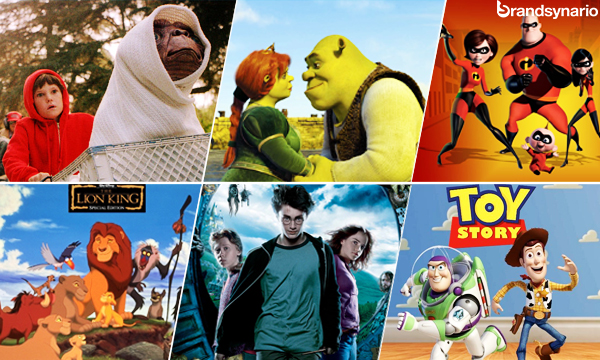 With the millennials pouring in, movies that were all the rage in the 90s and early 2000s will soon be forgotten. These movies, although aimed at children, were also deeply cherished by adults and still are to this day!  Many of these flicks are full-fledged family entertainers and bring forth many meaningful messages with the help of animation and/or catchy musical numbers.
From Lion King to the Harry Potter Series, we have carefully compiled a list of top ten movies that every kid must watch before they turn 12. Have a look!
1. Toy Story
The name says it all! This film follows the life of an easygoing cowboy doll named Woody, who belongs to a boy named Andy. Along with the other toys in Andy's room, Woody lives the best life imaginable. That is until Andy is given another toy, Buzz Lightyear, an action figure that Woody immediately envies.
However, when Andy's family moves houses, Woody and Buzz are misplaced into the paws of Andy's evil neighbor, Sid. Both toys then decide to put aside their differences and return to their beloved owner.
An adorable tale about innocent love, and undying loyalty, Toy Story is fun, must-watch!
2. Finding Nemo
After the death of his wife, Marlon, a clownfish is over-protective of his son, Nemo, who was born with one short fin that hinders his movement. After a bet with his friends, Nemo swims too close to the surface and is captured by a diver. Marlon then sets out on a journey to find his son and along the way he meets Dory, a blue reel fish, who suffers from short-term memory.
They encounter many obstacles along the way in the shape of sharks, jellyfishes, and more. Nemo, on the other hand, is sold to a buyer and is placed in a dentist's fish tank, meeting a girl who does not have his best interest at heart.
A heart-warming tale about a father's love for his child and true friendship, Finding Nemo will leave you teary-eyed. Recommended for all ages!
3. The Lion King
This cult classic, set in Africa, follows the life of a young lion, Simba. After his father Mufasa, the King, was dethroned and murdered by his treacherous uncle Scar, Simba returns to his homeland many years later to take back what is rightfully his.
Along with the help of his friends, Timon and Pumba, who also raised him, Simba is ready to avenge his father's death and even manages to find love along the way.
This evergreen, heart-breaking movie flaunts a tale that is bound to win you over. Watch it now if you haven't already and a have a time of your life with your kid. This one is unmissable!
4. Shrek
Shrek takes apart the conventional fairy tales and brings a somewhat realistic view to the ancient stories. Shrek, an ogre who resides all alone in a mossy swamp, has his life turned upside down when an array of fairy tale characters and a talking Donkey, who were sent by the evil Lord Farquaad, disrupt his quiet life.
In order to bring his life back into order and return the characters back to their homeland, he cuts a deal with Lord Farquaad by rescuing Princess Fiona and having her wed him, in return for his solitude. However, the ogre ends up falling in love with the princess and it all ends well for both of them!
5. The Harry Potter series
If your child has not watched or read, the Harry Potter series, it is of utmost importance that they do right away! Based on the critically acclaimed novels by J.K Rowling Harry Potter is about a boy who has been neglected his entire life by his remaining family, after his parents passed away in a tragic incident.
He soon discovers on his eleventh birthday, all that was hidden from his entire life, that he was the prodigal son of two well-renowned wizards and that he will acquire magical powers of his own.
He is then taken away from his miserable life into a wizarding school, Hogwarts, where he befriends a whole community of people similar to him. Along with his best friends, Ron & Hermoine, fighting off demons and standing up to villians flaunting his magical prowess, Harry embarks on some of life's most excitingly absurd adventures.
This one makes for some memorable moments your child will cherish forever, trust me!
6. The Incredibles
Two married superheroes, Elastigirl and Mr. Incredible, after starting a family, decide to live an ordinary life, concealing their superpowers from the world in order to protect their children after the government calls a ban on all superpowers.
Although Mr. Incredible loves his family, he craves the rush of solving crimes and bringing justice.
Life takes a turn when Mr. incredible is called on a top-secret mission to a secret island in order to defeat a malfunctioned robot. He has discovered that he is not as powerful as he used to be and his family comes to his rescue.
Download/stream this one now, and make some great memories with your kids.
7. The Wizard of Oz
1939 adventure comedy musical flick, the Wizard of Oz is the most well-known and commercially successful fantasy tales. Once a deadly tornado hit Kansas, Dorothy and her dog Toto are torn away from their lives and brought to the foreign land of Oz.
After following the long Yellow Brick Road, they arrive in Emerald City and along the way meet an array of different people who need the help of the wizard to help them return to their normal lives.
The gang includes the Tin Man who is in dire need of a heart, a Scarecrow looking for a brain, and a Cowardly Lion wanting a dose of courage. However, they need to face the Wicked Witch of the West in order to steal her broom to bring to the wizard for his help.
A successful adaptation of the 1900 book, The Wizard of Oz by L.Frank Baum this one takes you on an amazing trip down fantasy land.
8. Lilo And Stitch
A 2002 American science fiction comedy drama, Lilo & Stitch is an emotional tale about true friendship. Set in Hawaii, this film follows the life of a lonely girl named Lilo, who is raised by her older sister Nani, after the death of her parents.
In need of a friend, she meets the extraterrestrial Stitch who she immediately grows on. Stitch, an experiment gone wrong has escaped from another planet and arrived on Earth.
But with the help of Lilo, he begins to feel the importance of family, along with normal human emotions, which is all that Lilo has ever wanted. Kids will love this one, trust me!
9. E.T: The Extra Terrestrial
Directed by Steven SpielberElliot, this 1982 American science fiction fantasy film is totally loveable! A young impressionable boy discovers a fragile and kind alien that is left on Earth. The alien meets his siblings and all three grow close to him but decide to keep it a secret.
However, once the government becomes aware of its existence, Elliot and his siblings try their hardest to keep it safe. Funny, quirky and just plain adorable, this movie is loved by all.
10. Mary Poppins
The Banks family hires a new nanny and the children, Jane and Michael, although very hesitant at the initial thought of her, soon discover upon her magical arrival that her stay will definitely be life-changing.
Along with her Cockney performer friend Bert, Mary Poppins show the children a positive and happy way of living. Which is something they wish they could instil in their absent-minded parents.
Directed by Robert Stevenson, this 1964 American musical fantasy-comedy film is a total masterpiece!
These iconic films will be remembered forever, hence it's only fair children everywhere indulge in these cinematic masterpieces before they grow up and face the harsh realities of the real world. Not to mention, these films stick with you throughout your whole life.
Top 10 Movies Releasing in November 2016 that are a Must-Watch!
So which one of these are you planning on watching with your kids? Comment below! Happy watching 🙂
Stay tuned to Brandsynario for more updates!