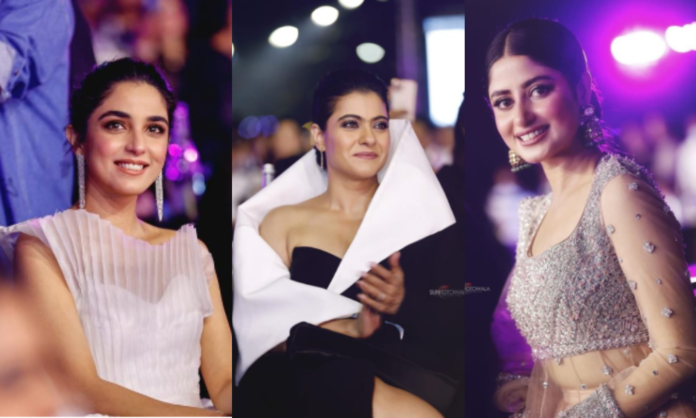 Lollywood and Bollywood have always had a conflicting relationship and when it comes to something as grey as fashion and makeup many actresses on both sides of the border have been inspired by each other. The makeup and fashion industry is very repetitive so looks are bound to repeat on the red carpet.
1. Saboor Aly and Aishwarya Rai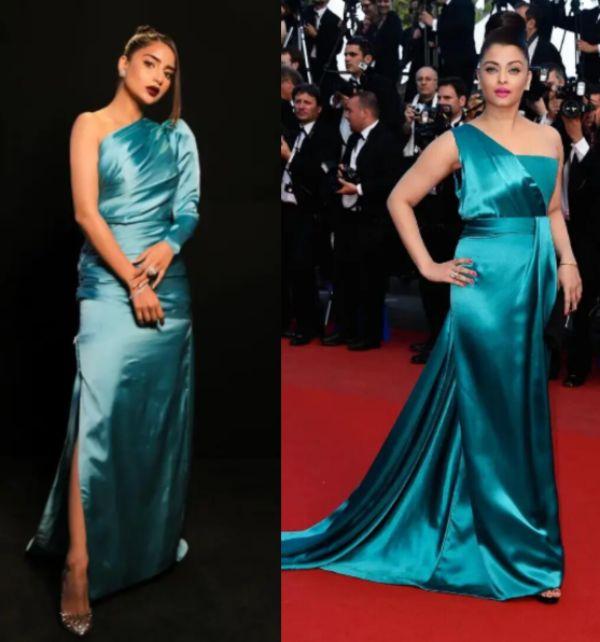 This look of Aishwarya Rai was seen at the Cannes Film Festival in 2013 which then inspired Saboor Aly at the Lux Style Awards in 2021.
2. Sonya Hussayn and Shehnaaz Gill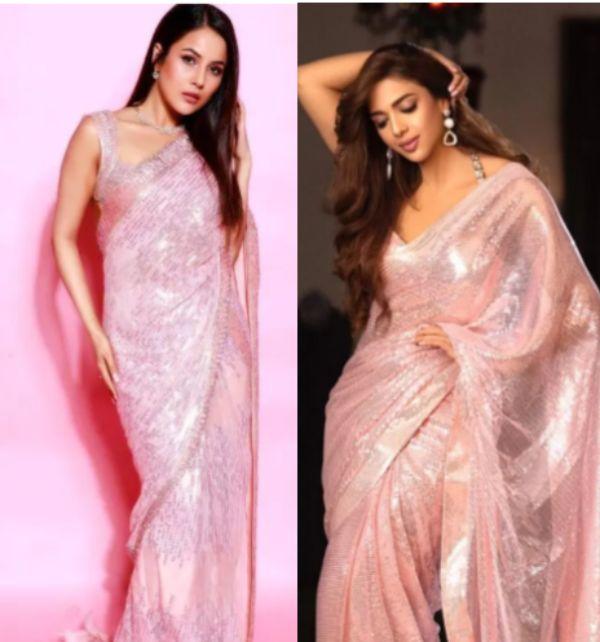 The pink sequin saree has been around for a long time but recently Sonya imitated the look at the 8th HUM Awards.
3. Ayeza Khan and Jhanvi Kapoor
Ayeza Khan was also inspired by Jhanvi Kapoor's photoshoot look and put her own twist on it at the Hum Awards 2022.
4. Aymen Saleem and Ananya Pandey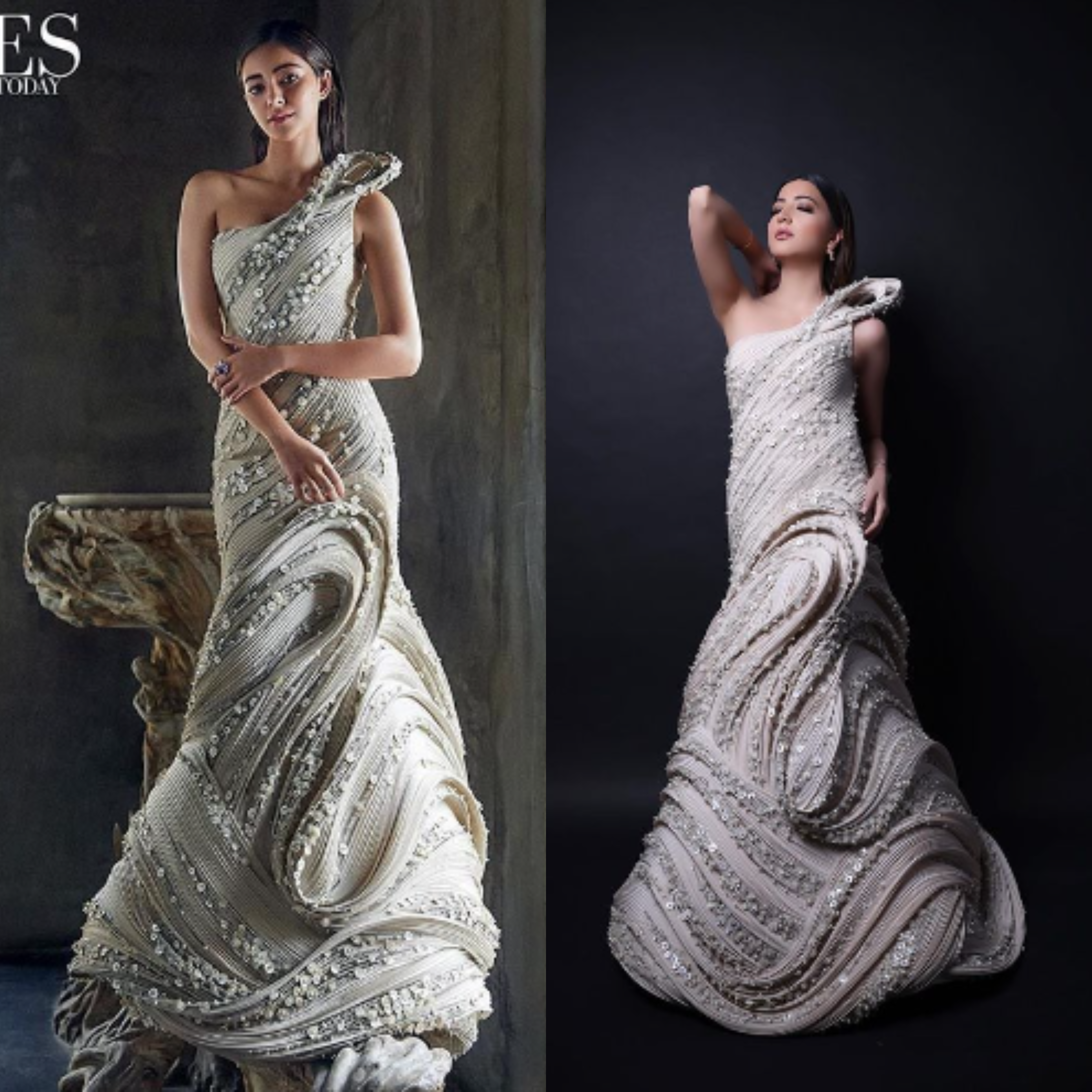 Aymen Saleem also completely copied Ananya Pandey's swirly dress look at the 8th HUM Annual Awards.
4. Alizey Shah and Alia Bhatt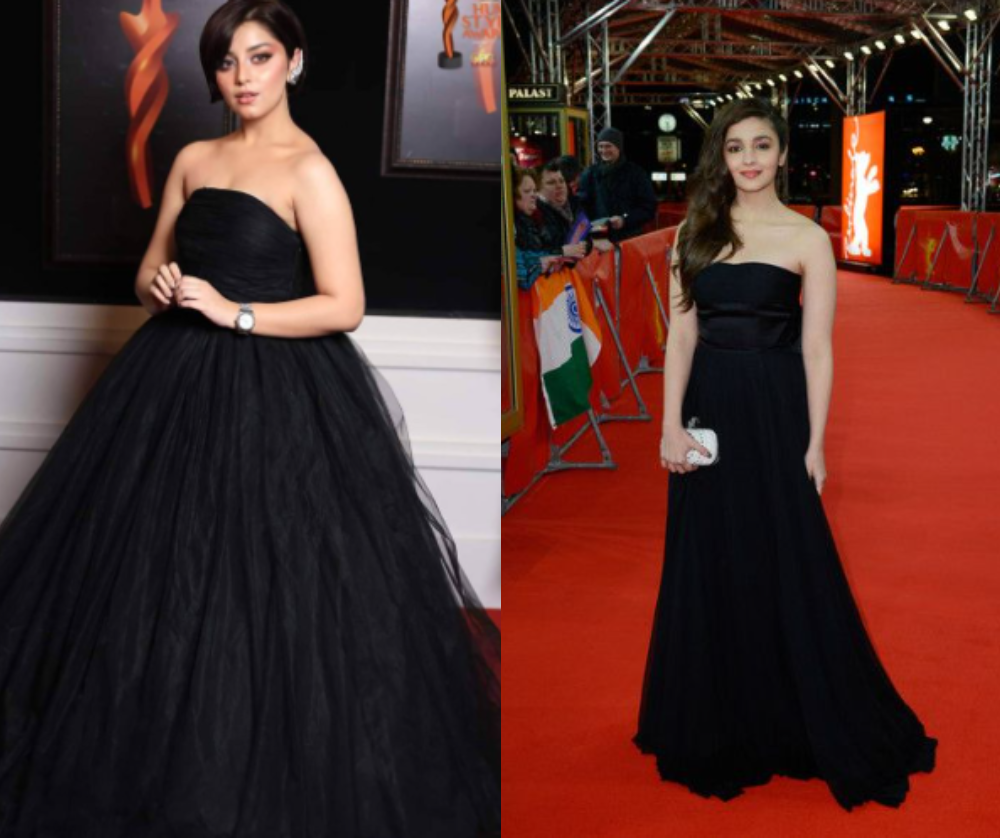 Alizeh Shah also got inspired by Alia Bhatt's plain jane black dress look and showcased it at the 2021 HUM Awards.
5. Sajal Aly and Deepika Padukone

Deepika Padukone and Sajal Aly were spotted again wearing a similar dress. They wore the polka dot dress by Marmar Halim in varying colors.
6. Mahira Khan and Deepika Padukone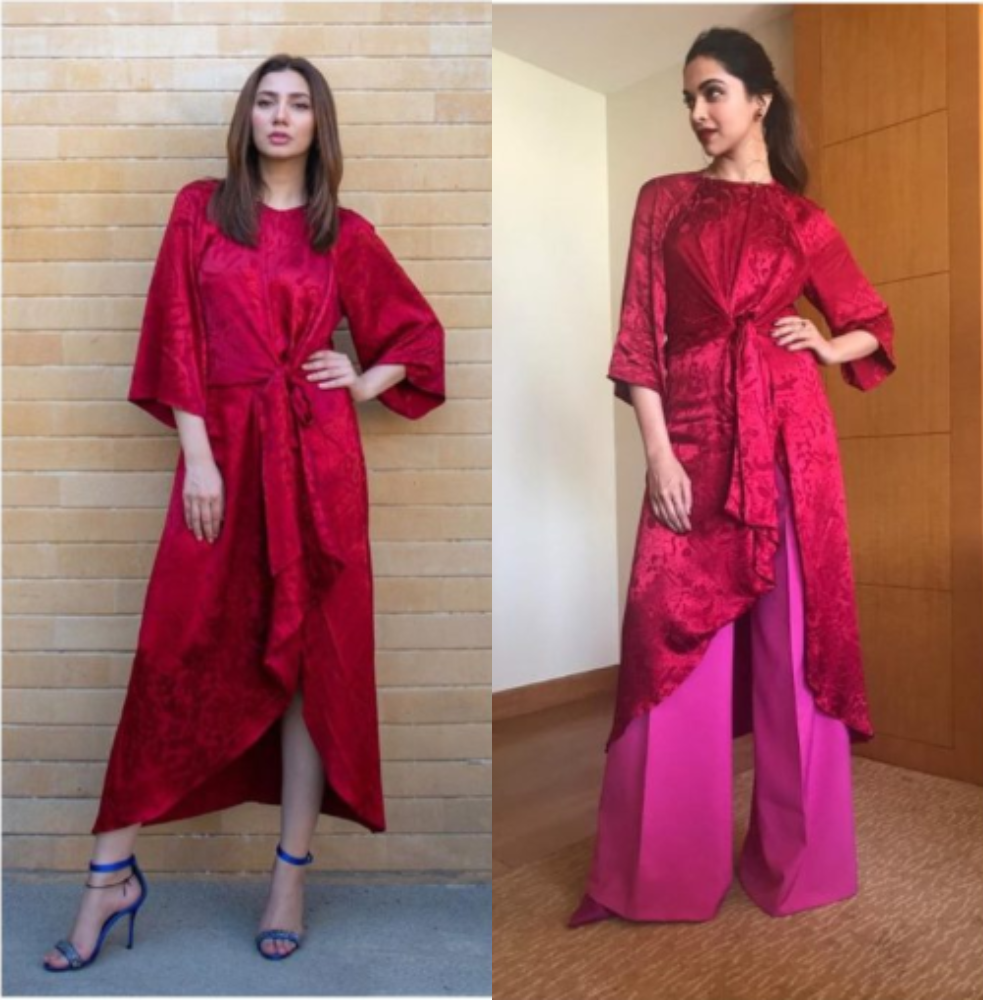 The two of the most talented actors in their industries were spotted previously as well wearing the same red Zara drape dress.
7. Mahira Khan and Aishwarya Rai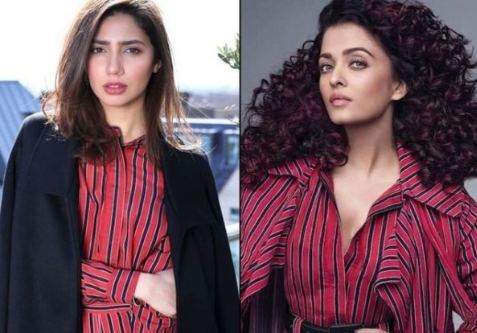 Two of the most famous actresses in the Pakistani and Indian entertainment industry were spotted in the same Druv Kapoor red-blue striped suit. Mahira Khan wore it at the London Asian Film Festival.
8. Sarwat Gilani and Alia Bhatt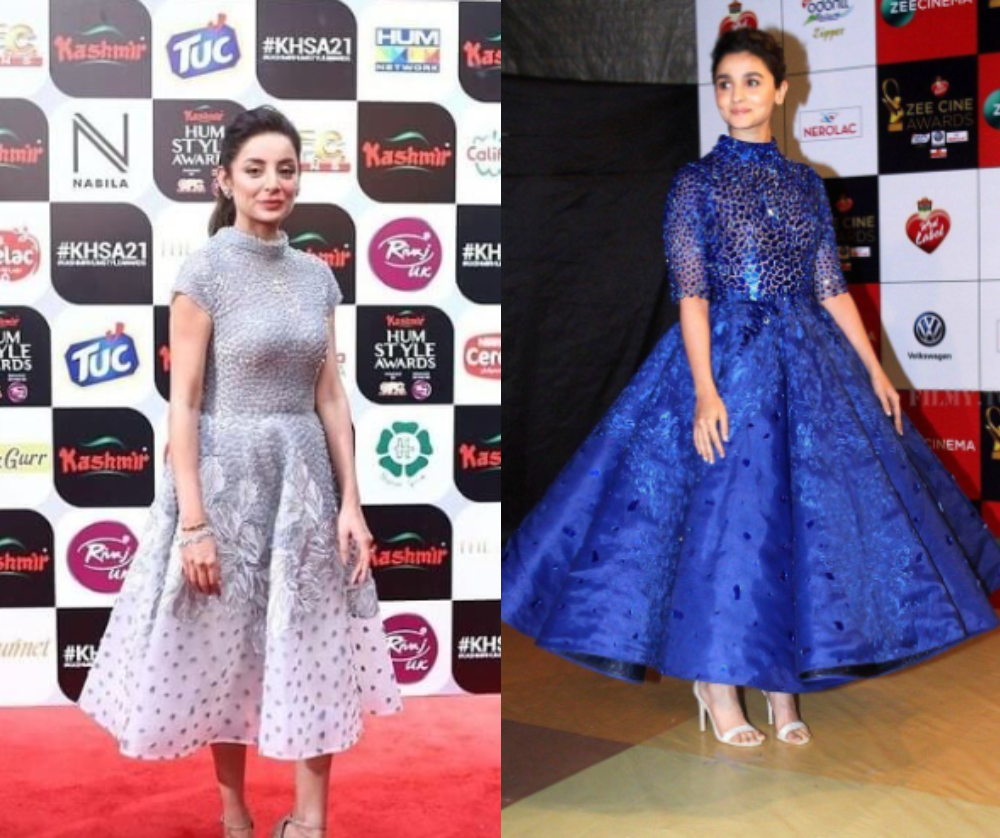 Alia Bhatt has yet again inspired another Pakistani actress. Sarwat Gillani followed the same trend and tried to look like Alia Bhatt at the KHSA'21 event.
9. Sonya Hussyn and Malaika Aurora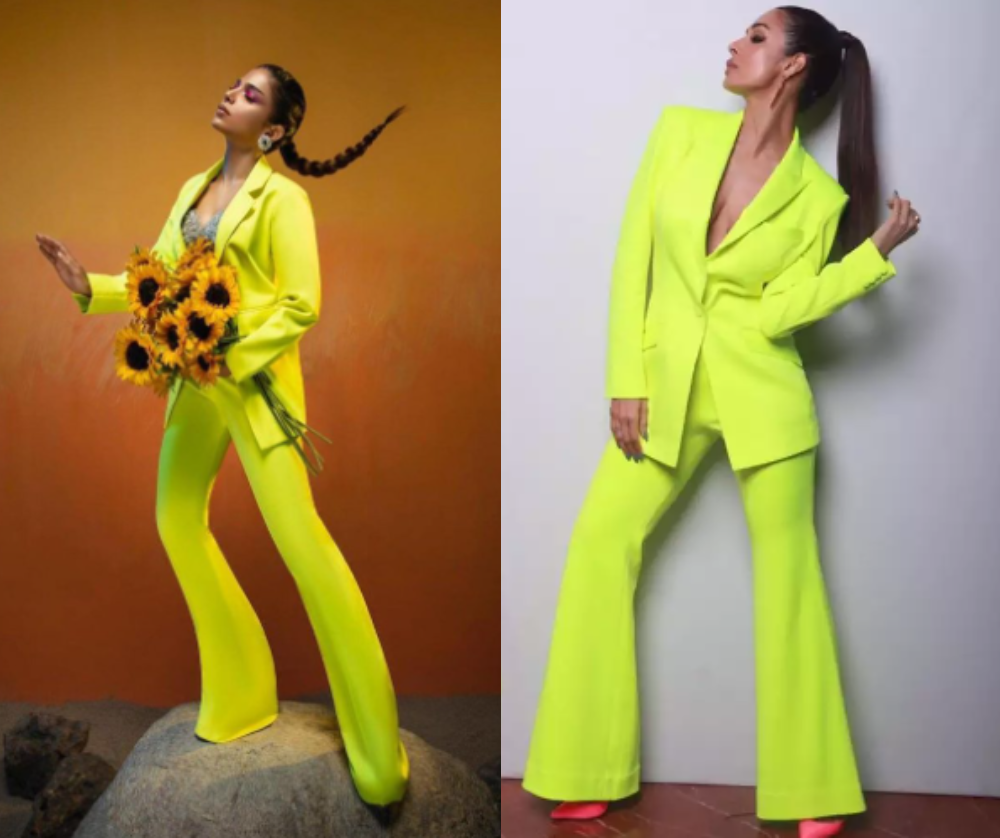 Sonya Hussyn has also imitated Malaika Aurora at the HUM Style Awards. She also showed up in a neon yellow blazer and even had a similar photoshoot.
10. Maya Ali and Deepika Padukone
Maya Ali ditto copied Deepika's slim-fit black bodycon dress. Everything from the jewelry to the shoes was the same.
11. Mahira Khan and Alia Bhatt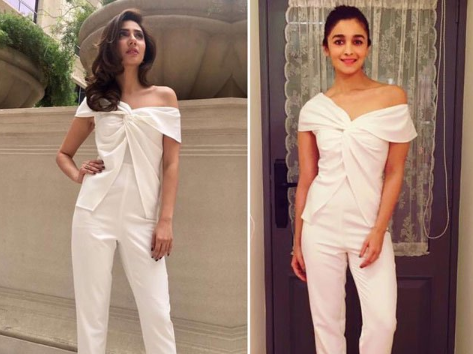 Mahira Khan and Alia Bhatt both looked pretty in white jumpsuits. Alia wore it at a success party for her movie however, Mahira Khan wore the pretty ensemble first in Dubai during the promotion of her Indian debut movie, 'Raees'.
12. Mawra Hocane and Parineeti Chopra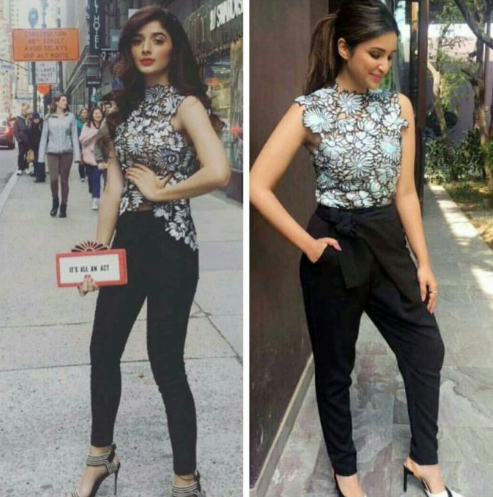 Mawra Hocane and Parineeti Chopra were both spotted wearing black and white floral guipure laced top with black trousers.
13. Momina Mustehsan, Mahira Khan and Deepika Padukone 

Actresses from both countries wore the same gown. However, Deepika Padukone was first spotted wearing the gown and then Momina chose to wear it at the PISA awards, whereas Mahira wore it for a magazine cover shoot.
Who do you think wore the outfits better? Let us know in the comments below.
Stay tuned to Brandsynario for more news and updates.