Jannat Mirza became the nation's most loved star through the platform of TikTok. She gathered 10 million followers on it and was widely loved and appreciated. But this was not long-lasting considering Pakistan banned the app. While many TikTok stars were heartbroken about it, with one man even mentioning that he will not be able to go Hajj anymore, there was Jannat Mirza who did not mirror the feeling.
Jannat Mirza shares views on TikTok ban
In conversation with a publication, she said that the TikTok ban is a good thing. She elaborated on it by saying that the app is not regulated and so people abuse the app however they want. That said, she added, it's good only if it is a temporary ban and not a permanent one.
She said all this with composure. And people were surprised at it since she made her name through TikTok itself, so a ban on that should have garnered a heated response. But that surprise was soon explained through Jannat Mirza's interaction with one of her many many fans.
Moving to Japan, Really?
Now that TikTok is banned, Jannat Mirza must have gotten more attention from her fans on Instagram. When people saw her vacationing with her family in Japan, they asked if she is deciding to move there. She replied with a yes. Her fans must have been heartbroken as they were quick to ask the reason. And she answered that too. She said: Pakistan is lovely, but the mentality of Pakistanis is not.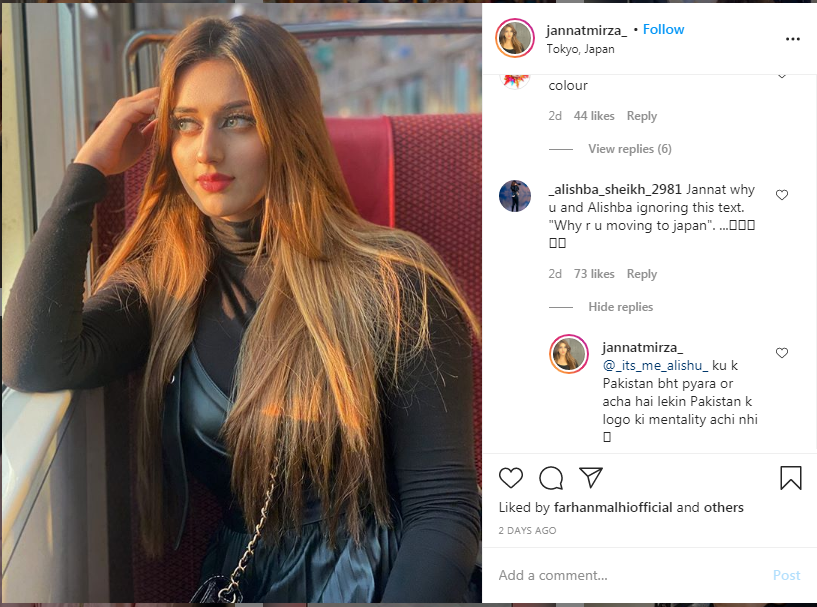 Jannat Mirza had reached fame by producing content that involved Bollywood sync and slow-motion videos. Pakistanis absolutely love that content. And to say that fans loved her from a platform that already had a plethora of content proved her worth. So saying that that fan following was disappointed would be an understatement.
The hurt fans started calling it hypocrisy that she chose to leave the very country, which brought her to the limelight. And they stated that she shouldn't generalize all Pakistanis since a huge number of people loved her too.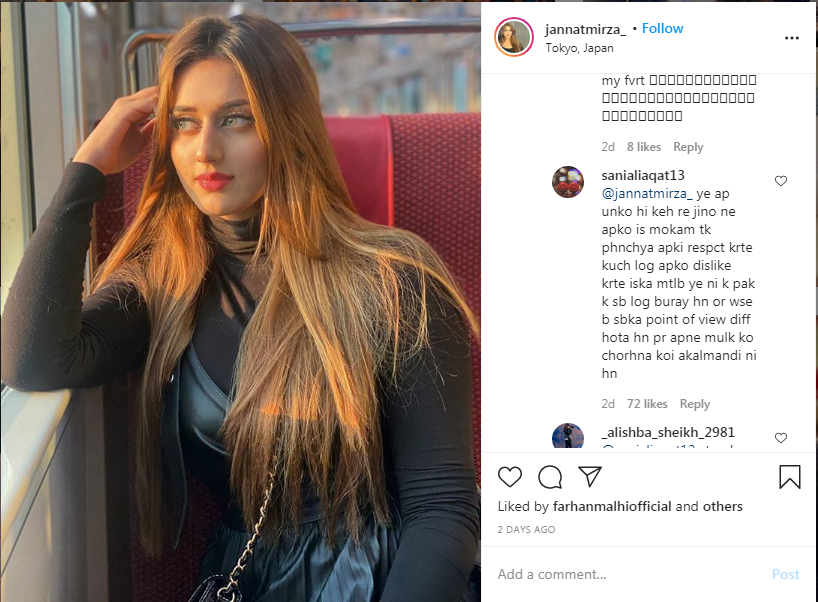 In her interview, she mentioned that she would want the ban on the app lifted after a proper code of conduct is applied. So if that happens, will she come back to Pakistan or keep making TikToks from Japan is a question only she can answer. But she should know that even the Japanese government is considering a ban on the app; what will she do then?
Stay tuned to Brandsynario for the latest news and updates!