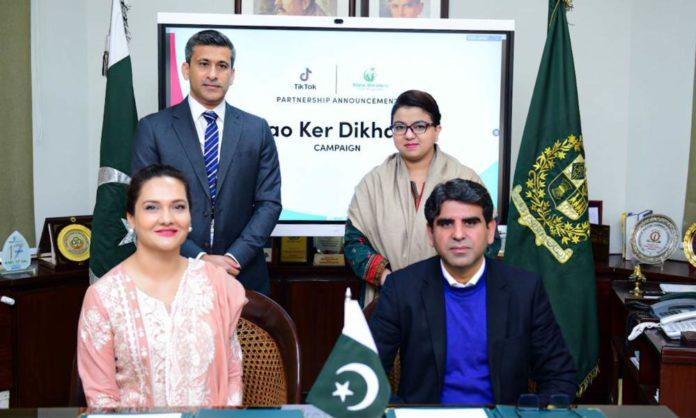 In order to raise awareness for the Prime Minister's Youth Programme, which was only recently unveiled by PM Mian Muhammad Shehbaz Sharif, TikTok has announced the beginning of its "Aao Ker Dikhaen" campaign. TikTok will play a crucial part in spreading the message that the Prime Minister recently shared about his aim to create one million jobs for the younger generation to address the issue of unemployment throughout Pakistan.
In order to engage and educate the public about the Prime Minister's Youth Business & Agriculture Loan Scheme, TikTok and the Prime Minister's Office have developed a complete campaign. Millions of young internet users will be informed about the initiative by the worldwide platform's production and inclusion of numerous educational films, which is expected to create exciting new chances for budding businesspeople throughout Pakistan. This year's "Aao Ker Dikhaen" campaign is set to launch at the beginning of February.
TikTok will create a number of instructional videos for the programme to assist users in navigating the application process and to provide them with business advice in an effort to boost the number of applications that are accepted. The Prime Minister's Youth Programme will offer interest-free loans up to PKR 0.5 million through monetary financial institutions/monetary financial banks and subsidised loans from PKR 0.5 million to 7.5 million through commercial banks. Success stories will also be highlighted on the platform to encourage young people to take advantage of this opportunity.
"We are thrilled to play our role in providing access to this opportunity to the young generation of Pakistan through the educational videos of the 'Aao Ker Dikhaen' campaign," said Farah Tukan, Head of Government Relations and Public Policy – Middle East, Turkey, Africa, Pakistan & South Asia at TikTok. We at TikTok are dedicated to the advancement and development of youth. For this collaboration, we are grateful to the Prime Minister's Youth Programme.
Ms. Shaza Fatima Khawaja, the prime minister's special adviser on youth issues, said: "The government seeks to lower unemployment through our youth and agricultural loan programme by offering funding and advice to capable Pakistanis. We will be able to reach millions of young users throughout Pakistan thanks to our cooperation with TikTok and give them advice on how to take use of this opportunity to the fullest."
Recently, TikTok collaborated with Edkasa and LUMS on the #ExamReady campaign, which focuses on getting students ready for exams. TikTok also partnered with Zindagi Trust on projects that raised awareness of digital safety. TikTok hopes to contribute to this important project and facilitate the social and economic empowerment of Pakistan's youth by partnering with the Prime Minister's Youth Program on the "Aao Ker Dikhaen" campaign.