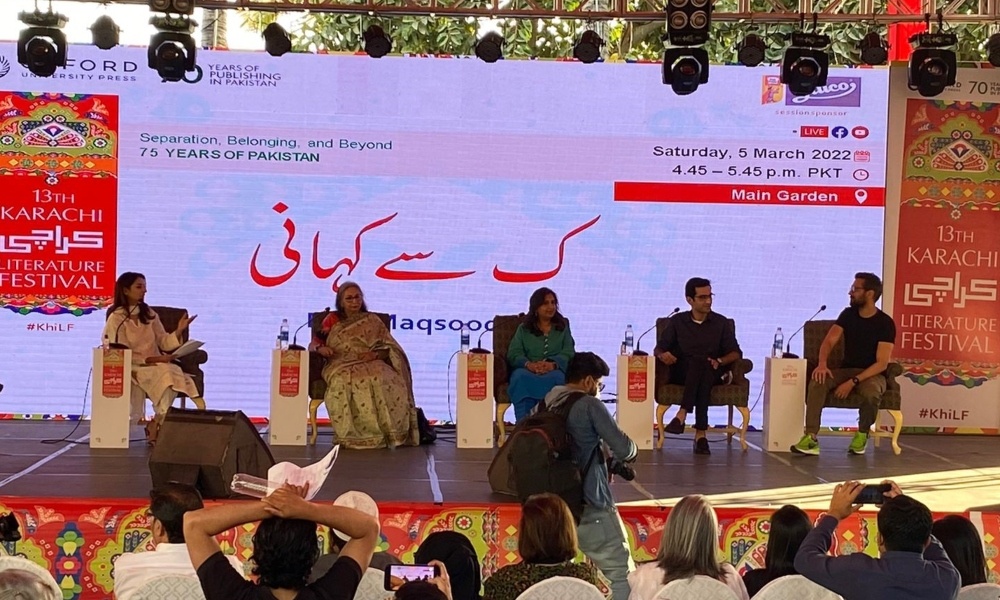 6th March 2022, KARACHI: Peek Freans Gluco hosted an interactive session 'Kaaf se Kahani' at the ongoing Karachi Literature Festival.
Renowned educators and artists including Rumana Hussain, Bilal Maqsood, Beenish Umer, and Peek Freans Gluco's Senior Brand Manager Hataf Shahab participated in the session, moderated by Sarwat Gillani. The event's highlights were the warmly engaging and language-appropriate nursery rhymes launched by Peek Frean's Gluco in collaboration with Bilal Maqsood.
The discussion revolved around the importance of Urdu, its infrequent usage among the younger generation, and how today's young minds are losing their touch with Urdu.
The guest speakers highlighted the concerns that due to the dearth of good quality Urdu content, young children view content that is not attuned to our social and moral values. Urdu is something that our children should be familiar with in their early childhood days. The panel unanimously agreed that this could only happen when there is content in Urdu that seeks to teach them not just about morals but also in a way that is creative and entertaining to attract them.
The panel discussed how there is a need for a paradigm shift in Urdu curriculum in schools and educational institutions in order to teach children as to how they could express themselves eloquently in Urdu. Sarwat Gillani pointed out the lack of engaging Urdu content for children in the media stating that our children are learning foreign content and words moving away from the basics of Urdu.
Aaminah Saeed, GM Marketing, responded that the Company had taken an initiative to strengthen its relationship with its core consumers i.e., children and parents. She said: "Peek Freans Gluco as a heritage brand realized that there was a dire need of high-quality Urdu content for children in the media. Through our consumer insights, we realized that mothers are eagerly looking for local content that is not just entertaining and engaging for children but also helps them get attuned to Urdu, their own language. Content is a way for children to learn – especially when it comes to developing language skills.  With the mission of nourishing hearts, lives and communities, Peek Freans Gluco has heard these mothers and brought in content that is entertaining for children using Urdu as a medium".
Bilal Maqsood said: "This was a dream project for me. I partnered with Peek Freans Gluco of EBM to compose, write and sing 8 original Urdu nursery rhymes for children so as to play my part in giving our kids something to hold on to while growing up something that'll keep them connected to their language and cultural values without losing the element of learning with fun."
The session ended on the note that various elements of the society will have to work in tandem to keep the balance of Urdu content available for our younger generation to consume, learn and enjoy.