A mother ok TikTok was recently left terrorized as she and her husband discovered a secret room in their own home. It is full of strange pictures, family letters and other things. What will she do now?
Renovation Turned Discovery
Kam Mee and her husband were in the process of renovating their home when they stumbled upon something unexpected. They found an entire hidden room that is full of stranger photographs. There are cards too and letters addressed to the said family. 
Though from the surface it looks like a loving family affair, some pictures are haunting. Kam Mee and her husband note that there is a haunting feel to everything they have just discovered. 
Kam Mee Documents It
The mother is known for documenting family and home content. Obviously, she was also sharing everything about this hidden room with her fans. She shows them stumbling across a hidden entry and going inside.
The photos are at once fascinating and scary. In one said photo, a child sits in a go-cart with a man next to it. The scary part? The man is seemingly headless. About this photo, Kam Mee says that it was found on the walls. She hopes this was an exposure problem otherwise she will have nightmares.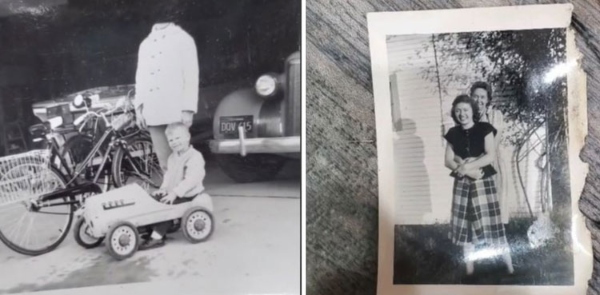 Christmas Gifts From Past To Present
They also found a huge Christmas gift from the "ex-owner" of the house. However, the creepy part is that this said gift is for the current "occupant" of the house which is Kam Mee and her family. How did they know they would be occupants or did that family always wish to contact any occupant that would discover them?
Viewers were so intrigued by the finds that they kept begging Kam Mee to keep posting the discoveries. It is a real-life scene out of a horror movie, we can only hope it doesn't become into a full movie. Many viewers are also suggesting this is a time capsule of the older family.
Others are suggesting the current family find a local historian. 
Dear Mother…
In follow-up videos, Kam posted more footage of many unusual things found in the secret room. One of those includes a 1960s letter addressed to "My Dear Mother,". It is said to be about a family dispute and even inside the latter are multiple black and white family photos. Intrigued yet?
Stay tuned to Brandsynario for the latest news and updates.