Hemani's ImmuniTea (Herbal relief Tea) by WB is godsent! The collaboration between Waseem Badami and Hemani offers a line of herbal products by ImmuniTea takes the cake. Keep reading to find out the fantastic benefits of the tea and how it helped us personally.
The Need Has Never Been Greater
Needless to say that we are experiencing a deadly pandemic that seems to be getting more robust with each day. It has never been more essential to make sure your diet is the healthiest, and you're only absorbing the most refined. Only then will your immunity be more durable, and Hemani's herbal relief tea can make that happen!
The current lockdown life can also be extremely taxing on our mental health. We're mostly alone; social life is to a minimum, and routines are no longer in place. In addition to that, this pandemic is making us forget that there are many other viral infections in the air too. If you're looking for a solution to keep you guarded, we've got you covered.
Hemani's ImmuniTea And Its Benefits
Hemani's herbal relief tea is made with a cocktail of 7 herbs that are procured from around the world. These herbs are as good as it gets for several factors relating to mental as well as physical health. Yes! You heard that right; it works for both. ImmuniTea helps elevate depression while also building stronger immunity. Moreover, it can help with viral fever, cold, and flu too.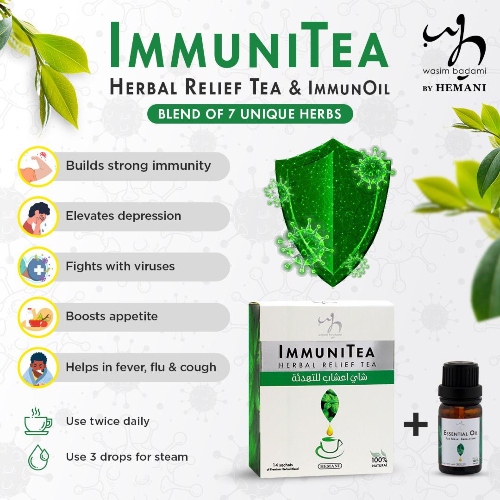 We recently tried it ourselves, and it has done wonders. Plus, it's allergy season as well, so you never know what's what. All we know is that the fear you start developing on signs of any sickness is terrible. We felt that it was the best time to try ImmuniTea, and we're glad to come back with a glowing review.
Hemani's antiviral and antioxidant qualities uplift your spirits and energy. Moreover, personally, the best thing about tea is how it boosts your appetite. In sickness, your appetite is the first to go, and that usually makes your state worse. 
The Two-Fold Effect Is One Of A Kind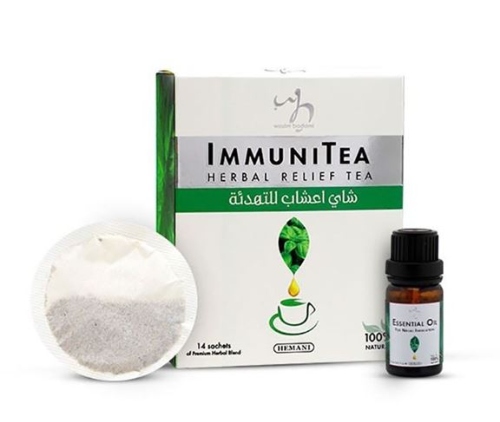 Another exciting thing about ImmuniTea is how you can avail of its benefits in two ways. The product primarily comes in a kit that has tea pouches and a bottle with a blend of herbal oils. If your nasal passage is blocked, you can put 2-3 drops of the oil in hot water and inhale the steam. Or, you could always enjoy a hot cup of herbal relief tea twice a week. In other words, there are two ways in which you can avail of the fantastic benefits!
Get To Know The Ingredients
Knowing the ingredients of whatever you consume is essential. Once you get to know the ingredients, you'll order ImmuniTea first thing! Firstly, it has 'Glycyrrhiza glabra,' which has antiviral qualities that ease upper respiratory conditions.  Secondly, get to know 'Zingiber Officinale, ' which is best for strength, nausea, body ache, and infection-fighting properties.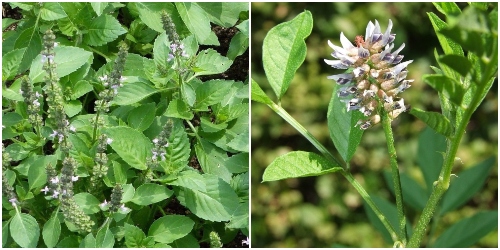 Also, here's a fun fact! Did you know that Ginger is a herbaceous perennial plant that belongs to the family of 'Zingiber'? Ginger also has a lot of health benefits, like its ability to prevent blood clotting. The gingerols contained in it makes the plant enriched with potent anti-inflammatory and antioxidant properties. It also further helps to lower the sugar level in the body. In other words, Zingiber is a strong antibiotic that can kill tough bacteria.
Check this out!
https://youtu.be/pqS4DMqiHWE
Other ingredients include 'Ocimum sanctum,' which is an anti-depressant, and 'Lauraceae' is anti-inflammatory and antioxidant. 'Ocimum gratissimum' (Basil) is a herb known for its tremendous and countless health benefits. It helps you get rid of unbearable stomach pain and aches and is excellent for the heart.
Having read all this, we're sure you feel as if this is the answer to your prayers because we sure did!
Did you order yet? Buy now: https://bit.ly/30Fm8Xz
Stay tuned to Brandsynario for the latest news and updates.