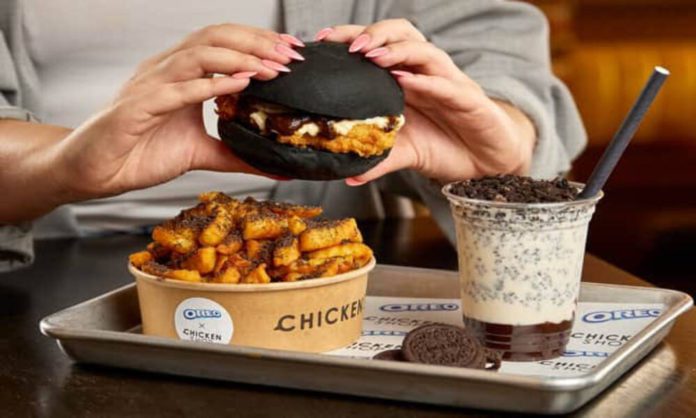 Thanks to OREO and Chicken Shop's new twisted line – Lndoners will be able to experience a chicken burger and chips themed after cookies. Next month, consumers will be able to purchase the OREO Twist meal from the well-known chocolate biscuit company and the London-based chain of fried chicken restaurants for a certain time.
Oreo X Burger Chain Collaborate 
The new cookie and chicken combo dish features a blend of sweet and savory flavors. A chicken burger is also offered in OREO charcoal bread, in addition to chips covered in OREO crumbs. The consumers will be able to finish their meal with an OREO milkshake that also includes the renowned chocolate sauce from Chicken Shop.
Read More: 8 Quick Snacks To Make At Home To Celebrate Independence Day
Oreo Dinner Availability 
Ahead of the launch, the collaboration was announced by the cookie giant on their social media channels. The Oreo-themed dinner, which will be offered at all six of Chicken Shop's locations in London starting next month, will only be available for a few days. From September 1 to September 3, six Chicken Shop locations in London will offer the OREO Twist meal.
Those who are lucky enough may even receive the OREO Twist meal for free, but they must act quickly. A total of 150 meals will be given away for free on a first-come, first-served basis. These free meals will be up for grabs at the Chicken Shop locations in London throughout the meal's three-day restricted run.
Read More: Airline Conducts Trial With Jet Fuel Blended From Cooking Oil
Stay tuned to Brandsynario for the latest news and updates.