A few days ago, a Twitter user, Saad, tweeted on the lack of educational opportunities for women in our society. He addressed the issue of parents not allowing their daughters to study further.
One of the main reasons for this is financial problems, along with cultural restrictions and lack of awareness. He provided the solution to this problem that guys should replace the other objects in dowry with a degree.
The Twitter user believes that, in this way, parents will start worrying about their daughters' education rather than other things.
He tweeted:
Guys should start asking for educational degrees of girls in dowry so that parents start worrying about the education of their daughters instead of furniture, refrigerators and crockery.

— Saad (@OverLord_Xd) July 13, 2020
This tweet gathered much praise from all social media networks. On twitter, it received more than 2 thousand likes and more than 500 retweets. The question is: is this tweet really praise-worthy or just insensitive and ignorant of the deeper problem?
The deeper problem of dowry
As I mentioned above, our society has many cultural practices that suppress women. Dowry is one of them. It should be noted that the practice of dowry has no religious significance in Islam. Dowry traces its roots back to Hinduism. It is practiced extensively in our culture because of the shared Hindu heritage.
Dowry is the cause of many problems, but it is assimilated in our culture in such a way that the rich and poor all follow it. Despite financial issues, parents still try their best to make their daughter's dowry.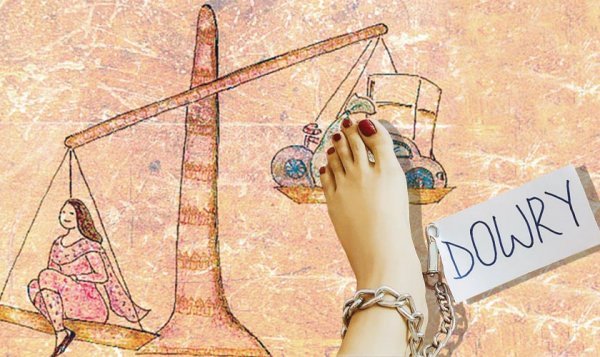 People's reaction
In reply to the tweet, people came up with, both, funny and thought-provoking replies.
Like this person presented a solution for population control and domestic violence:
Degrees for guys as well. Make it illegal to be married if you don't have university degree😂 best way to control our population and to minimize domestic violence. 🙏

— Waheed Ahmed (@WaheedIsm) July 13, 2020
This tweep had different views on eliminating the practice of dowry:
A disease like dowry will only go away through teaching people about Islam.. not adding another requirement & burden on women to pursue education for marriage..

— Z a🥇n (@saint1day) July 13, 2020
Another Twitter user presented the cause of the problem:
These kinda silent features make them do so.
Its just tip of the ice burg. pic.twitter.com/riVMdveZzT

— Suhail محمد (@thewndrer) July 13, 2020
In addition to this, there is a large number of girls in our society who have degrees but don't work. It is because their husband and in-laws don't allow them to. Thus, the whole "doctor bahu" concept came into being.
*laughs in doctor bahu*

— badwolf (@zeeakbr) July 13, 2020
Broo majority of the girls pursuing MBBS degree is just for the sake of getting married. Parents are investing in their daughters education so that after marriage she make a GOL ROTI for her HUSBAND and MOTHER IN LAW. That's where everyone is wrong

— Syed Saad Ahmad (@saadiahmeeeed) July 13, 2020
The problem is that our society rarely acknowledges women's choices. On the one hand, it forces those women who want to work to stay at home in many cases. On the other hand, it forces those women who want to be homemakers to work.
Saad later clarified his tweet was pure satire
Furthermore, Saad later tweeted that it was satire. His tweet addressed the already existing problems in society.
He tweeted:
This tweet is meant to be sattire and actually addresses two problems. Girls not being allowed to complete education and parents worrying for dowry of daughters because that's what our society expects. Needed to clarify for a specific group with somewhat questionable IQ

— Saad (@OverLord_Xd) July 13, 2020
What are your thoughts on this? Let us know in the comments below.
Stay tuned to Brandsynario for the latest news and updates.