Ashhad Ahmed Qureshi wrote a book called "Mera Jism Mera Hai." The purpose of this book is to educate children about sexual abuse. This book is part of an illustrated book series for children. It also provides legal and mental health resources for children who are victims of sexual abuse and their guardians.
The right guidance
The book guides children and helps them recognize sexual abuse. It also guides children's guardians on how to deal with the situation if their kids are the victims. It is a much-needed initiative as most of the kids feel helpless and scared in this situation.
Ashhad Ahmed Qureshi, the writer, said that he felt confused and helpless when someone from his extended family sexually abused him for years as a child. He further said that he considers himself to be a privileged person as his parents supported him when he revealed this.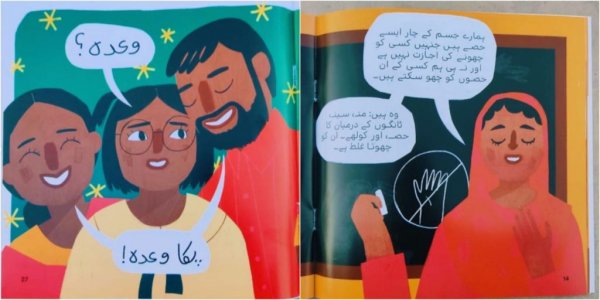 A necessary initiative
The book is written in Urdu instead of English, as Qureshi wanted the book to be able to reach a wide range of audiences. The majority of the Pakistani population can speak and understand Urdu more than English. The writer hopes that the book will be translated into regional languages spoken all over the country. The book uses simple language. Illustrations by Aziza Ahmad help make the book even more comfortable for kids to understand.
According to Qureshi, he had trouble compiling his research in the form of a book in the Urdu language. It was because words like personal space and boundaries are not translated in the Urdu language for daily use.
This book aims to debunk two myths about sexual abuse in Pakistan. First, sexual abuse is done by people who are distant from children. Second, victims deserve blame as they want attention for coming out. The book can be bought for just Rs. 275.
Un-taboo-ing sexual abuse in Pakistan
The issue of sexual abuse among children is considered a taboo in Pakistan. However, many such incidents have been reported in the past few years. Child pornography also needs due attention.
The Zainab murder case brought the attention of authorities as well as the public to the previously ignored topic. Six years old Zainab Ansari was raped and murdered in 2018 in Kasur. Afterward, Zainab Alert Bill was passed in the country, and the preparator Imran Ali was also hanged.
After this incident, Pakistan started capital punishment for sexual abusers. However, this made little to no improvement in the stats. According to an NGO report, around 1300 children were sexually abused in the first part of 2019.
In 2016, a Pakistani drama called Udaari highlighted this same issue. Udaari was the story of a child who was sexually abused at the hands of her step-father. This was a much-needed story for viewers all across Pakistan.
What do you think about this book "Mera Jism Mera Hai"? Lets us know in the comments below.
Stay tuned to Brandsynario for more news and updates.