A chef in Jordan is using his expertise with food to make re-usable masks with a secret ingredient. The ingredient is Eggplants! Here is all you need to know about Omar Sartawi's unique creation.
Where the idea of re-usable masks came from
Sartawi acknowledges the unprecedented times we are currently living in. The chef points out that everyone is living their life in uncertainty right now and trying to be productive. He, too, in the same manner, wanted to be productive. He added that striving to be creative and productive during these times is essential to survive. 
Sartawi believed that masks don't have a 'positive connotation' which is what he wanted to change. Making re-usable masks out of a pantry staple is an effort to make masks more positive and beautiful.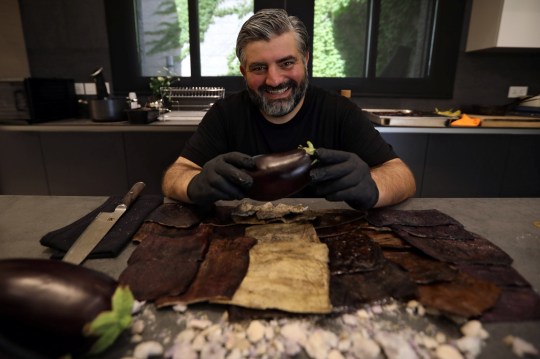 How he makes them
The chef based in Jordan uses a concoction of ancient and modern techniques in his process. He takes the peeled skin of eggplants and shapes it into a mask, but that is only the first step. Sartawi uses the "Inca Method" of salting and dehydration to make the skin of eggplants perfect as a re-usable mask. The chef notes that it can take up to 2 weeks for the peel to dry sufficiently. 
In the video, he's shown enjoying every step of the way and doesn't miss the #saltbae style salt sprinkle.
The process of making them unique
Sartawi brings his idea together with the help of other jewelry and fashion designers. One of his motives for even making a mask was to make them beautiful so they can uplift people. To create sure his eggplant re-usable masks are attractive, he collaborated with other designers. 
Some of them are adding different stitches for appeals to make them unique for their users. Brass rings with silver and golden ropes are also being added for a glamorous look to them.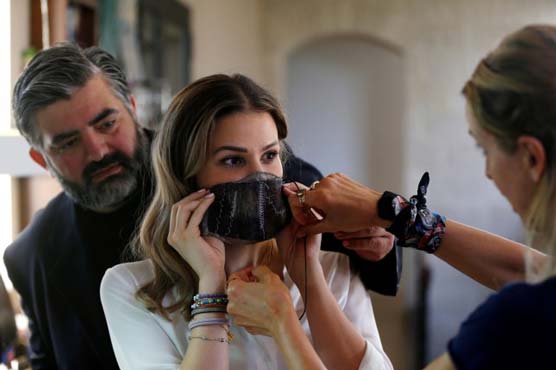 Why this is a necessary contribution
Sartawi's idea will hopefully not only be embraced by many but will also inspire others. Additionally, he explains that one of the reasons why he thought of this idea was because of the trend of 'sustainable luxury.' Sustainable luxury encourages people to indulge in luxurious items but simultaneously be environmentally friendly and safe. 
Recent reports show that coronavirus can result in a surge in ocean pollution. Millions of single-use masks and gloves all end up in the ocean or landfills. Moreover, these latex gloves and fiber masks are not bio-degradable, which is why they can take decades before breaking down.
Therefore, scientists and environmental experts are urging people to ditch plastic for coronavirus safety measures. There are many alternatives available that are safe for the environment. Protection from one pandemic must not lead to another— that of climate change worsen.
What do you think about these masks? Would you wear them? Let us know in the comments below.
Stay tuned to Brandsynario for the latest news and updates.