Last night, the entire country went into blackout around midnight. After a while, it was revealed that the electricity was not confined to a single city or province but occurred nationwide.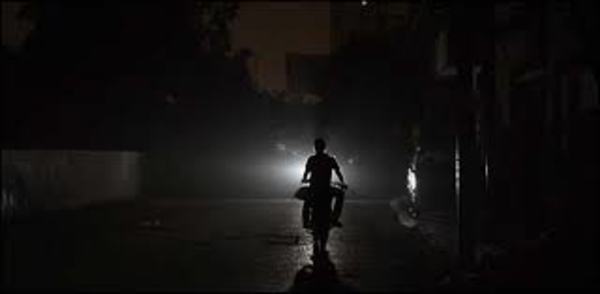 What Do The Officials Say About The Blackout?
"A countrywide blackout has been caused by a sudden plunge in the frequency in the power transmission system," Omar Ayub Khan, The Power minister of Pakistan wrote on Twitter.
بجلی کے ترسیلی نظام میں فریکوینسی اچانک 50سے 0 پر آنے کی وجہ سے ملک میں بجلی کا بلیک آؤٹ ہے

فریکونسی گرنے کی وجہ جاننے کی کوشش کی جارہی رہی ہے

اس وقت تربیلا کو چلانے کی کوشش ہو رہی ہے جس سے ترتیب وار بجلی کا نظام بحال کیا جائے گا

عوام سے تحمل کی اپیل ہے

— Omar Ayub Khan (@OmarAyubKhan) January 9, 2021
ابتدائی رپورٹ کے مطابق گدو میں 11:41پر فالٹ پیدا ہوا ہے

فالٹ نے ملک کی ہائی ٹرانسمیشن میں ٹرپنگ کی اور جس کی وجہ سے ایک سینڈ سے بھی کم وقت میں سسٹم کی فریکونسی 50سے 0پر آئی ہے

فریکونسی کے گرنے کی وجہ سے پاور پلانٹس بند ہوئے ہیں

— Omar Ayub Khan (@OmarAyubKhan) January 9, 2021
Major cities of Pakistan including Karachi, Lahore, Islamabad, Peshawar and Quetta were among those who were effected.
He also told the public that investigation was underway to find out the cause behind the disruption if electric supply.
And as expected, Twitter had memes
Soon after the blackout, the entire Pakistani internet was infiltrated with memes related to #blackout.
#BlackOutPakistan
Thanks me later … pic.twitter.com/ubL7nc1F09

— Aeyz ❤️ (@Your_Api) January 9, 2021
On a lighter note,
IK : yr ye mulk nahi chal raha..
IT and CS Supports : sir off kr k on karen 😂#Blackout#BlackOutPakistan pic.twitter.com/oBPsZubitW

— MuneebYousaf (@Muneebyousaf) January 9, 2021
#electricity
Me: mom pure mulk me blackout hai..
Mom: aur kro mob use
Me: #BlackOutPakistan #blackout #electricitypic.twitter.com/sIL6m9oCdz

— Ahtisham bhatti (@ahtisham_sk) January 10, 2021
2021 is going to be a great year.

Meanwhile 2021: #BlackOutPakistan pic.twitter.com/igMC6kArDy

— Desibrownbag (@desibrownbag) January 9, 2021
Light recover honay k baad k manazir#blackout #Loadshedding #BlackOutPakistan pic.twitter.com/RLfs7V7AAc

— Ayeshayay :): (@Ayeshayay1) January 10, 2021
Imran Khan to Awaam after the electricity breakdown is over:#electricity #BlackOutPakistan #blackout pic.twitter.com/wTUWwzSqn8

— Ans Memes (@AnsMemes) January 9, 2021
When you are only person in street who has UPS 😂😎#Blackout #BlackOutPakistan #poweroutage pic.twitter.com/NHkXTioZaJ

— Meer xueNain 👤👓✒ (@MeerAatif_Okay) January 9, 2021
when it's loadshedding and you didn't charge anything: pic.twitter.com/iKC45pZ9n8

— nicolette (@yrgrlnicolette) January 7, 2021
Finally Imran Khan introduces night mode in naya Pakistan': Twitterati react to blackout. Several cities and towns across Pakistan plunged into darkness . This is one more development From tabdeeli Sarkaar. #BlackmailBlackoutBlackMagic pic.twitter.com/ANXglVxZP5

— Muzzamil Khawaja (@khuwajamax) January 10, 2021
Whole Pakistan Right Now #Loadshedding #LightsOut #lightagaii pic.twitter.com/LsaPJTDyVH

— Farhan Shoukat (@MaharFarhanS) January 10, 2021
Although it is not new for Pakistanis to face power disruptions and load-shedding, but it was unusual for them to face it nationwide at the same time, and that is something that has rarely happened.
The restoration process of electricity:
According to news, the government and private electric institutions and companies have been working all night to restore the power of the country and as per updates, it has started to restore slowly and gradually all across the country.
Minister of IT & Technology, Fawad Chaudhary claimed that the Power Minister, Mr. Omar Ayub Khan and his team stayed up all night and was coordinating with teams all across the country to restore the power breakdown all across the country.
ٹیکنیکل فالٹ ہو جاتے ہیں لیکن جس طرح عمر ایوب اور ان کی وزارت نے ساری رات جاگ کر اس معاملے کو دیکھا اس سے ان کی کمٹمنٹ کا پتا چلتا ہے، فیصل واڈا اور جنرل مزمل نے بھی بجلی بحالی کوششش میں حصہ ڈالا اگر اتنی کوششش نہ ہوتی تو بحالی میں تاخیر لازم تھی #electricitybreakdown https://t.co/gvN1kf8bRc

— Ch Fawad Hussain (@fawadchaudhry) January 10, 2021
Even-though many areas all across the country are still yet to get their power back on, the government has announced and has told the citizens to remain calm as all the stake-holders and people responsible for the power infrastructure are working to restore the power back in the country.
Pakistan was not alone in the blackout though
Soon after Pakistan plunged back into darkness, another place which holds a significant place lost its power. The place was Vatican City, in Rome, Italy which holds a very important place for the Christians all around the world.
Hours long very unusual power outage in Pakistan's large cities as well as in the Vatican in Rome Italy.

— Amir Tsarfati (@BeholdIsrael) January 10, 2021
Even-though both events were unrelated but it was trending alongside the electricity breakdown in Pakistan on the news.
Let's hope the world that has been effected by the pandemic goes back to normal soon.
Follow Brandsynario For More News & Updates