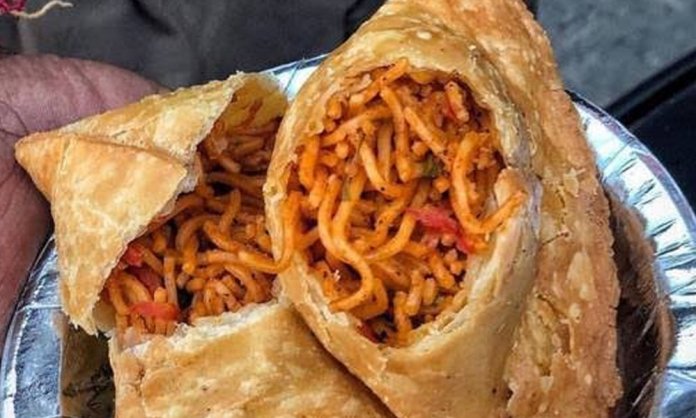 Do you like to try new foods? Or more like are you experimenting with fresh foods? I don't know about experimenting but new stuff definitely goes viral instantly, be it for the innovation or for something people just cannot fathom. These Chowmein Samosas are going viral these days. And people cannot decide how to react to it.
Origins of Chowmein Samosa
Now is it a home invention inspired by the lockdown or street food. Let's figure it out, shall we?
So one beautiful day, the politician Sharmila Faruqi tweeted a picture of an exciting samosa. Now you must be familiar with the aalu and the qeema in your samosa, but this one had Chowmein!!! Can you believe it?
Chow Mein samosa anyone ? pic.twitter.com/sBv8bKz5k4

— Sharmila faruqi (@sharmilafaruqi) August 17, 2020
To this day, it remains a mystery if she made it herself given that the lockdown was awakening the chef in her or whether she found this diversity of food at a restaurant.
Twitter users erupted all over the country, and a debate started. Some like what they saw, and some were bawling at the picture.
Let's have a look at some of the Pakistanis' reactions.
1. For some, when Its a No, its a No!
This user was not into experimenting with food. Chowmein samosa was not something he wanted to eat. And he used one word to convey his feeling. NO! I mean, we are a very decisive nation.
— Nida Kirmani (@NidaKirmani) August 18, 2020
2. Some took it as disrespect… Harsh!
@_zeduke was greatly offended when she saw her two favorite foods being subjected to what she took it as an insult.
How dare you insult two delicacies like this

— Fariha (@_zeDuke) August 18, 2020
3. Even Adventurers Didn't Feel Adventurous
Even the adventurous ones who like food fusion could not bring themselves to like this Chowmein Samosa.
I like most fusion stuff that I've seen but this….this isn't ok https://t.co/k9JfNw8xKc

— Asad Uncle (@ASUHHHDBLUH) August 18, 2020
4. Some became chowmein samosa advocates
This dramatic tweet just couldn't put up with the overreacting because food is food at the end of the day.
If I ever bite into a samosa and I see noodles inside. That whole room is getting lit up https://t.co/HyKDvnRBpp

— Ishan 🇧🇩 (@I_Ali101) August 18, 2020
5. If some can hate it, some can love it too
Few Twitter users had no idea why the new cuisine was getting this much amount of hate. We all are different and have unique taste buds, so some can find what they see amazing.
Why are people hating on chowmein samosa? I think it must be amazing!!!! https://t.co/8beBKHDc3A

— arrey_yaar (@abbey_yaaar) August 18, 2020
It so happens that for Pakistanis, street food holds a special place in their hearts, and they refuse to allow modifications in it. So we will have to wait and see if, after this immediate Twitter sensation, the Chowmein Samosas will be here to stay or will they be forgotten.
Stay tuned to Brandsynario for more news and updates!