The Sehat Sahulat Programme launched in KPK by the Prime Minister is a significant step forward. In terms of being a welfare state, Pakistan has a long way to go, and health insurance always seemed like a perfect fantasy. 
However, as the details of the program are shared, we're more than happy to report, this is the new reality for the residents of KPK!
On his official Twitter account, KP Minister Taimur Khan Jhagra's tweets showed that he was elated. To him, this was Imran Khan and KP Chief Minister Mahmood Khan's second gift. Only last week, the Bus Rapid Transport (BRT) Peshawar was inaugurated.
He also recognized the roles played by former chief minister Pervez Khattak and former health minister Shahram Khan Tarakai in starting the program.
Why Was This Necessary?
The minister also shared a touching video that showed the experiences of KP residents trying to avail medical facilities available through the government. 
To understand why #HealthInsurance4All was so important spend 96 secs & see this video.
Real people; real experiences; real words. If you've ever had a loved one with life in danger & money the obstacle, you will understand why this was an initiative we spent a year to get right. pic.twitter.com/eJtsXmTBzy

— Taimur Khan Jhagra (@Jhagra) August 20, 2020
What Does It Cover?
The program has been divided into three categories that operate in the form of tiers. Firstly, there is the necessary treatment; then, there is an advanced treatment section, and lastly, additional coverage.
1. Basic Treatment
Primary treatment covers medical facilities that cost approximately Rs. 200,000. These include emergency operations, admission, maternity services, including standard deliveries and C-section, fractures, and injuries. Families also get Rs—1,000 maternity allowance.
In addition to that, general surgery, including gallbladder, biopsy, colon, prostate, hernia, is insured. General medicine, including diabetes, hypertension, and cardiac-related issues, are also covered under the same plan. For many residents of KPK, it can take years until families can save up Rs. 200,000. Thus, this is an incredible initiative.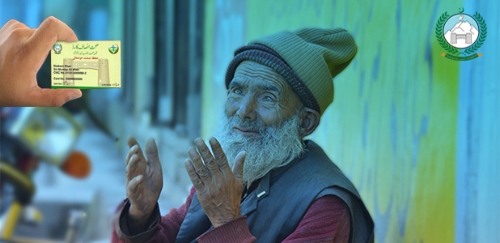 2. Advanced Treatment
The 'Advanced Treatment' plan will cover medical expenditures worth up to Rs. 400,000. These will be covered for the facilities related to cardiovascular, including angioplasty and bypass. Artificial limbs (Prosthesis), kidney diseases (Dialysis), breast cancer screening, and management of neurosurgical diseases are included too. Moreover, the facility of transportation compensation worth Rs. Two thousand will also be given to the cardholders. 
Under the advanced treatment, life-threatening diseases can be treated for many, which previously was not possible.
3. Additional Coverage
Beyond these two tiers, there is also an additional coverage category that covers other treatments and diseases. The range for these treatments also lies within the ballpark of Rs. 400,000. This will include cancer treatment (Chemo, Radio, Surgery), kidney transplant, accident, and emergency and intensive care unit (ICU) care.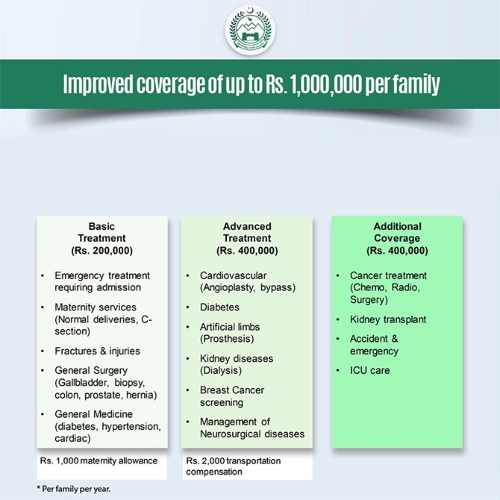 All in all, this is a significant step forward for Pakistan. Hopefully, the facilities' quality will not nosedive now. A country can indeed get nowhere if its people aren't happy and healthy!
Stay tuned to Brandsynario for the latest news and updates.