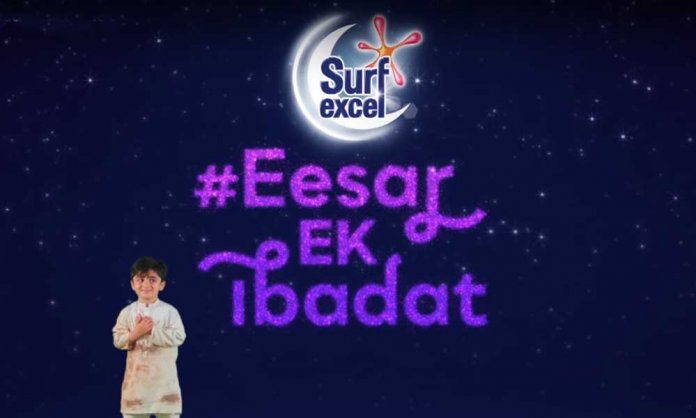 Ramadan arrives in Pakistan with an entirely new atmosphere. We see a mix of different kind of emotions as calm and excitement sweeps throughout the country.
However, amidst the fasts, Sehri, and Iftaar preparations and Eid excitement, we may sometimes overlook the most important thing: the concept of Eesar (altruism, brotherly kindness) in Ramadan.
That's what the new Surf Excel Ramzan 2019 ad reminds us of, in the most beautiful way possible.
 Eesar: Changing Your Outlook Towards Life
In a nutshell, Eesar translates as Mujhse Pehlay Tu (you before me) and the concept of altruism.
The latest ad by the brand highlights the practice of 'Eesar', a significant aspect of prayer, Ramadan, and a Muslim's life in general.
Take a look at the complete ad here: 
https://www.youtube.com/watch?v=j5kwtC5JS_8
It begins with a mother making a prayer for the first roza of her young son Salim to be accepted. She also prays for her child's safety and peace and leaves the room for Iftaar preparations.
We then witness Salim running out of the house, with his hands clasped together, stuck to his chest. It seems like he's carrying something invisible; little do we know, it is the most effective and valuable thing there can be.
Without a care in the world, he makes his way through all kinds of mud and grime, which results in his clothes getting dirty. Finally, he reaches his little friend's place.
That's when it is revealed that his handicapped friend, Aadil, cannot walk and is just about to leave for treatment with his parents.
Salim extends his little hands to Aadil, and places them on his face in a gesture of transferring his dua to his friend. "Meri salamati ki dua, tum rakh lo, aameen," he says with sheer sincerity and innocence on his face.
Aadil and his parents tear up, and the looks on their faces are priceless. Using a very simple yet well-thought concept, Surf Excel's latest commercial teaches us the importance of choosing for others what we choose for ourselves.
It also instills the motivation to pray for each other, as a prayer is truly the sincerest thing one can offer. Indeed, Eesar is the essence of prayer, and faith is incomplete without it.
Children Learn What You Teach Them!
Another extremely important thing to note in the ad is related to parenting: Salim learns to do exactly what his mother does for him.
Needless to say, little children are highly impressionable. They are also excellent observers and tend to mirror their parent's behavior.
The ad is a lesson for children and an eye-opener for parents. It shows how parents need to focus on their words and actions, and only then can they expect their children to be well-behaved, good human beings.
Proving Daagh Toh Achay Hotay Hain
Like previous years, Surf Excel has successfully taken social media by storm with its latest ad for Ramzan 2019.
The reputable brand is popular for constantly coming up with ad concepts that are fresh, significant, and highly inspiring.
Not only does the ad teach you to keep others before yourself, but it also teaches you that there is no harm in getting your clothes dirty in the pursuit of kindness.
It seems that Surf Excel is imparting some important life lessons. We are made up of both body and soul – kindness to others is a way to cleanse our souls and be truly spiritual. The message imparted through the ad touches our hearts and inspires!