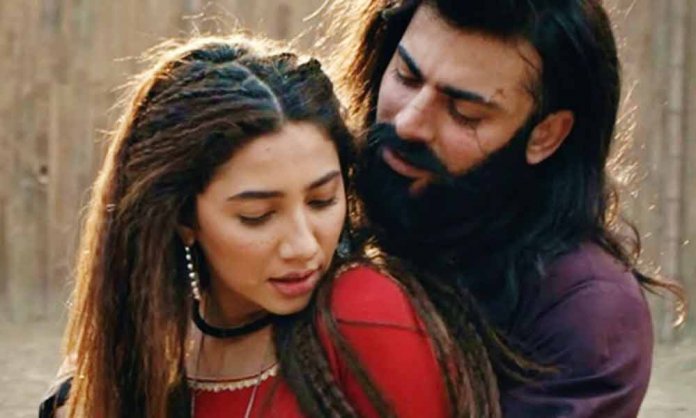 After much anticipation, the makers of 'The Legend Of Maula Jatt' finally dropped the trailer last week which suddenly became a talk of the town.
The intense trailer features Fawad Khan, Mahira Khan, Hamza Ali Abbasi and Humaima Malick and we fell in love with each of their unique avatars.
FIA Takes Action on Complaint of The Legend of Maula Jatt's Producer
However, it's not just Pakistanis who are going all gaga over the star-studded trailer. It also created quite a storm in India as well and many celebrities just couldn't help but adore the cast of the movie.
Bollywood celebrities including Alia Bhatt, Sonam Kapoor, Siddharth Malhotra, Karan Johar, Anurag Kashyap were among those who absolutely loved the trailer.
Look what they have to say!
Ekta Kapoor found the trailer fabulous!
Congrats Humaima this looks faaaaab https://t.co/7achLgqLTE #TheLegendofMaulaJatt #MaulaJatt

— Ekta Kapoor (@ektaravikapoor) December 24, 2018
Alia Bhatt, Fawad's 'Kapoor & Sons' co-star, tweeted: 
What a brilliant brilliant trailer 🌟🌟🌟🙌 https://t.co/tQjL9TQXGg

— Alia Bhatt (@aliaa08) December 23, 2018
While Sonam said: 
FK you 🌟 https://t.co/SrfHkKEyu8

— Sonam K Ahuja (@sonamakapoor) December 22, 2018
Bollywood's renowned producer Karan Johar wrote:  
Fawad this looks amazing!!!! Congratulations and am sure it will be a massive success!!! 💪😎😎❤️🔥 https://t.co/TOHf0uOxJn

— Karan Johar (@karanjohar) December 22, 2018
Siddharth Malhotra tweeted
Kya baat hai mere dost 🙂 what a beautiful teaser and cast .. always an ardent admirer of @TheMahiraKhan and u and now with @HumaimaMalick and @iamhamzaabbasi it's a double whammy! Can't wait to watch this one…. https://t.co/IjuGmgTG6A

— siddharth malhotra (@sidpmalhotra) December 21, 2018
Anurag Kashyap also lauded Fawad Khan's comeback!
Maula Jatt is back and this time its @_fawadakhan_ https://t.co/bgkA3017C3 #TheLegendofMaulaJatt #MaulaJatt

— Anurag Kashyap (@anuragkashyap72) December 21, 2018
The cast of the upcoming movie also includes Gohar Rasheed, Shafqat Cheema, Nayyar Ejaz, and Faris Shafi and is all set to be released on Eid-Ul-Fitr. The Legend Of Maula Jatt will also be the first ever film in South Asia which will be simultaneously released in China, along with its worldwide release.
Have something to add to the story? Let us know in the comments section below.
Originally published on Veryfilmi.com
VeryFilmi is a one-stop entertainment hub for all movie, TV and music enthusiasts. With all the hottest news on celebrities, movies, TV shows, music and fashion – VeryFilmi brings you the best scoops, celebrity gossip and exclusive content. It's fun and it's Filmi!