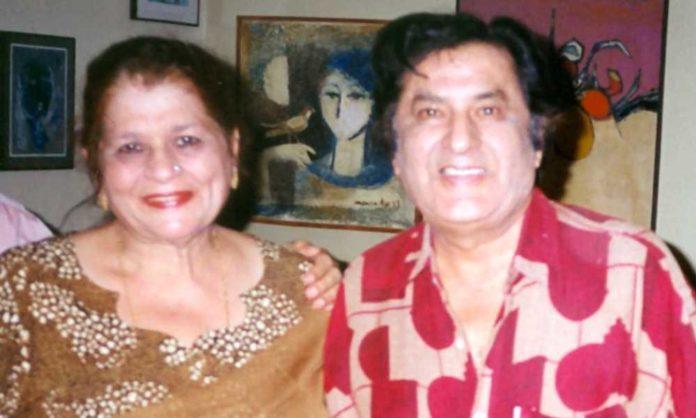 [Translation of (late) Mr. & Mrs. Latif Kapadia's interview published in Sunday Magazine of Daily Jang [Urdu Daily] on December 25, 1999, which was later on included in the book "Chaand Chehre" by Qaiser Masood Jafri – a renowned journalist, author and poet from Karachi, Pakistan].
"I go to my in-laws with great passion." Latif Kapadia
"He visited his in-laws for the very first time after 26 years." Amna Kapadia
Latif Kapadia is a versatile and senior actor, who is associated with PTV from its inception. He informed us that his correct surname is 'Kaa-per-ya' [means cloth merchant in Gujurati language] but people usually pronounced the same with the sound of the English alphabet-'D', and called Kapadia. Latif's father was a renowned homeopathic practitioner in Pakistan and once a week he used to hold free clinics at his home in Gurumandir [Jamshed Quarters] residence in Karachi. This weekly free clinic continued after the demise of Latif's father by his younger brother.
Latif Kapadia started his acting career in 1953 from a stage drama. His first stage play was "Shehnaz". He performed in yet another stage play – "Shishay Ka Aadmi" with Yasmeen Ismail as his co-star. He became a popular actor after appearing in the famous PTV Comedy Show "Fifty Fifty".  He has worked in numerous TV drama serials and individual plays. He has also worked in a movie-Very Good Dunya. Very Bad Log, under the banner of Nadeem Mandviwalla's Mandviwalla Films. Latif Kapadia has been expressing his passion for music more vigorously than acting. He has told us that he was regularly into singing in 1950. He got married in 1951 and he has four daughters [Aquila, Tahira, Jamila, Rabia] and a son [Ahmed Hussain Kapadia]. Ahmed Kapadia is also associated with showbiz in a way through an Advertising Agency. Our conversation [Q&A] with Latif Kapadia and Amna Kapadia is presented here for our readers:
Q: Was your marriage arranged?
Latif: Completely arranged marriage.
Amna: Yes. My mother liked him for me.
Q: Did you meet your wife before the wedding?
Latif. Yes. I met her in my childhood as she happened to be my second cousin.
Amna. Of course, we met each other in our childhood.
Q: Have you ever given her a gift when you met her for the very first time?
Latif: Hey Friend! What did you ask? In fact, I presented myself with a gift, no gift was presented on 'muh dikhai' [sighting of face of the bride very first time after getting married]. This was not a custom in our family.
Amna. This custom of 'muh dikhai' was never adopted in our community.
Q: Where did you go for a honeymoon trip after your wedding?
Latif: Nowhere. I brought her here in Pakistan and enjoyed this entire journey as a fun packed trip.
Amna: I shifted to Pakistan after my wedding as Latif and his family were travelling to India on a fifteen days permit.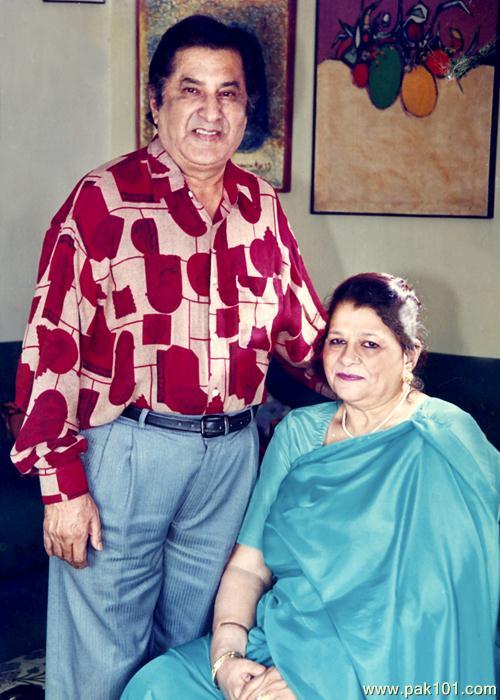 Q: Who invited you both as your first host after the wedding?
Latif: First invitation was from my sister [aapa], most probably.
Amna: First invitation was received from his close friend, Muhammad Ali Maniar.
Q: Do you go to your in-laws passionately?
Latif: I go to my in-laws with great passion.
Amna: His in-laws were thousands of miles away in another country, so he visited my home in India after almost 26 years.
Q: Do you celebrate your wedding anniversary?
Latif: Yes, celebrate but in a sober manner. We will celebrate our Golden Jubilee i.e. 50 years of our wedding in 2001, Inn Shah Allah, with much grandioseness.
Amna: Yes, our children come together, we dine together and that makes us feel very happy.
Q: How did you celebrate your first wedding anniversary?
Latif. Dear brother, our family is quite religious, we did not celebrate our first wedding anniversary at all. We congratulated each other and that was all.
Amna: Since we live in a joint family. Mother-in-Law, Father-in-law, brother in-laws, we all live together. We could not talk to our in-laws freely due to his awe/ terror, so how could a wedding anniversary be celebrated?
Q: Did you present any gift?
Latif: Why are you teasing me? When there was no celebration, could any question of a gift arise?
Amna: Latif presented me with a purse on our first anniversary as a gift.
Q: How do you celebrate birthdays?
Latif:  Kids really take care of us, they all come along and my friends also come to greet us.
Amna: Now our birthdays are celebrated by our kids.
Q: Do you exchange gifts with each other quite often?
Latif: Yes every now and then we do.
Amna: Latif brings gifts for me too often.
Q: What type of gifts do you often present?
Latif: I usually give gifts in the form of clothes.
Amna: I receive gifts of Saree/Sarhi [is a garment, consisting of an un-stitched stretch of woven fabric arranged over the body as a robe, traditionally worn in India, Sri Lanka, Pakistan, Bangladesh and Nepal.], Perfumes, etc., too often.
Q: Who loves children the most between you two?
Latif: My wife, but me too.
Amna: I love them the most.
Q: Who do children love the most?
Latif: They love their mother the most.
Amna: My son, Ahmed, loves me the most.
Q: Do you love your children the most or their kids?
Latif: Right now grandchildren are being loved more.
Amna. According to a maxim, "Interest is much more endeared than the principal", so we also love our grandsons and granddaughters more than our own children. These kids are, in fact, the splendor of my home.
Q: What do you affectionately call your wife?
Latif: I call her 'Aman' [peace].
Amna: He calls me 'Aman'.
Q: What do your wife call you?
Latif: She calls me Latif or sometimes simply hey listen.
Amna: I call him 'Jaan' too.
Q: Does ambush happen within the borders?
Latif: Too much!
Amna: Yes, quite often.
Q: How does it all start?
Latif: I am a very angry man, fights start when anything happens contrary to my mood.
Amna: It starts due to anything, even to visit a relative's home.
Q: How long does it lasts?
Latif: Never too long, almost 15 to 20 minutes.
Amna: If it lasts long, it ends within a day or half.
Q: Who takes initiative for peace?
Latif: She initiates. I am a rather very stubborn person.
Amna: I step forward for ceasefire, he just sits down with mood off.
Amna: I step forward for a ceasefire, he just sits down with a mood off.
Q: Do you help your wife with domestic chores?
Latif: Not at all. My grandma used to taunt me, you should have been born to Aga Khan's family, why were you born in the Kapadia family erroneously?
Amna: Never. He is completely blank in this matter.
Q: Which domestic task do you carry out very happily?
Latif: Not a single domestic task I perform joyfully.
Amna: When his friends are invited to our home, he does every task very happily and quickly.
Q: First dish which your wife prepared after the wedding?
Latif: It was, perhaps, Fish plus Lentil and Rice.
Amna: Newly wedded bride usually prepares a sweet dish as a good omen, and I might have prepared kheer.
Q:  When you feel hungry do you become angry and ask for food by shouting?
Latif: I wait a little and then start shouting.
Amna: When he feels hungry, he starts coming and going towards the kitchen frequently.
Q: Which habit of your wife gets you irritated?
Latif: I get irritated when she starts talking on another topic instead of one topic, which is already under discussion. This is very annoying.
Amna: What would I tell you now, just ask Latif about it?
Q: Tell us about your one habit that your wife dislikes the most?
Latif: I am not a very religious person, this is the habit that annoys her the most.
Amna: He usually comes late at home and second thing, he does not give any attention to his home.
Q: How do you express your anger?
Latif: By shouting and throwing things here and there.
Amna: He expresses his anger by shouting too loudly that everybody in the vicinity gets notice of it.
Q: How does your wife express her anger?
Latif: She also shouts vehemently.
Amna: I behave patiently and keep silent.
Q: Where do you agree to go very hard?
Latif: I, very hardly, do agree to go to my relatives.
Amna: He hardly agrees to go to a mall for shopping.
Q: Do you agree to go somewhere very happily?
Latif: To all those friends whom I am very fond of.
Amna: He loves to go to his friends and gets ready very quickly to visit them.
Q: Who is more niggard of you two?
Latif: She is not generous at all, I am an extravagant person. Give me a crore rupees [Rs. 10 million], it will be spent within a month.
Amna: We, both, are not niggards.
Q: Who is more stubborn of you two?
Latif: I am a very stubborn guy. My father used to call me 'Arrial Tattoo [stubborn as a mule]'.
Amna: Latif is a very obstinate person.
Q: Who is the more religious person of you two?
Latif: Amna is very much religious.
Q: Any personal qualities or traits of your wife you appreciate the most?
Latif: I always appreciate her simplicity.
Amna: Ask this question to him, he will reply.
Q: Your personal quality or trait that is appreciated the most by your wife?
Latif: Is there any personal quality/ trait in me that would be loved by my wife?
Amna: Latif always speaks with honesty and truthfulness, it is his quality I love the most.
Published in Sunday Magazine of Daily Jang [Urdu Daily] on December 25, 1999.
Note: Regretfully, both are no more with us and left us for their heavenly abode. May God bless both of them with the highest place in His Paradise! Amen