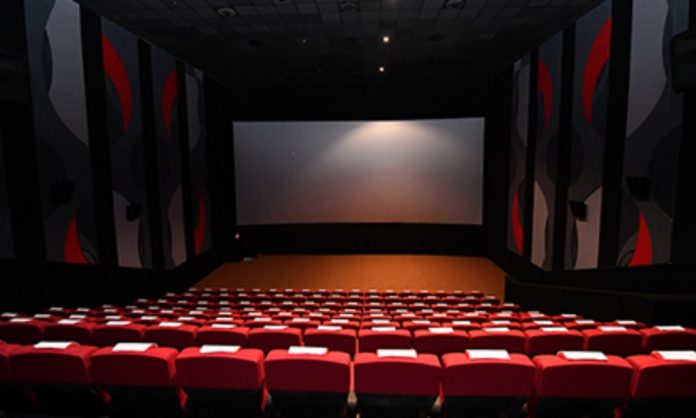 Did an Indian movie recently secure a spot in Pakistani cinemas? It surely did. "Buhe Bariyan" premiered in cinemas on September 15th, and that raises questions about what it means for Pakistani cinema, local productions, the audience, and, of course, the enduring tensions between India and Pakistan.
Notably, "Buhe Bariyan" is not the typical star-studded Bollywood film fanatics would spend a fortune on (including those irresistibly crisp buttered popcorn and large drinks since we can't imagine entering the theater without them). But, by the look of its trailer, the movie doesn't seem to pose a threat to Pakistan's dignity and appears free of the politically-sensitive aspects that have become evident in Bollywood.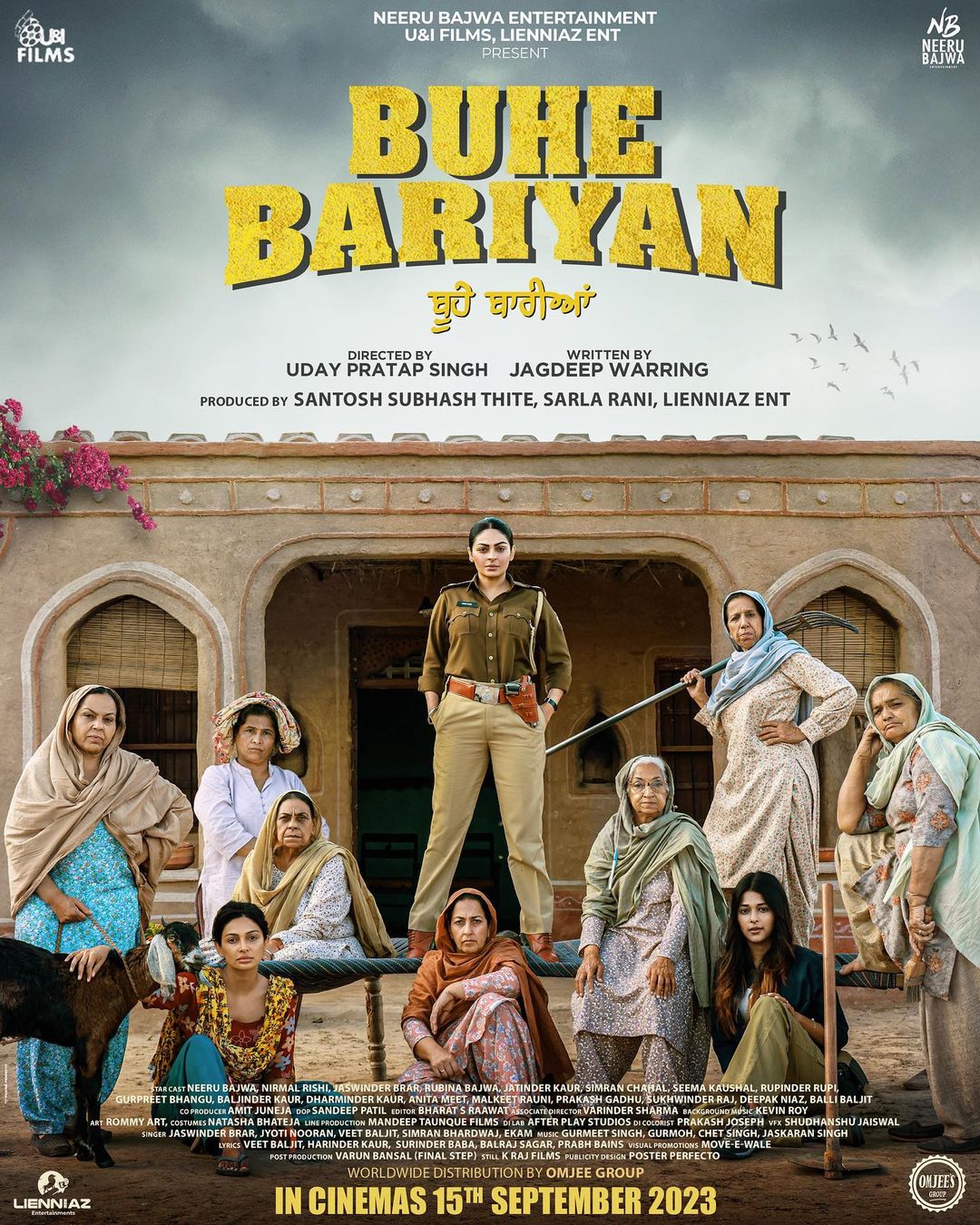 If you ask someone about the pros and cons of screening Indian movies in Pakistan, they can easily count some on their fingertips. So, let's just do a quick risk assessment and see who outweighs what.
Pros and Cons of Screening Indian Movies in Pakistan
Diverse Content:
Indians and Pakistanis have lived through similar challenges emotionally and economically. If nothing, Bollywood did offer inspiration for resilience through its films. And before making a comeback in recent times, Pakistan's own movie scene went through a rough patch, and that's precisely why Pakistanis had such a strong connection with Bollywood.
This bond was something that passed down from one generation to the next. We may have all the genres with Christopher Nolan's "Oppenheimer", Greta Gerwig's "Barbie", Ryan Murphy's "Eat, Pray, Love," and Tim Miller's "Deadpool". The list goes on. But Bollywood feels like home—or at least it did.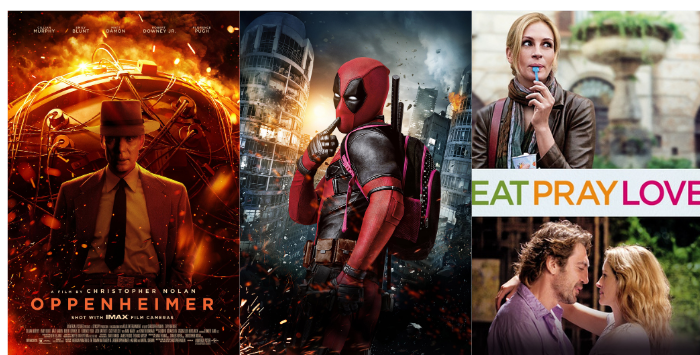 However, as of now, we can only wait and see what happens after Modi's tenure ends in May 2024.
Harmony:
For years, it didn't matter what was happening in politics whenever Pakistanis watched a Bollywood flick. It felt like a warm and familiar embrace. Bollywood never felt foreign, and it stayed that way even during those never-ending India-Pakistan tensions.
We got to see the soft side of Indians and how human they can be. But if we try and not look through rose-tinted glasses—wasn't the purpose of a theatrical release to entertain and profit?
Why would a filmmaker in their right mind depict hatred for a nation they can make money from. Apart from a few exceptions like "Haqeeqat" (1964), "Border" (1997), "Gadar: Ek Prem Katha" (2001), "Phantom" (2015), and "Uri: The Surgical Strike" (2019), the ratio between pure entertainment and anti-Pakistan films has been heavily skewed.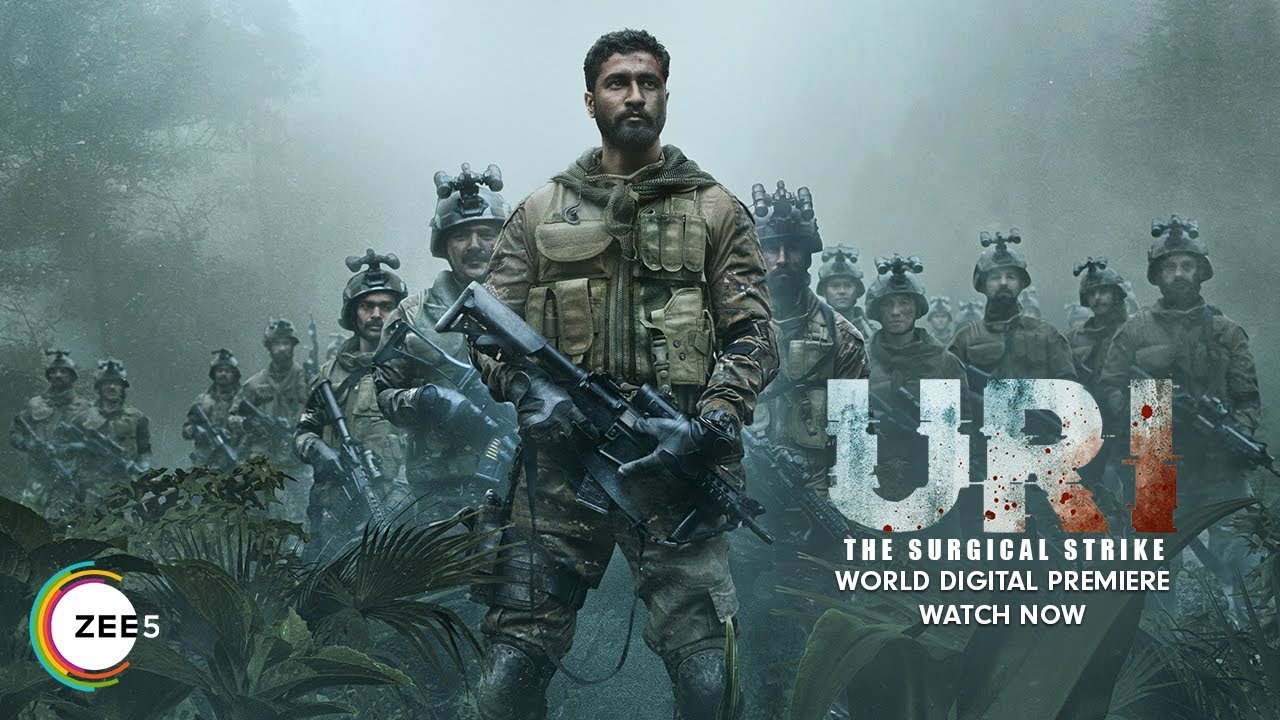 Cultural Exchange:
Good or bad, the cultural exchange has been there since forever. But the Indian content we see nowadays is significantly diluted with European and American filmmaking concepts or inspired by Pakistani music, like Pasoori for instance. On top of that, the newer generation might not hold the same affinity for Bollywood, especially not for star kids, and may be less receptive to Hindu-centric narratives as well.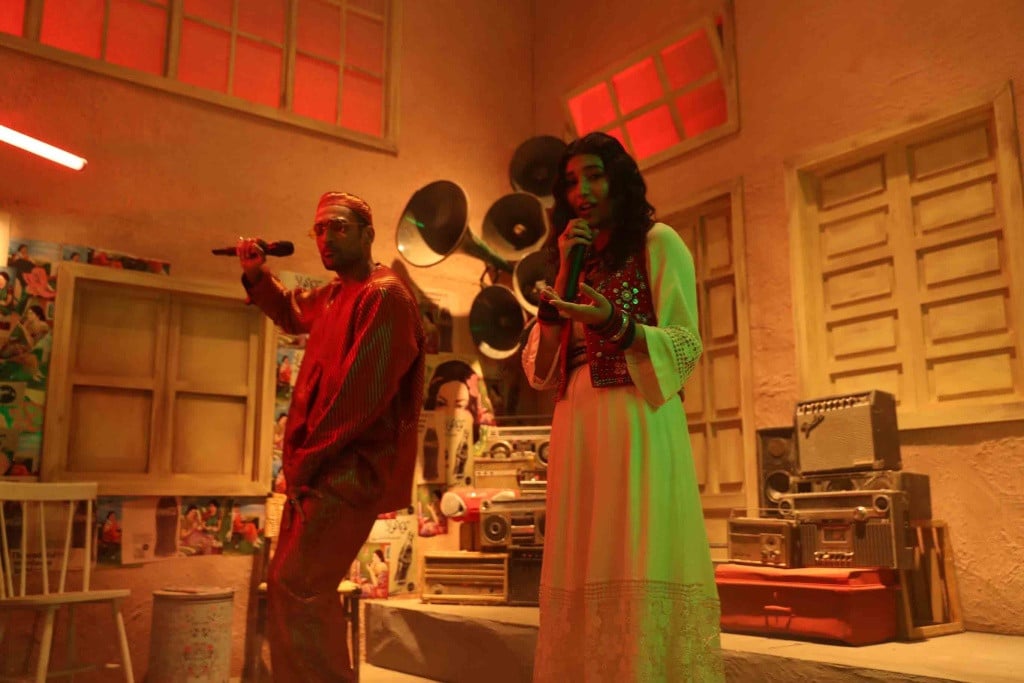 Censorship Issues:
Content in Indian films may face censorship in Pakistan if it's seen as offensive and that can sometimes stir up conflicts— which could've been the case if Barbie were Indian.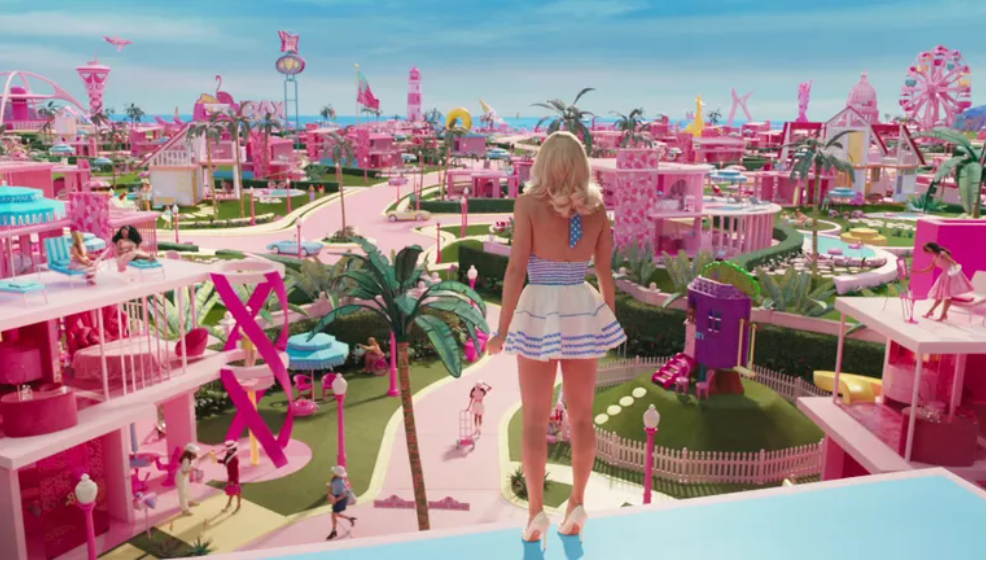 The Economic Challenges with Screening Indian movies in Pakistan:
While it would be profitable for cinema owners, it may adversely affect local filmmakers. Pakistani movies seldomly perform well in our own country and the industry definitely has to do more to thrive if the cinemas normalise Indian movies, potentially stunting the growth of the domestic film industry.
Here's another way to understand this

With that said, whose growth should we prioritise—people and cinemas or the filmmakers?
Will our creativity falter?
The Pakistani film industry has ample room for growth, with or without Indian films. A diverse range of films, including Indian and Pakistani productions, can offer audiences more choices and experiences.
One way to look at it is by seeing the kind of content Pakistani filmmakers made when Bollywood movies were accessible in cinemas and how different has it been after the boycott.
So, without a real competition, will the domestic film industry get too comfortable and instead fill the void by recreating Bollywood energy? Or will there still be more cause-based movies like Bol and Khuda Kay Liye?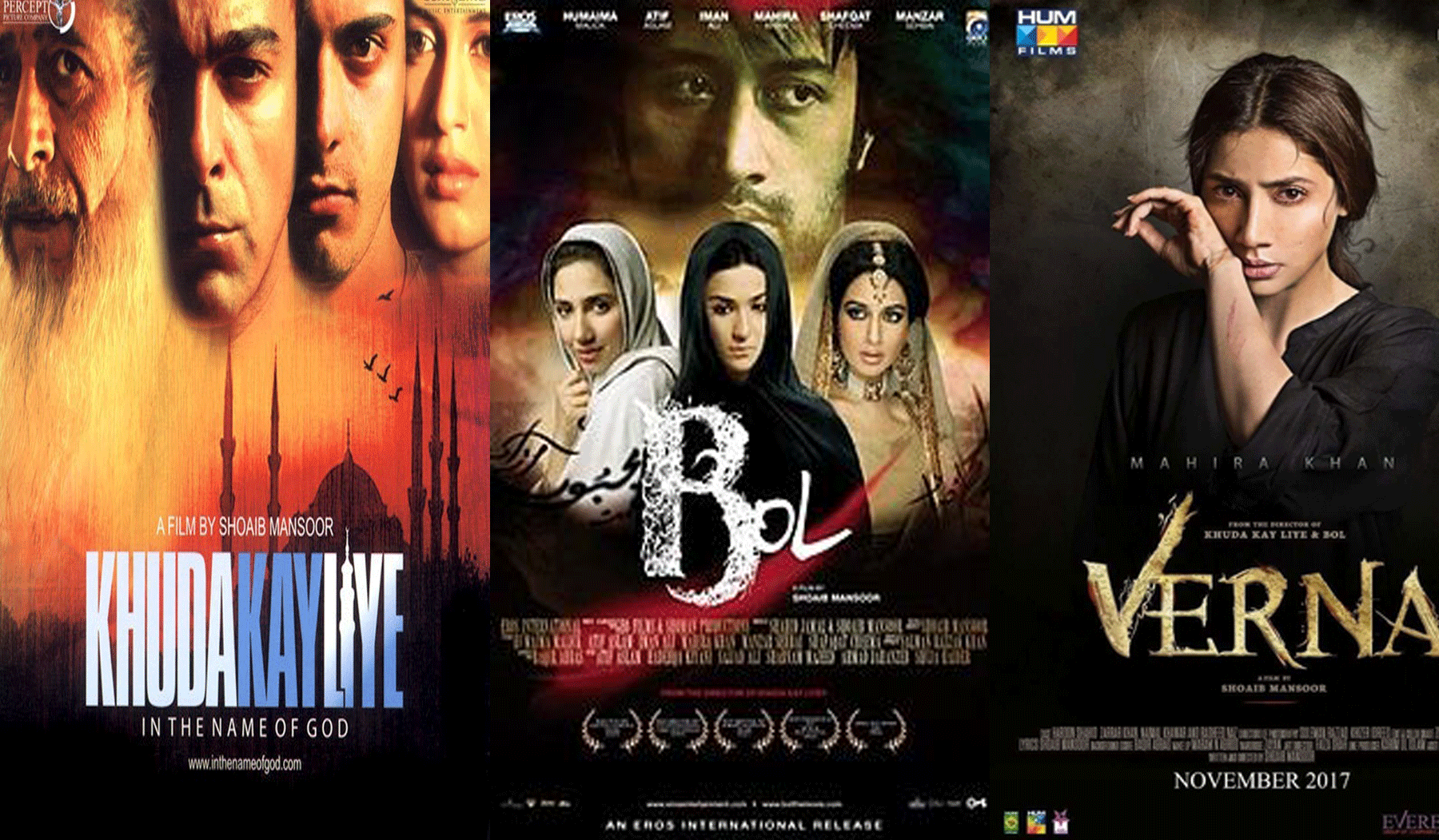 A fair exchange would've been nice though…
The fact that Pakistani movies are not running in Indian cinemas is a topic for another day. For now, a comment on an online knowledge market, Quora, might give you good insight on that.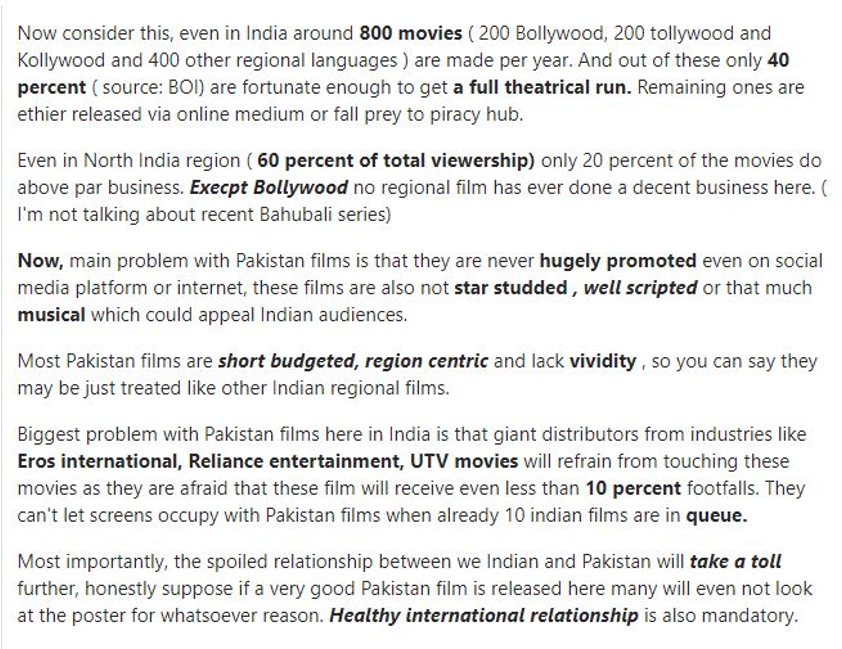 Is it also a test of patriotism?
Screening Indian films in Pakistan can be politically sensitive, especially during periods of heightened tension between the two countries. It may be seen as normalization or support for the Indian film industry. Prior to the ban, there were instances of protests and calls for boycotts of Indian films by certain groups or individuals in Pakistan, leading to disruptions in film screenings.
Certainly, a population of 241 million has to be on the same page for a move like that. Even a movie like Maula Jatt faced restrictions over ownership rights and pricing.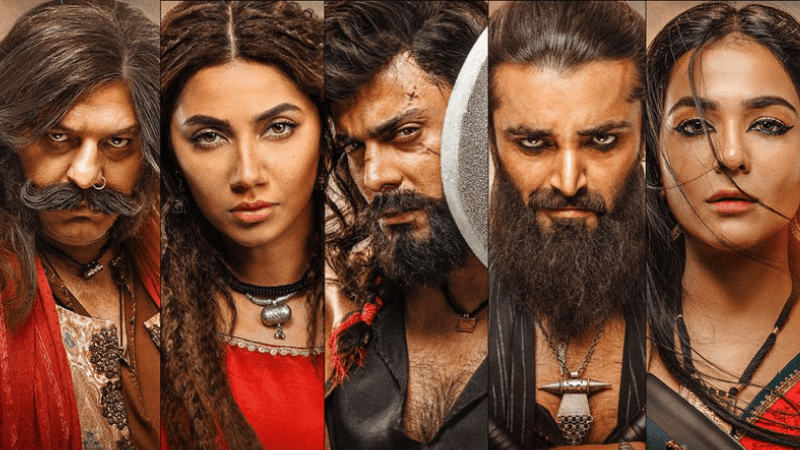 With that said, do the cons of airing Indian movies in Pakistan offset the benefits?
Stay tuned to Brandsynario for the latest news and updates.