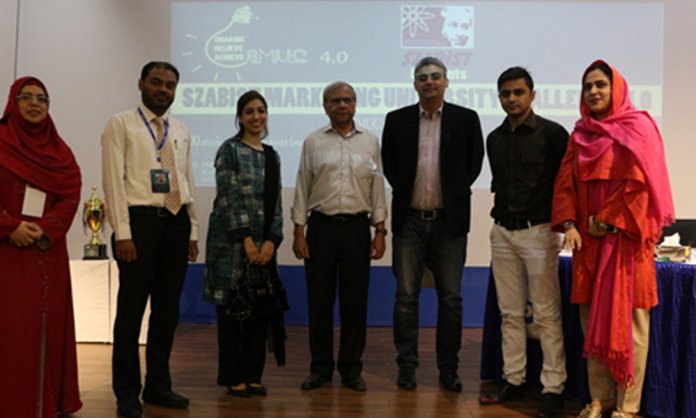 SMUC 4.0 (SZABIST Marketing University Competition) is a flagship event, organized by the students of SZABIST as a part of their marketing management course.
The aim of the event is to give our students an experiential learning platform where they can have hands-on marketing dynamics experience which they can relate to what they have learned in the classrooms.
Also, the student's projects are whetted by the industry specialists and their feedbacks provide meaningful insights for their future learning.
SMUC 4.0, 2018 was a successful event it was attended by our prominent guest speakers from the industry namely Mr. Raheel Yousuf (Head of Digital Marketing – HBL), Ms. Uzma Khan (Head of Media – Unilever Pakistan) and Mr. Hasham Usmani (CEO – Stonehenge Communication) who shared their invaluable experiences of marketing with the students.
The SMUC 4.0 is based on the competition of Marketing Management projects in which 36 teams participated.
The theme of the event was Imagine, Believe and Achieve which was applied in the Brand audit between two brands and based on the insights the students have to choose one brand and proposed an effective communication strategy.
The panel of judges was comprised of industry stalwarts: Mr Arafat Hifazat (Convex Interactive Pvt Limited), Mr Faisal Bumbia (Bombi's Group), Ms Bismah Usman ex-employee of Warid Telecommunication , Mr Ashhad Ahmed (Bosch Pharmaceuticals Pvt Limited), Mr Asad Nagaria (Daryland Pvt Ltd), Mr Danyal Qayam (14th Street Pizza), Mr Waleed Z.Ahsan (PSO) and Ms. Ayesha Umer (ex-employee of Telenor Pakistan). The projects were whetted scrupulously by the judges on all dimensions and as a result, two teams were finalized for the winning trophy, The Team Greyjoy won the first prize and the Team Ravenclaw won the runners-up trophy. The other 34 teams were acknowledged for their hard work and creativity.
Ms. Madiha Nayyar (Area Sales Manager of Nestle) awarded the trophies to the winning teams and she also enlightened the students and guests the dynamics of the Sales department. She also emphasized on the empowering and educating women, and encourage them to opt for new fields and prove their credentials.
The team of SMUC 4.0 acknowledges the support of Brandsynario in providing the students of SZABIST to market their credentials and their creative event.