Talented and beautiful actress, Syra Yousuf does few acting projects but her modeling work continues to roll in. She had done an exquisite photoshoot with Sheheryar Munawwar where she made us fall in love with her green outfit. She carries every look, be it western or eastern, in the best manner. As expected, however, she has to face trolls who are not very nice.
Syra in her recent Zara Shahjahan
This is exactly what happened when Syra started posting her pictures in Zara Shahjahan's dresses. Dressed in Bridal wear, she was rocking the dresses. I mean take a look at the beauty!
Aren't the dresses and the lady in them just very pretty?
Trolls on her photo
But someone on Instagram didn't think so. They wanted to troll the celebrity. But the words they chose to troll weren't the best choice. They chose to troll her by calling her a maasi. Now, technically, this word signifies a profession. It is what you call your female domestic labour. Every profession deserves respect and those who choose to believe that a profession of a lower socioeconomic class is unworthy need to be lectured. He said that in this dress you look like our maid.
Syra Yousuf responds to the troll
But our beloved Syra handled it with grace and very subtly schooled the troll as well.
She responded that she would like to say hi to his maid who clearly is her twin in looks. If you pay attention, you will see how she did not take this as an insult at all which tells other people that a 'maid' is not an insult.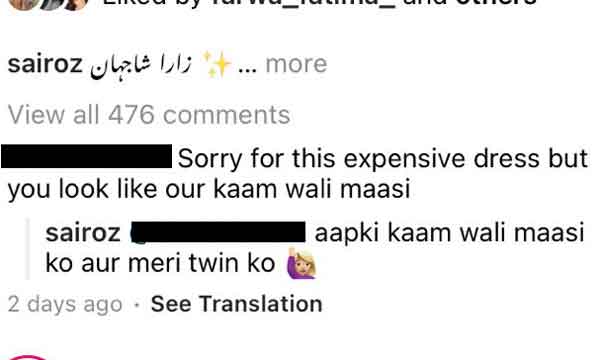 Even in the past, Syra has handled the situation in a similar manner. She does not respond to hate with hate which is why she has been able to maintain an image that gathers respect from most of the industry and the fans.
Do you recall when Syra posted a picture that showed her no filter skin? People bashed her on not having fully clear skin. After a lot of trolling, she took to her Instagram stories only one caption, "I really like my skin."
Respect for her then and now increased manifolds.
Stay tuned to Brandsynario for the latest news and updates!