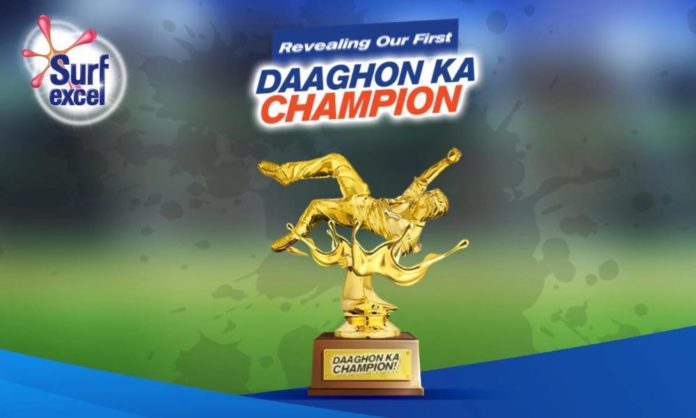 Each year, Pakistan Super League (PSL) brings the nation together to watch the spectacle that the biggest cricket tournament in the country is about, and this year the stakes became way higher with Surf Excel's Daaghon Ka Champion Trophy taking over the country with its high-stakes diving frenzy!
Plastered all over social and conventional media, Surf Excel Daaghon Ka Champion trophy, for which they have partnered with the Pakistan Cricket Board (PCB) has made this season's heart-stopping dives the central focus for the fans. Rather than just the sixes and catch-outs which the fans usually loved, the popular detergent brand announced a whopping grand prize of PKR 500,000 for the player who did the most dives, making it just what everyone is talking about right now.
Garnering massive buzz after hitting our television and digital screens, Surf Excel's series of commercials featuring top-class cricketers from Pakistan such as Shadab Khan, Faheem Ashraf and Mohammad Rizwan initially piqued everyone's interests as the first TVC took to the waves. Shown collaboratively performing a dive to get stains on their clothes, the commercial ends with all three of the players covered in stains, leaving the audience, fans and influencers curious about who the winner of the newly announced Daaghon Ka Champion trophy will be and how they can support them! 
Taking to their social media and proving that cricket runs in our blood, the biggest names in influencers such as Mariam Tariq Rana, Aqsa Zunaib, Faiza Saleem, Amna Niazi, Fariha Asghar, Daniyal Sheikh, Tashfeen Arshad, Aden Rehan, Syed Muzamil, Rafay Butt, Mansoor Qureshi, Mubeen Ul Haq, Sobia Saleem, Ghazanfer Jaffery, Rida Mirza, Rehab Siddiqui, Mehak Raheel, Nayab Ijaz, Azlan Shah, Anica, and Maryam & Aylah proved just how fun taking a dive for their favourite cricketer could actually be. 
We saw the influencers making some super thrilling moves as they did their fair share of adrenaline-pumping dives, jumps and everything in between!
Mubeen Ul Haq for example, had us in stitches over his dive as he chose to protect himself from some martial art-style flying bottles coming towards him as he came out in support of Babar Azam! On the other hand, Muzamil Hasan's take on the dive had us rooting for his favourite player, Shadab Khan even more.
The anticipation only grew further with each match and of course, each new Surf Excel TVC as we got to see more action come out! The second commercial, which featured Faheem Ashraf,  hilariously proved that dive mania is at its pinnacle by diving even when he didn't need to in order to win the game! Quirky and funny at the same time, we saw many imitating the best of players during the campaign to make their favourites win the Daaghon Ka Champion Trophy.
The interest wasn't just over social media though! Seeing Pakistan's best cricketers take such an adventurous part in the Daaghon Ka Champion Trophy, many known faces of television news shows and morning shows also took their dive!! Be it, GEO's transmission where during the PSL discussions we saw a dive taking place or everyone's favourite tongue-in-cheek show, Mazaaqraat, where we saw the supremely funny comedians taking a dive, the support for the DKC Trophy has been keeping everyone on the edge of their seats! 
If that wasn't enough, the fact that 17 Pakistani channels ended up airing the best dives from the 2nd leg of PSL on their airtime is proof of just how much everyone was obsessed with the dives this time around!
Continuing with an amalgam of sportsman spirit and hilarity in one, the third commercial from Surf Excel's Daaghon Ka Champion went further on the comic element when much-loved commentator and former cricketer Bazid Khan took to the pitch, and some great 'daagh' action ensued. Taking a dive on the ground, Bazid proves there's just about no one left who isn't fully participating for their chance for the big win!
Finally culminating into its main purpose of the cricketer with the best dives winning, it was Faheem Ashraf, Mohammad Rizwan, Akhlaq Ahmed, and Shahnawaz Dhani who scored the highest on the leaderboard for the grand prize of PKR 500,000. Making it big with his mark in the end with an array of dives and the support of influencers was Shahnawaz Dhani, who won with a whopping  [final winning number added here] dives!
We have always loved Surf Excel's 'Daagh Toh Achay Hotay Hain' legacy for all it stands for, but with the Daaghon Ka Champion Trophy, they proved that no one could make that concept as adventurous, fun, and worthwhile with their take on Pakistan's favourite sport, cricket!  
What did you think about the Daaghon Ka Champion Trophy? Tell us in the comment section below!