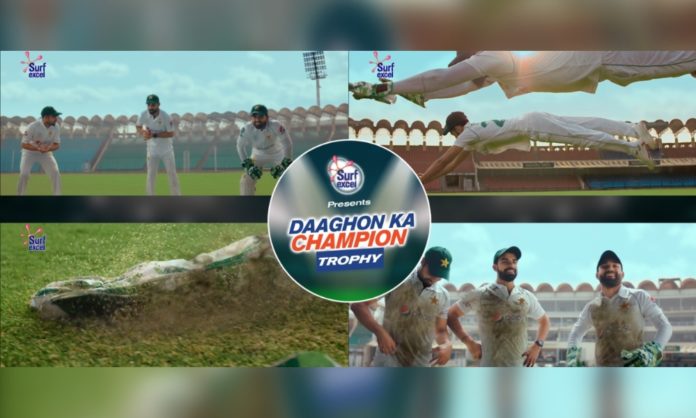 Pakistan's most-loved sport, Cricket, and our nation's leading detergent brand, Surf Excel, came together this cricket season with a Daaghon Ka Champion Trophy! Surf Excel is known for doing some exceptional campaigns and conceptualising ideas that are not just limited to the functional aspects of cleaning our clothes. Therefore, there is no better time to take their legacy into cricket with a unique collaboration with the Pakistan Cricket Board (PCB) to announce a Daaghon Ka Champion trophy for players who get the most number of stains on their clothes by diving during a match.
There is no better sight in cricket then a diving catch but the execution of these dives are what gives cricket players the most stubborn Daaghs. Keeping that in mind, Surf Excel recently aired an ad featuring three cricket players, Mohammad Rizwan, Shahdab Khan and Faheem Ashraf, who are seen taking a dive together. The chucklesome part? The dive was made after catching the ball just so they could get enough stains to become the Surf Excel Daaghon Ka Champion! The ad ended with the narration of, "Gir tou sab gaye hain lekin dekhte hain kaun banayega Surf Excel Daaghon Ka Champion?" creating curiosity as to which player will win the trophy!
Once the ad was aired, social media was abuzz with content creators preparing to take a dive to donate to their favourite cricket player, so they could win the Surf Excel Daaghon Ka Champion Trophy along with a cash prize of Rs 500,000. Multiple Instagram and YouTube creators were seen taking part in this preparation through any means necessary, using water bottles, pets and even kids as part of their training!
With this brilliant idea, Surf Excel has managed to bring fans closer to the action and it goes to show how deeply rooted the love of Cricket is in Pakistan. The introduction of this exciting Daaghon Ka Champion Trophy will definitely encourage our players to be more agile and active on the field.