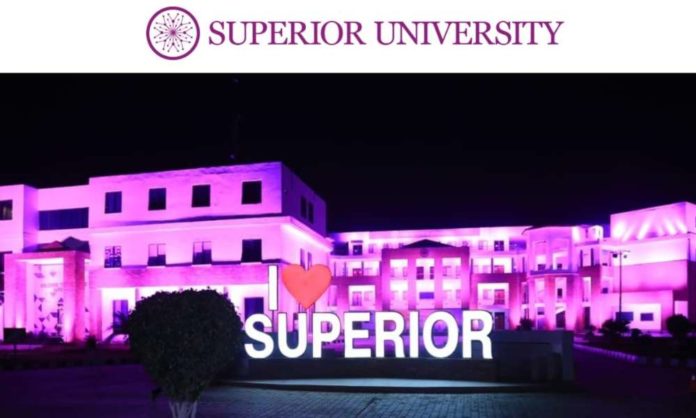 Superior University has organized an extensive campaign on breast cancer awareness in the month of October which is globally associated with the increasing risk of breast cancer among women. Superior University is an institute widely known for its great contributions for community and national causes. Superior students are also being trained and groomed with a greater sense of making significant impact in the lives of fellow beings. Chaudhry Muhammad Akram Center for Entrepreneurship Development (CMACED) with its flagship Social Entrepreneurship Program (SEP) has been running a rigorous campaign for breast cancer awareness for many consecutive years as a social responsibility and play active role to save precious lives of women in the country.
The whole university campus has been lighten up with fascinating pink lights, while extensive series of awareness sessions, seminars, walk, screening and free camps is going to be held.
Breast cancer is a fatal yet curable disease, spreading fast among women around the world and particularly with a higher risk factor among Pakistani women. The ironic connotation of taboos associated with discussion about women's sexual health and breast cancer has resultantly severed the risk of the disease. 
Another terrifying fact is that 25% increase in breast cancer cases has been recorded among women less than 40 years of age in Pakistan. More treacherous part is that early breast cancer is silent and due to that, neglecting a lump or a delay in seeking help takes the problem to a serious stage or even the point of no return. It is also notable that only 10 to 30% of the cases trace back to hereditary causes while more than 70% of the cases erupt without any genetic reason. 
These numbers call for a dire need of attention towards awareness and emphasis on precautions among women including the young population in particular. The hope also lies in a fact that nearly 80% of breast cancer patients survive every year. It reveals that if monitored with a keen eye, the disease can be caught soon and prevented easily. However, for that, self-examination, timely screening and overall awareness is the prerequisite.
Breast Self-Examination (BSE) is the most recommended precaution to trace the malignancy of breast cancer. To advocate the need of self-examination and learn its right procedure, Pink Ribbon and Chughtai Lab has planned an exclusive seminar for girl students in Superior University which is being delivered by a seasoned screening expert.
An awareness walk is going to be held across the university premises while free screening facility is also being ensured with a collaboration between Superior University, Chughtai Lab and the Pink Ribbon. It is hoped that Superior University's contribution in this cause save precious lives with the power of greater awareness, counseling and procedural guidance for treatment.